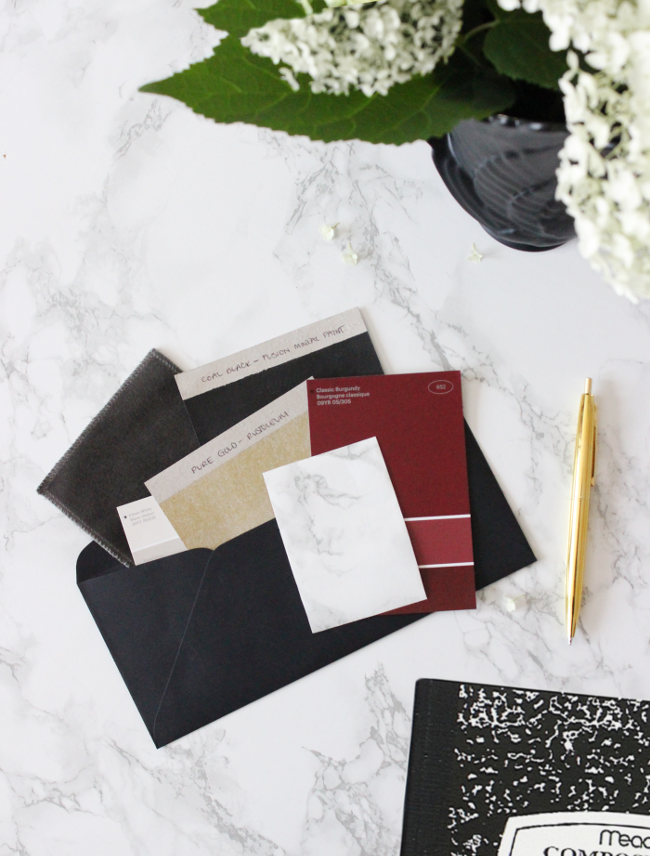 This is a trick I've used a few times so far and figured if I found it handy, someone else out there in the process of [ s l o w l y ] updating their home might also find it helpful!
What I started doing was collecting samples of the main colours and fabrics in our home to keep in one place; a swatch from our Article sofa, sample strips of CIL's Kitten White and Burgundy paint, some cardboard with Coal Black Fusion Mineral Paint and Pure Gold spray paint from Rust-Oleum and a sample of my faux marble contact paper. Then I neatly stashed them all in a black envelope. This way when I'm heading out to look at something for our home I grab my black envelope, toss it in my bag and I can easily see if whatever I'm looking at will match what I already have.
I especially find this handy when I'm looking at something burgundy. I'm so picky when it comes to burgundy and I really love the shade in our home, so if I find something that's a shade of red that I'm unsure of, I can quickly see if it's the good kind or bad kind of clashing. It's a minor design hack, but one that I use a lot! More importantly, it makes me feel like I have my shit together for a few minutes each day. Worth it.