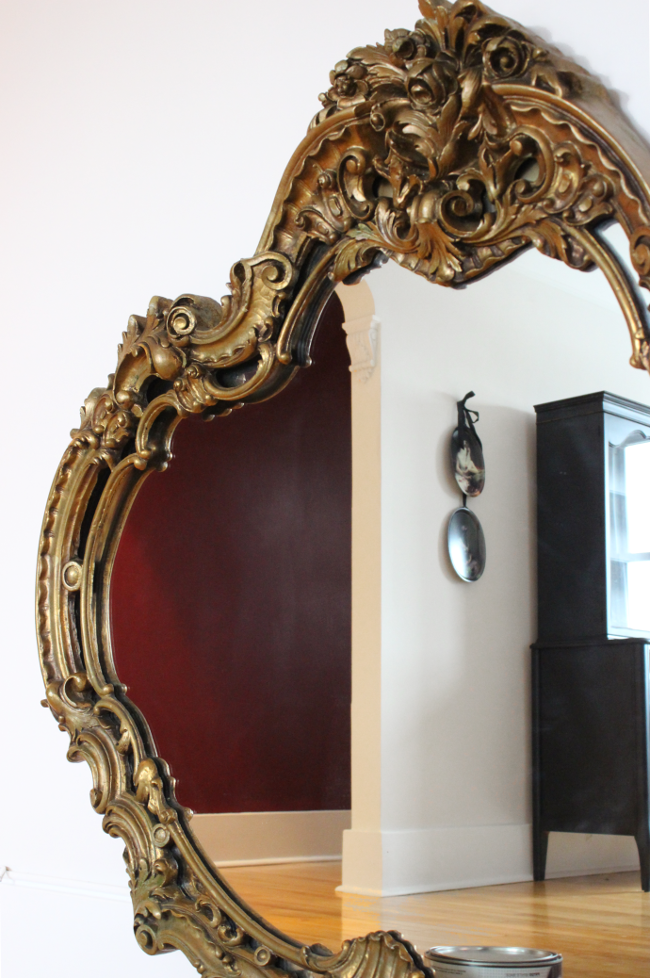 There was a huge amount of excitement yesterday as one of the key pieces for my One Room Challenge finally arrived! Our new [to us] secondhand Victorian style mirror and you guys, it's incredible.
This is another perfect example of the first point in my blog post for my top tips for buying secondhand items online; looking past the pictures. The below was the photo uploaded onto Kijiji for the mirror. It wasn't a great photo and because of that, people didn't even bother to check it out [or zoom in on the photo to see how beautiful it is, as I did about a thousand times].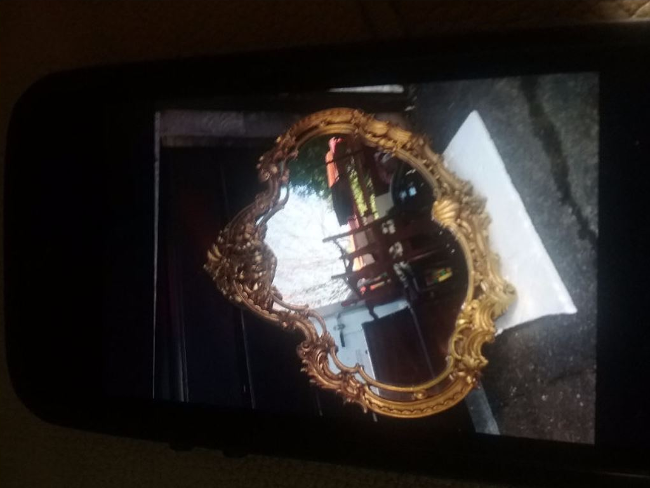 First of all, I found this mirror last year when I was looking for a mirror for our hallway [and I ended up getting this one]. I did a search for 'vintage mirror' on Kijiji and I did what I almost always do; I looked at every listing, right to the last page. And that's where I found this Victorian style mirror.
I originally saw it advertised in October 2017. I called the owner and we had a long chat about the mirror. The owner had placed a bid on one of those storage units that so many TV shows are based around. He placed a bid, won the unit and found this behemoth mirror [among other things] inside. The mirror alone was originally bought for something like $700, but the owner lost interest in the storage unit and that's how it came up for auction. This is then when the man now selling it hinted that the mirror had been advertised online for almost a year.
A year.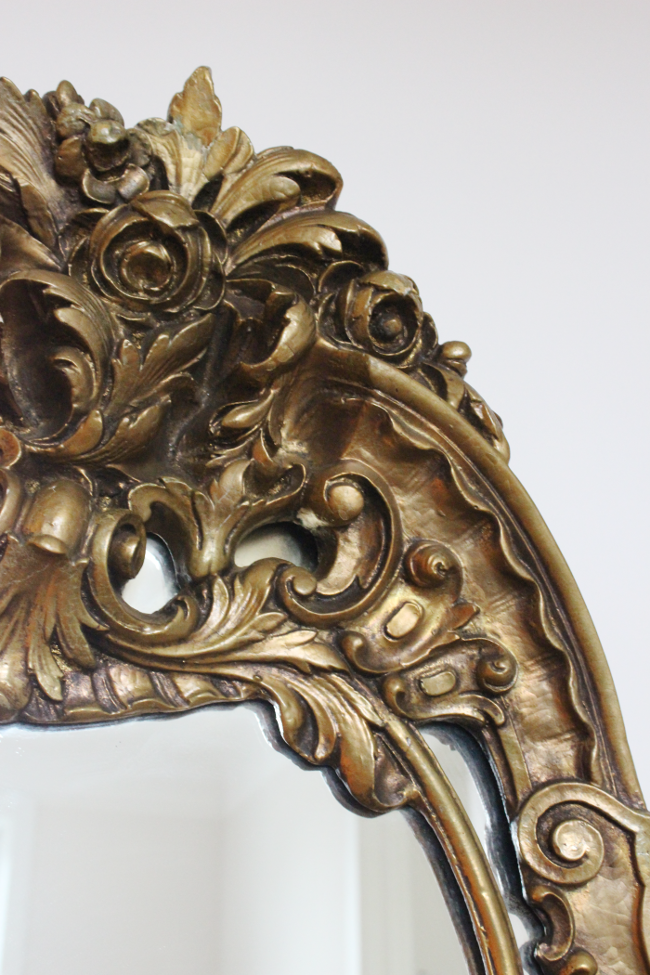 I sat and thought about it. It was and epic mirror, but at the time we had just moved to Canada and we were sleeping on the floor, so I couldn't really prioritise it over buying essential things for our home. Like you know, groceries and milk for Cora and mattresses. So I waited. And thought about it. A lot. And really just waited for an appropriate amount of time to pass until I could buy it.
After Christmas I went looking for the mirror in my bookmarked tab but it was gone. I was heartbroken, but I also figured it was too good to be true and a little bit that it just wasn't meant to be.
Then, ahead of the One Room Challenge, I started looking on Kijiji for a mirror in mid-February and to my absolute surprise, there it was. The Mirror. It had been relisted! I immediately called the owner again. He remembered me and we struck a deal; I would take the risk of buying the mirror without seeing it if he could guarantee the mirror was not broken or scratched, it had proper hanging equipment on the back, the frame was in good condition and that the giant plaster frame was not warped in any way. The owner lived an hour away and it was still the middle of winter here in Ottawa at the time, so we agreed he would deliver it once the snow had gone.
Want to take a guess how much I paid for it?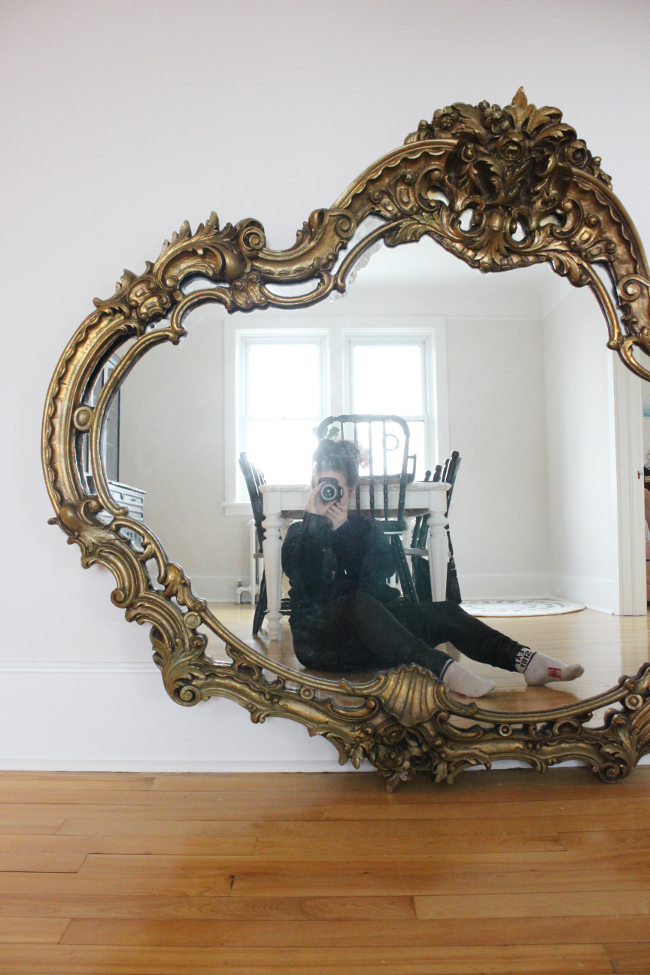 $100.
Plus delivery.
I'm not a monster. The man lived an hour away.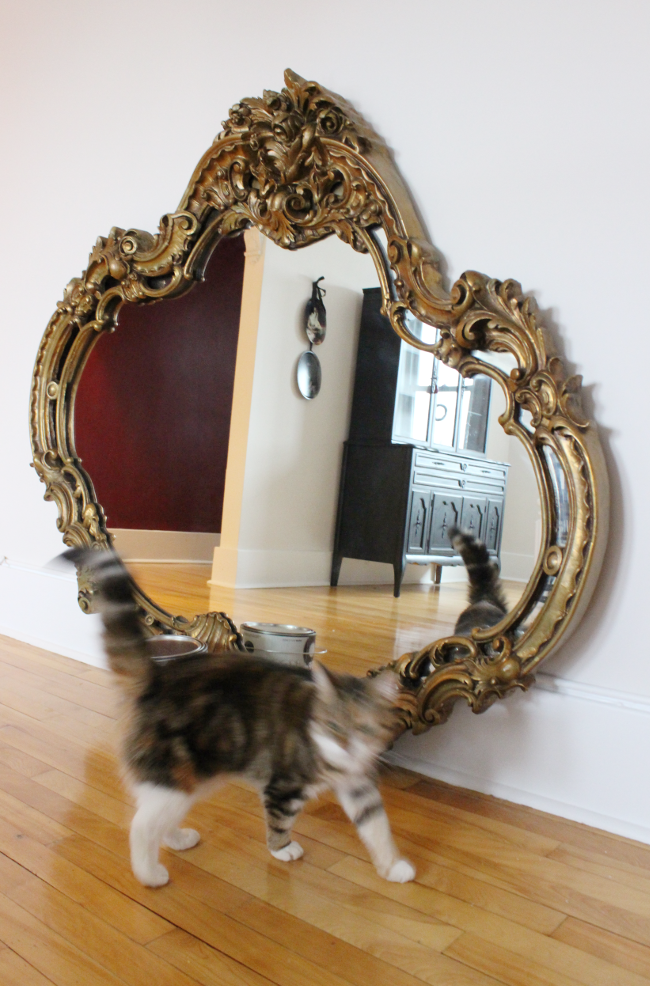 Juniper for scale.
He delivered the behemoth mirror yesterday as promised and it did not disappoint. It is equal parts epic and beautiful and I woke up in a panic last night about how we're going to safely hang the damn thing because it weighs more than an adult human [I'm going to contact a few art galleries and hardware stores and get their advice. This is the most adult I've ever felt].
I have to stress that my hurried photos do absolutely no justice to the detail on it and the finish. It's really beautiful. And to give you a full idea of how big it is, it's 50″ / 4ft tall and 60″ / 5ft wide. This thing is incredible. I cannot wait to hang it up.
EDIT: I called a professional art installer and they suggested French cleats to hang the mirror securely – something I thought of but never knew the name of! Fingers crossed.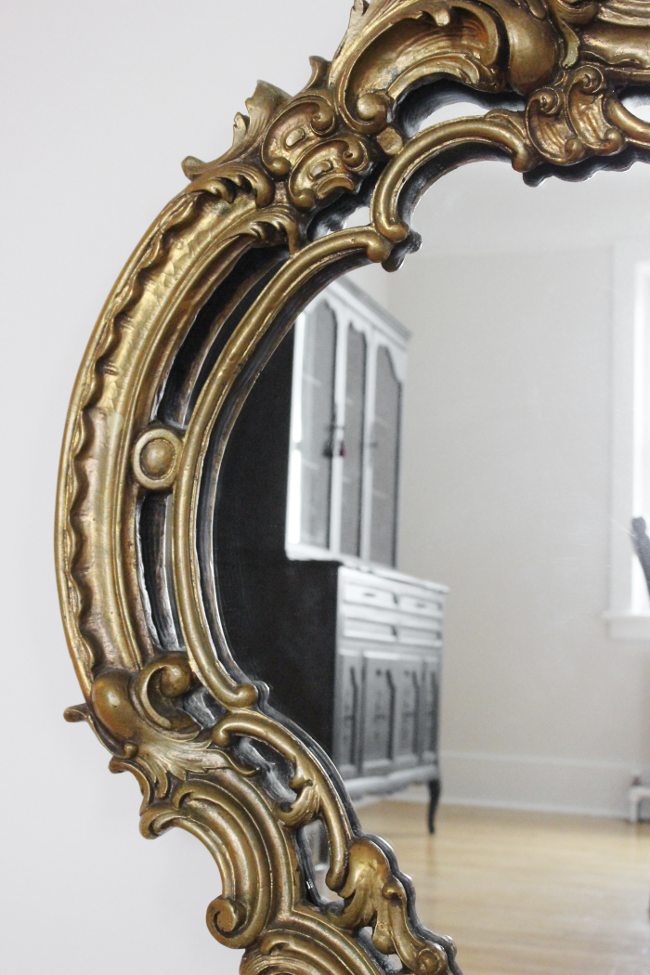 *I have no idea if it's a Victorian style or not. I called the last one a Baroque style mirror, so this one is being called a Victorian. But in all seriousness, if you do actually know the style or era this mirror is modeled after, I would love to know! I'm fairly clueless with dating things like this. I have Googled it, but Google isn't great with dating "giant fancy funny shaped mirrors".