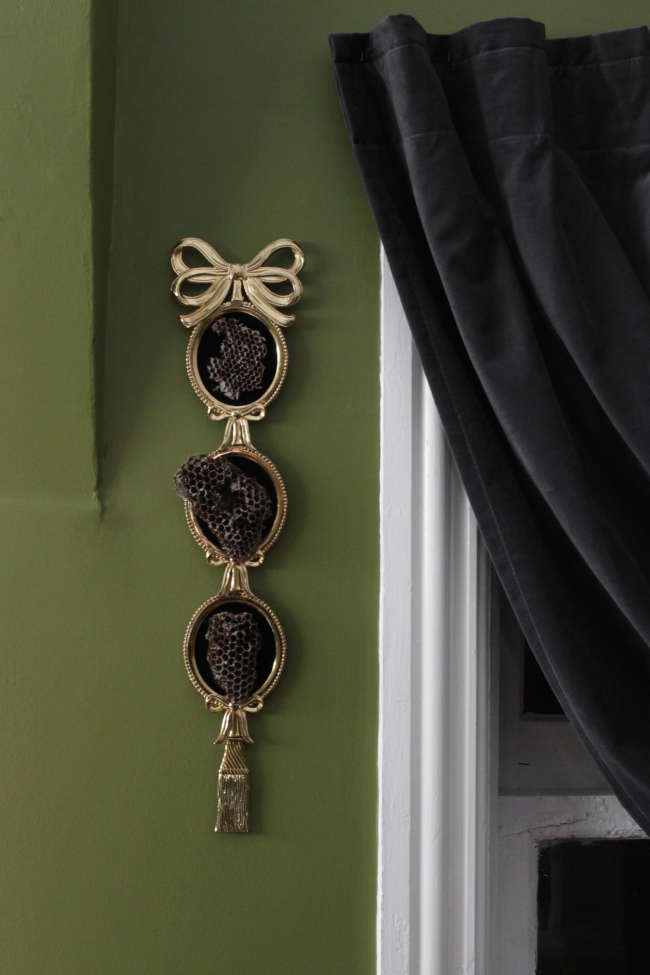 It is here! At long last! It's reveal day for this year's One Room Challenge and I couldn't be more excited. I've had a busy few weeks outside of completing the ORC, so I've not had as much time as I'd like to complete it. So instead of beating myself up [like I do with most things], I've decided to style and photograph our home office as it currently is, and as time goes by and I finish my to-do list, I'll update this post. My past self would be very surprised with how chill I am right now.
Enough about that. And more about my home office makeover!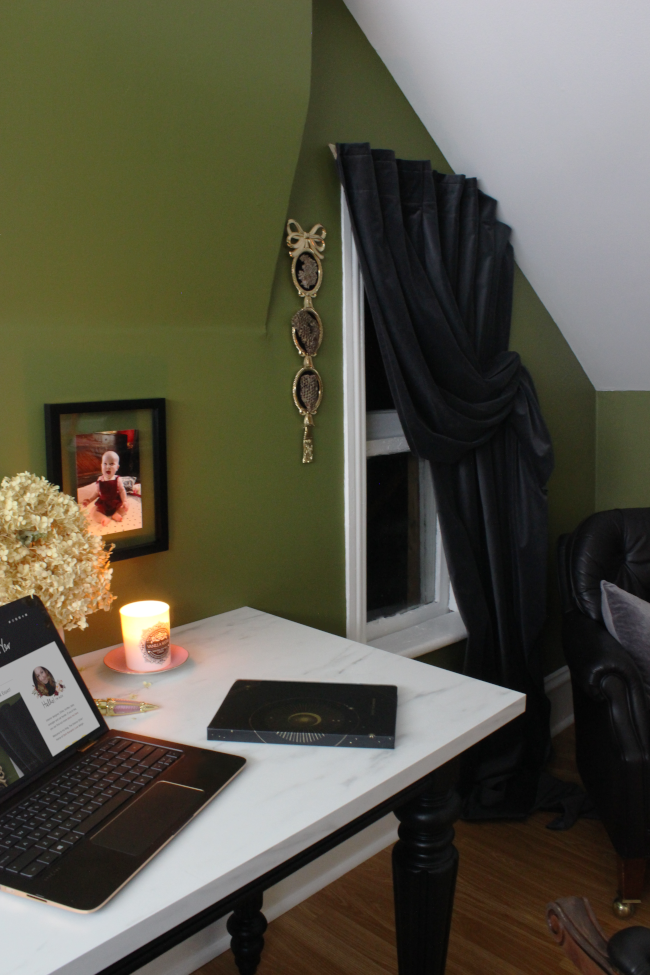 A huge part of my ORC this year was paint related, with the most drama being when I accidentally ordered the wrong paint finish and had to, in total, paint the walls 7 times 🙃 That was fun. I spent a lot of time trying to level the ceiling [which worked out in the end] and it feels like not enough time making our home office pretty. But it's a work in progress and no room stays the same, so I'm looking forward to adding further detail to this room over time.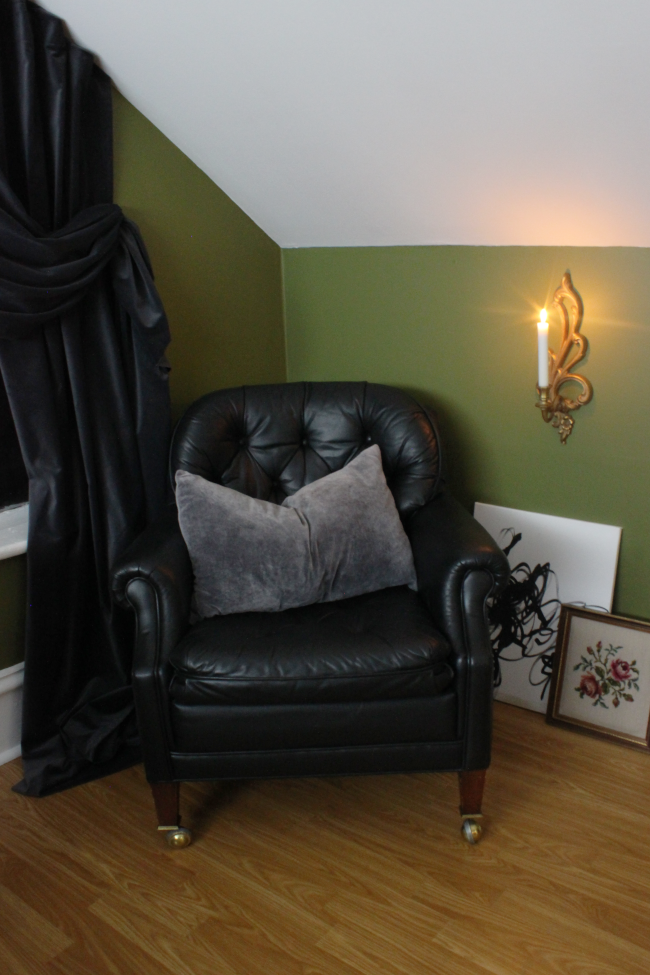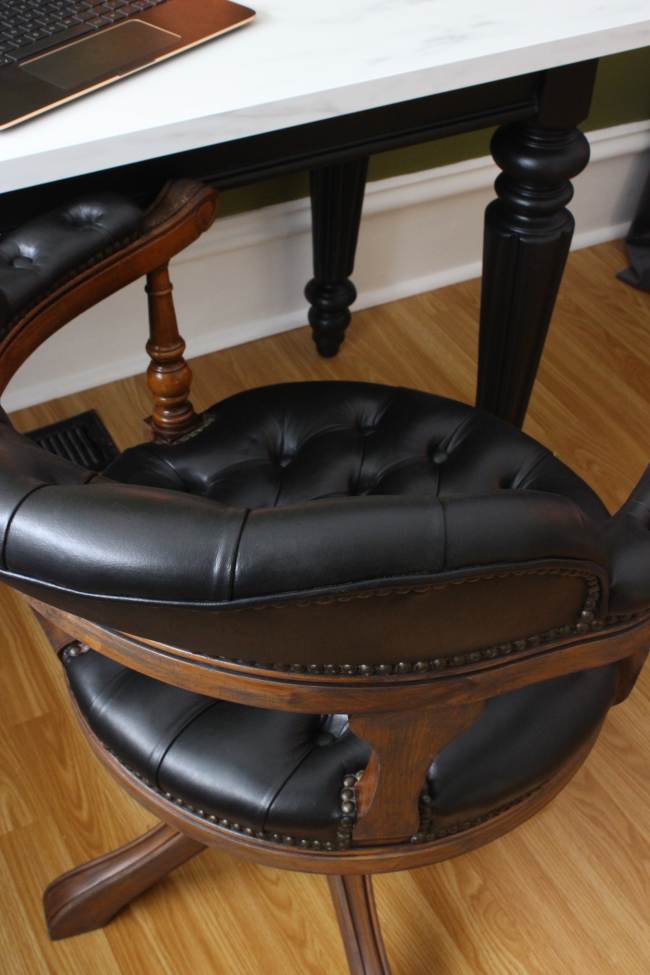 Anyone remember that secondhand tufted office chair I picked up secondhand two years ago? *crickets* Well I dug it out of the basement, painted the leather in Fusion Mineral Paint's shade of Coal Black, sanded down the wood and refinished it. It looks SO MUCH BETTER. It goes really well with our other painted chair, which I still get questions about to this day, our painted tufted leather armchair which is happily at home in the corner of our office now.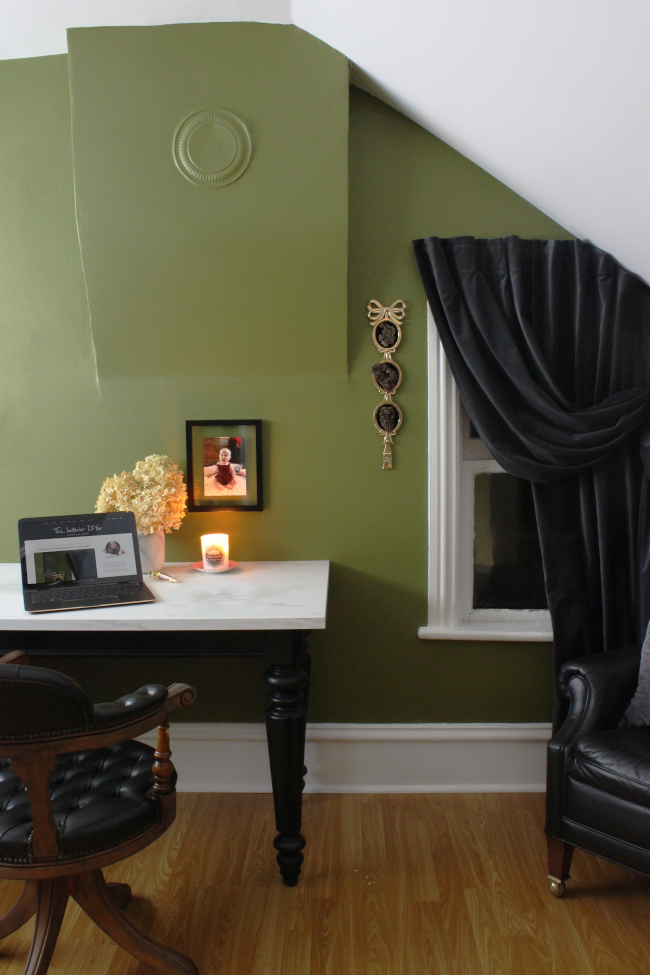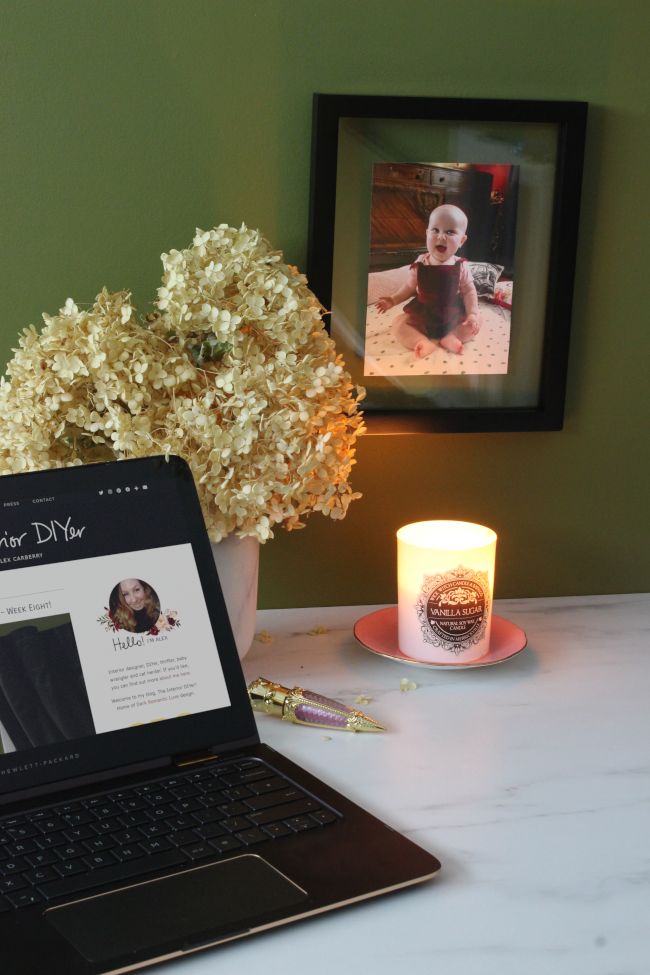 Our custom built office desk – now that was a labour of love. I'm SO HAPPY with how it turned out. My Week Seven blog post was all about how I Frankenstein-ed our desk using IKEA kitchen counter tops and pieces from our old dining room table. I also made a reel about it on Instagram, which you can check out here!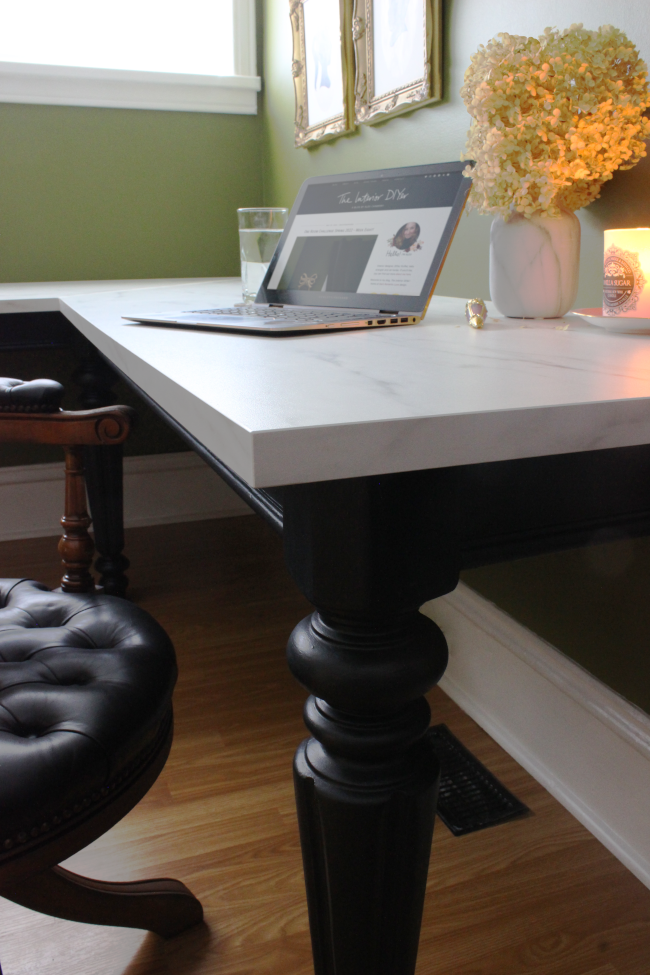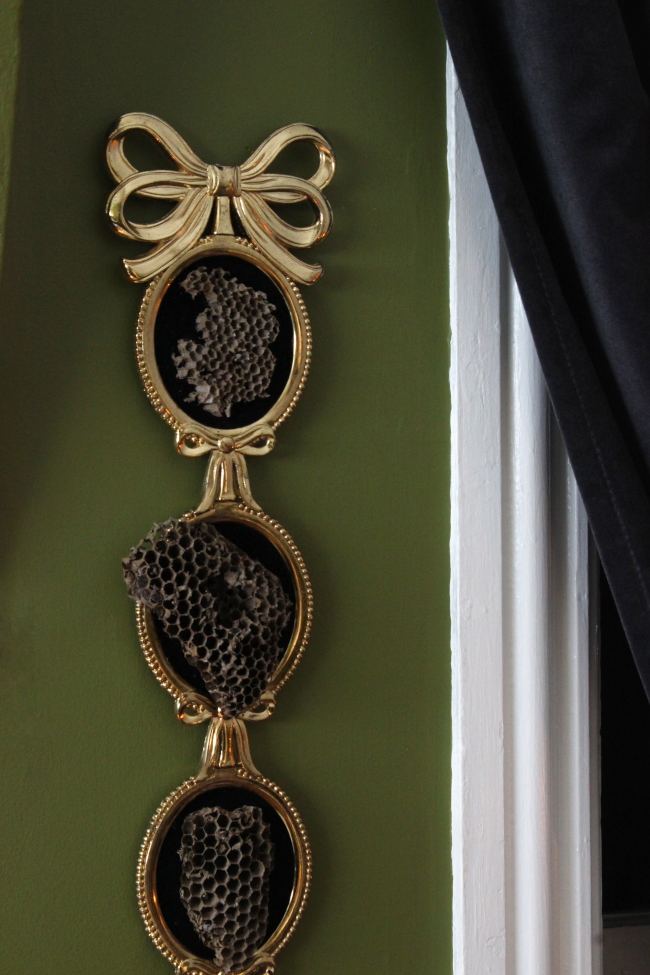 I can't publish this post without mentioning the wasp 'art' I made. When I repaired the wall under the window in Week Two, I had found a massive [very old] wasps next in the brickwork. I was able to salvage pieces of it, which I knew I wanted to frame in some way once the room was properly finished. I had bought this trio of frames from Value Village years ago and never used them. When I was rummaging through my decor stash to decorate our office, I found it and knew it would be perfect. I simply glued the nest pieces to some black velvet. I don't know how long it will last like this, but I love it for now.
Speaking of window repairs, here is what our home office looked like at the beginning of this year's ORC …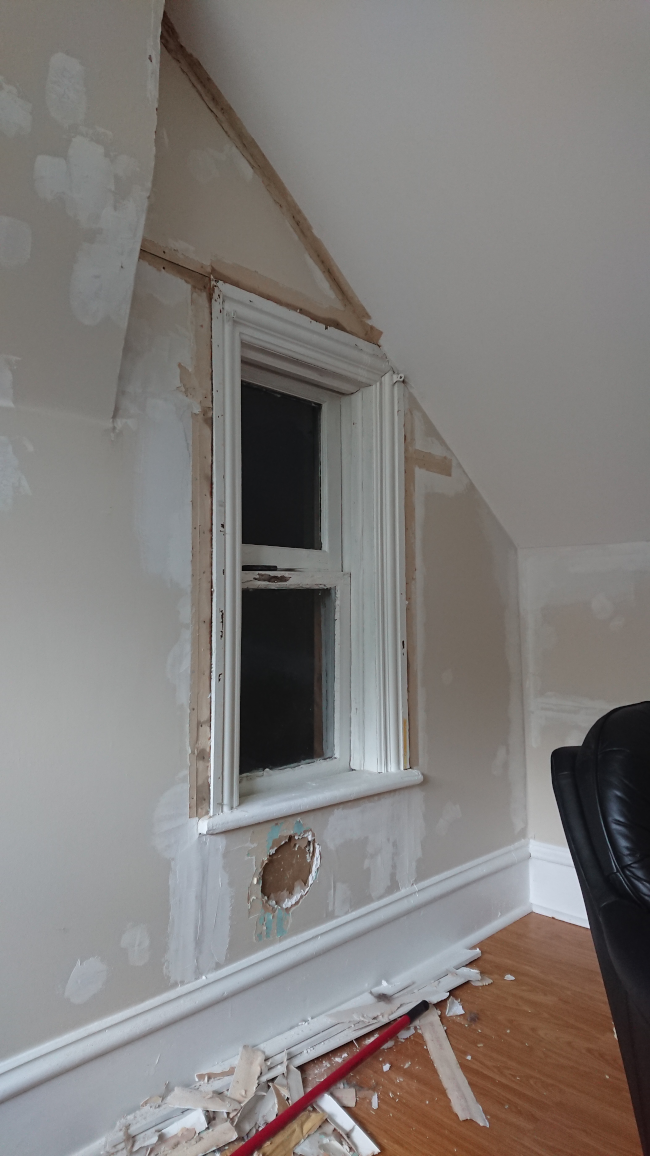 Click here to see all the before photos of our home office. It wasn't in bad shape, but it also wasn't good.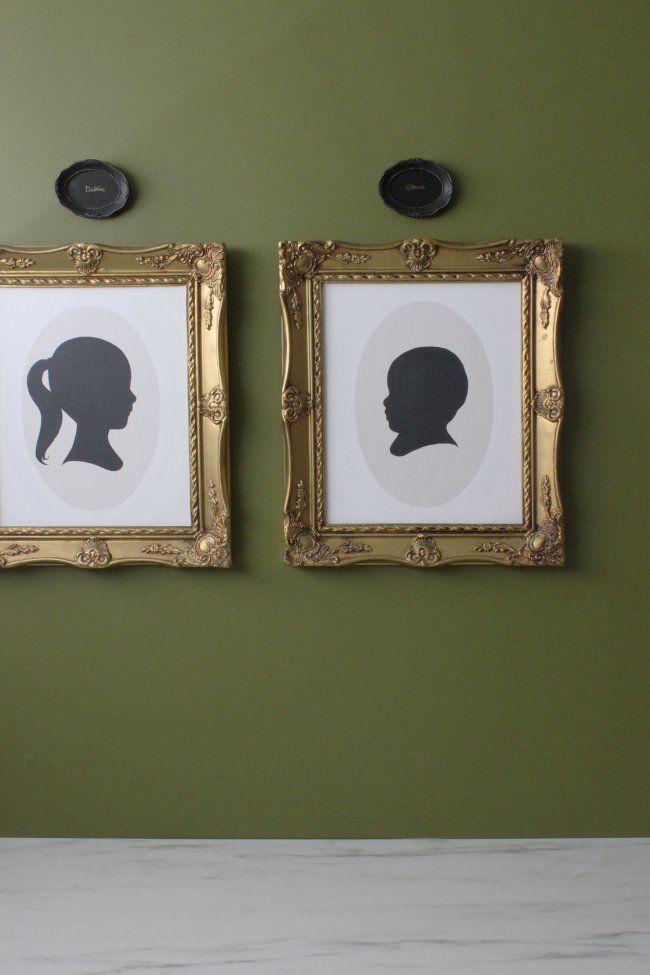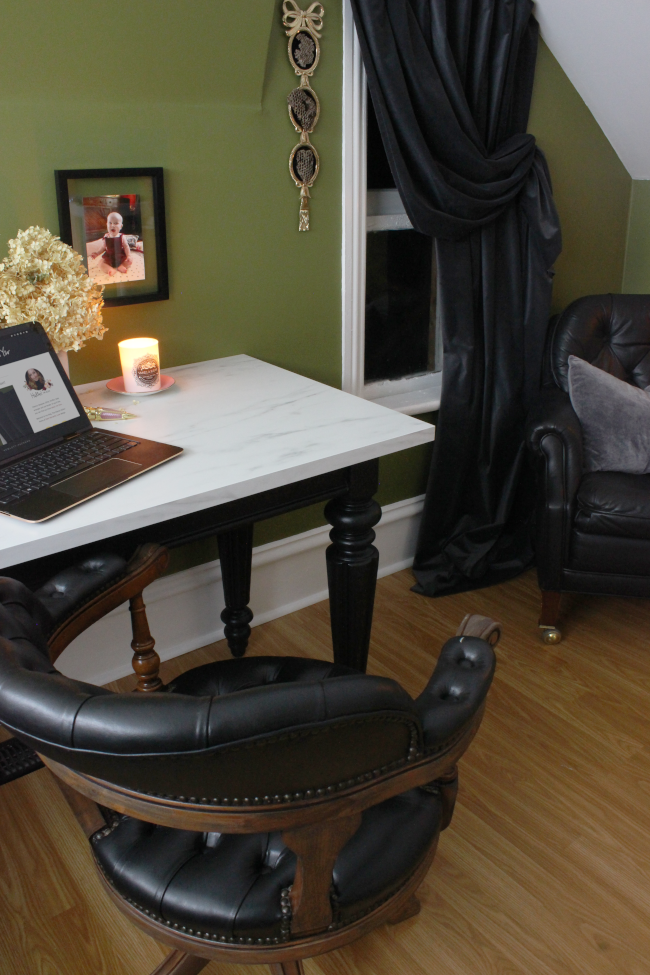 ORC SPRING 2022 SOURCE LIST:
WALLS:
– Sico paint in 'Army Green' in flat / matte finish
DESK:
– EKBACKEN kitchen counter tops [one large, one small] from IKEA
– Legs and apron taken from our old dining room table
ACCESSORIES:
– Black tufted armchair, secondhand, painted with Fusion Mineral Paint in 'Coal Black'
– Tufted office desk chair, secondhand from Kijiji [updated blog post coming soon!]
– SANELA dark grey curtains from IKEA
– Vanilla Sugar candle from Wick Witch
– Picture frames, all thrifted [sorry]
– Silhouette paintings, painted by myself
More will be added to this list as I continue to update our home office!
You can check all the Week Eight / final reveals by all the Guest Participants here! I cannot wait to scroll through the finished projects this week and see all the transformations. It is my goal during each one of Zelda's naps this week to view each update. So much effort goes into these projects and I always love to see what everyone has challenged themselves to design.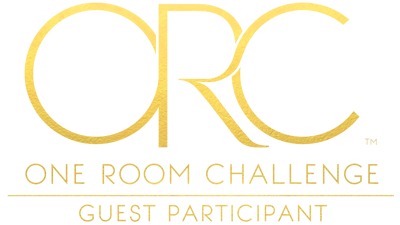 I've completed all but 3 or 4 items off my to-do list. The main things I didn't get around to going is: replacing the banister at the top of the servants stairs, painting the servants stairs, update the main light in our home office [bye boob light], and then sourcing small decor items like a pillow for the chair and printing the digital artwork I bought.
ORC SPRING 2022 TO-DO LIST:
– Skim coat / patch ceiling
– Skim coat / patch walls
– Paint ceiling
– Paint walls
– Replace / upgrade banister at top of servants stairs
– Update and reinstall handrails
– Repaint stairs [not super necessary, but I might as well]
– Install desk system
– Update secondhand tufted office chair
– Source chandelier / remove the boob light
– Source storage cabinet[s] for office items
– Possibly source and hang curtains [not sure though for either window]
– Decorate / hang artwork / overkill the space
Thank you to everyone who had supported and encouraged me during this year's ORC! It's been a great project, and I truly cannot wait to use our office now. Until next time.
Week One – Week Two – Week Three – Week Four – Week Five
Week Six – Week Seven – Week Eight