It's no secret that I love finding a good secondhand bargain both in real life and online. Whenever I share my latest Kijiji finds I always get asked about how I get so lucky with the things I've found. Some of it is luck, yes, but I've also fine tuned a few methods over the years and that got me thinking about what I would include if I wrote a post about sourcing secondhand items online. I've narrowed it down to four main points which I hope will be helpful to all my fellow thrifters out there! Unless you live in Ottawa; go away. I want all of the things for myself.
I use Kijiji here in Canada, but in Ireland I used to use Adverts to find all kinds of household items, so these tips can easily be used while surfing Adverts [though the messaging system is different and there's an added evaluation system (which I sometimes wish was available on Kijiji)]. My top tips are …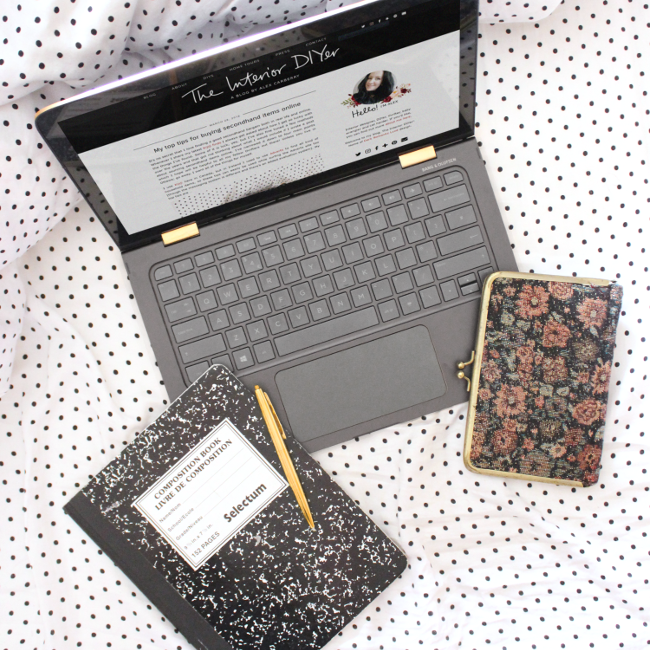 Look past the pictures
We all have our strong points. For some people, taking and / or uploading photos is not even in the same hemisphere as their strong points. I'm not looking to shame people here because I know and understand not everyone is tech savvy, but what I am saying is that this is an area where you can get really lucky. Joe takes a photo of the photo on his phone and uploads the picture of him holding his phone instead of uploading the photo directly from his phone. It's photo inception. It's not an ideal picture but the item for sale in the photo itself is exactly what you're looking for. Because the photo quality isn't great, it's amazing how many people won't even bother to click into the ad to see more. This is where you can pounce. You've got to see past the photos and see the items potential.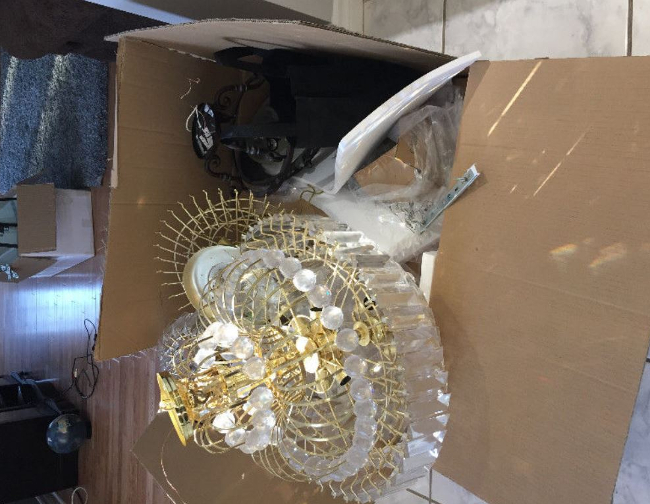 For example, this is a photo of four chandeliers I found on Kijiji advertised at $40. The photo is uploaded sideways and doesn't even show the full chandeliers. BUT, I had just bought our secondhand Kijiji chandelier a few weeks previously and this was the same style chandelier. I asked the seller if it was possible to see the full chandelier, they sent me a photo of it held up, and it was perfect so I went for it [the other three chandeliers are much smaller, but they're still perfect fixtures for our other rooms].
Broaden and simplify your search terms
If you're looking for something really specific like a storage bench for your hallway, if you search for 'storage bench' or 'hall bench' then you're going to miss out on the people who are advertising their item just as a 'bench'. There are people who aren't interested in writing detailed summaries for products so try to think of a few alternative key words for what you're looking for. Be less specific. 'Bench' and even 'ottoman' are good words to start with for this example. Someone may have been using a storage bench as an ottoman so they'll list it as an 'ottoman'. Yes, you'll have to look through a lot more advertisements, but you'll have access to much more and it will increase your chances of finding what you want.
Compromise / do some DIY
If you're looking for something specific for your home [ie – a dresser], try not to narrow down your options in your mind before you start. If you're looking for a green dresser with 8 drawers and brass handles for your dining room, chances are you are not going to find that exact thing. Compromise by deciding what you really want and what you can possibly DIY. If the number of drawers is really important to you, then concentrate on the number of drawers when you're browsing and consider painting a dresser green yourself and sourcing some brass handles. Or the other way around; if you don't like the idea of painting a dresser, then keep an eye out for green dressers but you might need to compromise on how many drawers the dresser has or what size and shape it is. Figure out ahead of time what you want to prioritise and be open to having to compromise.
Be a human person
My final point is a pretty basic one but one that I've dealt with as a buyer and a seller; be a human person. When you're messaging someone about a piece, don't be one of those people who just writes "I'll swap you one of the items I'm selling for this" because you're not going to get a reply. In your first message to a seller say you're very interested in their piece, you're thinking of putting it in your living room and you're wondering if it's still available. And ALWAYS write your name at the end of the message [there's nothing I find more frustrating then not knowing who I'm dealing with]. Be personable.
For our secondhand French provincial sofa and armchair, I explained we had just moved to Canada and didn't have any of our own furniture, I was in love with that style of sofa and I'd love to one day reupholster something like that. The seller gave me her number, we had a long chat and even though there were other people interested who could collect the set before I could, I got it because I was a human person with her. The same when I spoke to the guy I bought Cora's baby grand piano from; we LOLed about toddlers. Even our current Lower Town apartment; I called [our now] landlord and was upfront with her about our situation and they held the apartment for us for nearly two months. No, you're not swindling people. You're just being real. You'll get more of a positive response from people if you show you're a real person, you're honest with them and not a total douche bag.
I know they're not ground breaking tips, but these are a few of the methods I use almost every time I'm browsing for a certain piece for our apartment [or as it happens, an apartment itself]. I hope they've been somewhat helpful for you! But what about you; do you have any tips or methods that have worked for you over the years when it comes to online thrifting?