I will admit I don't have a huge update for this week's One Room Challenge. My MIL arrived from Ireland this week, so leading up to Week Five I got next to nothing done in our home office. A few things arrived that I had ordered online, so that was exciting! Here are a few of the things that came in …
I ordered a magnetic doorstop and holder from Lee Valley for the back of our bathroom door. Since our house is old and hasn't been level of plumb in about 50 years, the door to our upstairs bathroom will flap open at a strange angle. Up until now I had been using a gift bag [full of nail polish] so keep the door wide open when it's not in use. Instead of doom scrolling one evening I started looking into some alternatives to door stops and I came across magnetic doorstops and holders.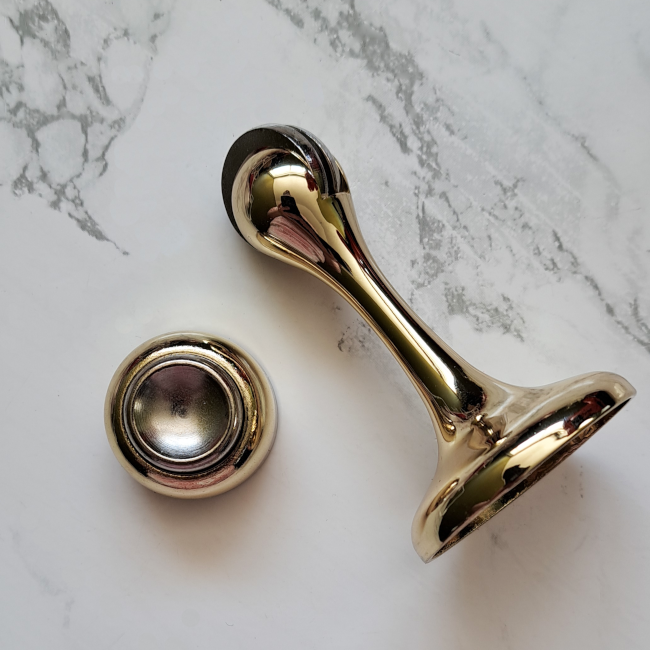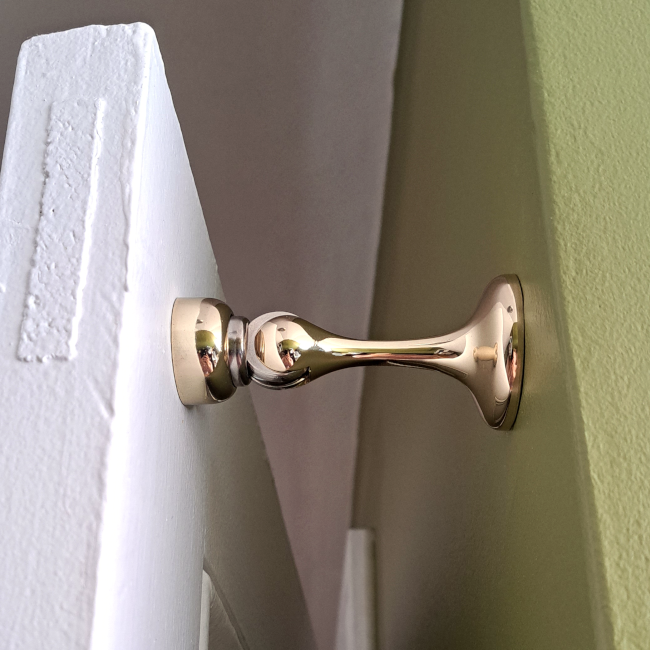 I installed the magnetic doorstop and holder up quite high toward the top of the door. This was so, a) no one destroyed their ankles when walking by it, and, b) I overthink things and I was terrified Zelda might unscrew the magnet and then eat it somehow. So I placed it way high up.
The other order that came in this week was our EKBACKEN white marble effect laminate countertops from IKEA: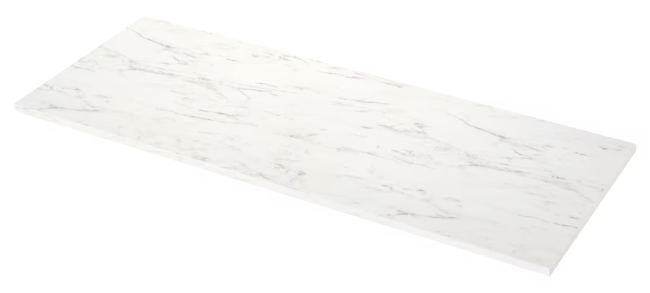 I got the idea from Christine Dovey when she updated her son Malcom's bedroom to include a desk, which she created by adding a countertop on top of two drawer units. Pretty amazing if you ask me. So we'll be working off of a similar vibe in our office, except I'll be reusing the legs off our old dining room table [painted black this time around] to aid in supporting the desk [along with hidden support along the walls]. I will of course detail that process as soon as I'm finished it [which I'm excited and nervous to start].
Because I didn't get much ORC stuff done this week, I feel I should share what I did do to kind of prove that I was super busy?
THINGS I DID THAT HAD NOTHING TO DO WITH THE ORC:
– Painted the hallway
– Painted the main staircase
– Painted the skirting boards, doorframes, window frames and doors throughout the house
– Paint the kitchen
– Wet vacuum / deep clean the sofa
– Painted the 2nd hallway
– Moved all of Zelda's furniture into Cora's room
– Rearranged Cora's room to accommodate both girls
– Set up Zelda's room with a double bed and furniture for my MIL
As for the ORC, below is where I stand at Week Five, and as usual you can catch all the Guest Participant's Week Five progress here!
ORC SPRING 2022 TO-DO LIST:
– Skim coat / patch ceiling
– Skim coat / patch walls
– Paint ceiling
– Paint walls
– Replace / upgrade banister at top of servants stairs
– Update and reinstall handrails
– Repaint stairs [not super necessary, but I might as well]
– Install desk system
– Update secondhand tufted office chair
– Source chandelier / remove the boob light
– Source storage cabinet[s] for office items
– Possibly source and hang curtains [not sure though for either window]
– Decorate / hang artwork / overkill the space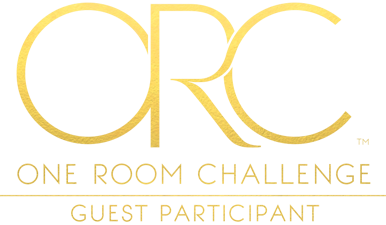 Week One – Week Two – Week Three – Week Four – Week Five
Week Six – Week Seven – Week Eight