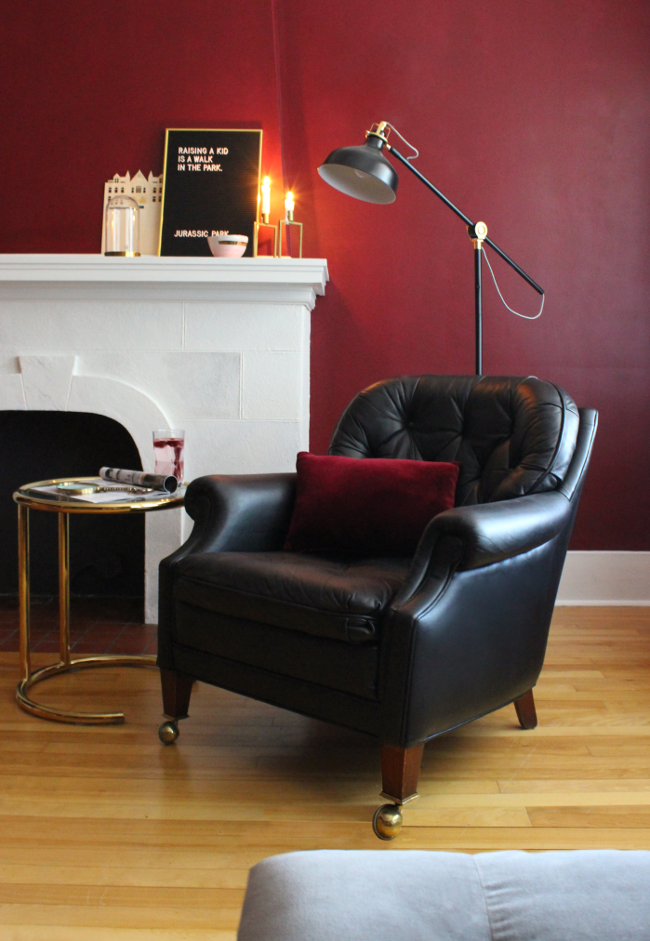 This is quickly becoming my new favourite update in our apartment and I will admit, it is taking a lot of restraint for me to not paint all of the things now.
After seeing our dining room hutch update, Fusion Mineral Paint got in contact with me and offered to let them know if I had any upcoming projects in mind and they would send me some paint. I was delighted by their offer, and I of course had some projects in mind! [I never don't have five projects in mind]. I had thrifted an incredible tufted leather armchair a few months previously so when I finally decided on updating it, Fusion Mineral Paint kindly sent me some of their Coal Black paint [and a few other colours – projects coming soon!].
Yes, that's right. Paint. I painted a leather chair.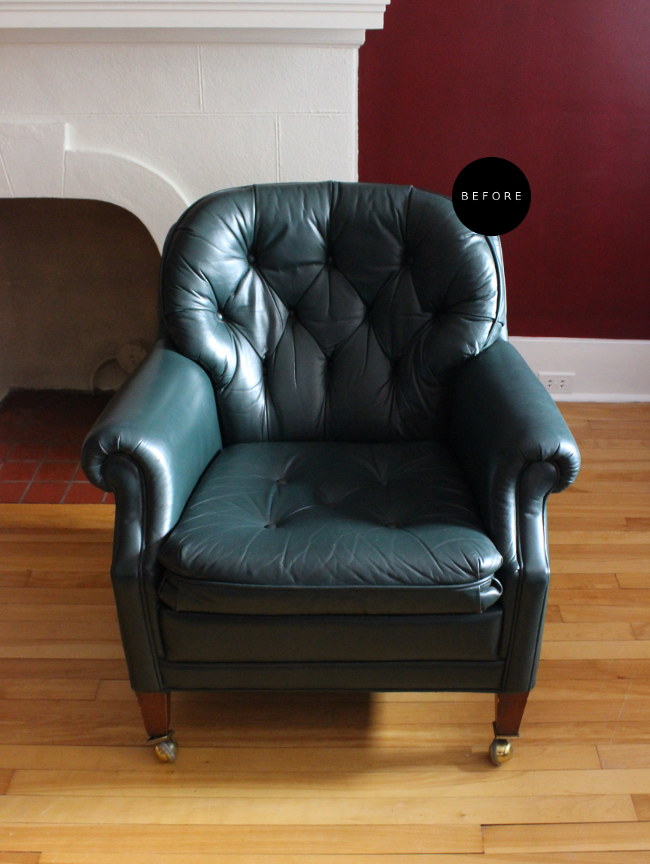 I was at our local Salvation Army in May when I saw among the sea of secondhand furniture, the top of a worn tufted green leather chair. I went straight for it, sat in it, sent a picture to Robert for approval [sometimes when I'm nervous about a piece I need another pair of eyes. Luckily, he replied in capital letters to buy it], and headed straight to the cashier to buy it.
As I told the cashier I'd like to buy the green leather chair at the back, I heard "I was so close to buying that very chair yesterday!", by an older gentleman behind me in the queue. We chatted about our favourite secondhand finds and as I was asking the cashier about the Salvation Army's furniture delivery service, the man offered to drop it home with me now. The cynical Dubliner in me seized because who makes offers like that other than people who drug you and then you wake up in a bath full of ice? But my new inner Ottawan knew it wasn't weird and he was making a genuinely nice offer. Plus, he was going to be driving in our direction, so I didn't feel too bad.
10 minutes later we were lifting my new chair out of the back of his Jeep and onto the front lawn. It turns out, one of his daughters lived not too far from us a few years ago so he was able to tell me a few things about the area. I could dedicate four blog posts to the incredibly kind encounters we've had since moving here. Canadians are making my cold dead heart start to grow in the Grinchiest way possible.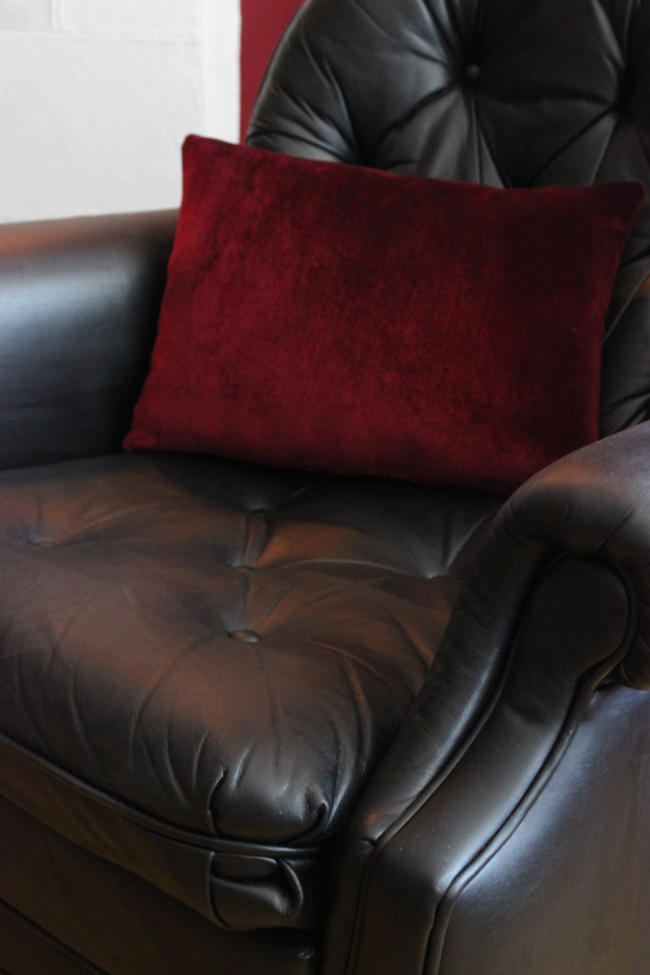 I painted a test patch of paint on the back of the chair and left it for a few days. I came back to it and it was perfect; it was smooth and in no way tacky as Fusion Mineral Paint's Classic Collection has a soft and almost chalky finish. During Cora's next nap, I got to work. I took the seat cushion off the chair, cleaned it all over and painted Coal Black over the entire chair. I started with the tufted creases then moved onto the less difficult areas. I waited about 6 hours between coats and painted thin layers each time, two coats in total. I then left the chair cure for a full [agonizing] day before putting the seat cushion back and testing the chair out.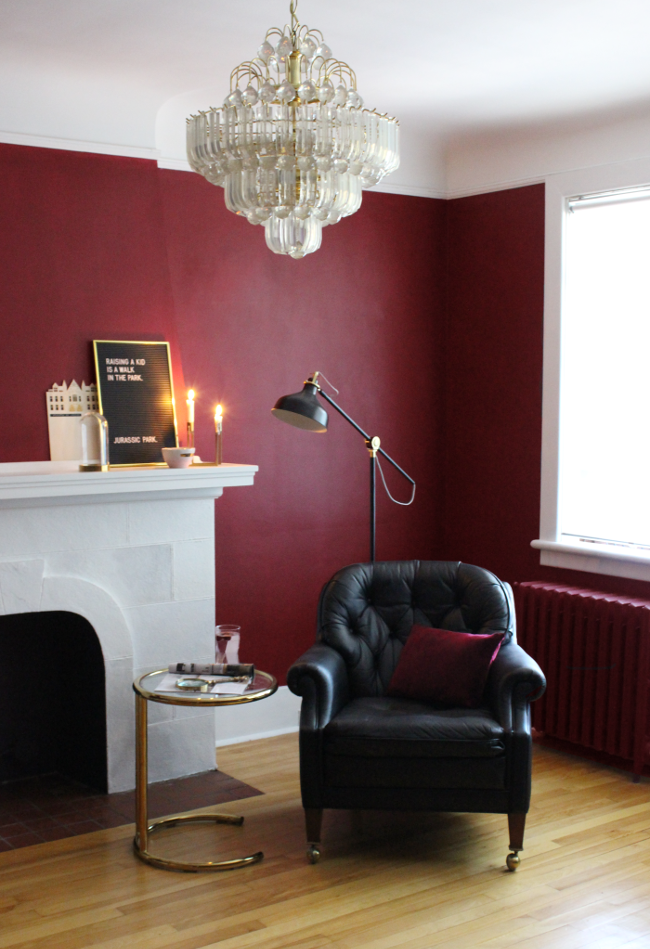 You definitely don't notice you're sitting in a painted chair and the finish is so smooth, you can hardly see the brush strokes.
I'll come back and write an updated post in 6 months time to give an honest review of how our painted chair has held up. So far, even though it's just been a week, it's been perfect. Nothing has peeled and we haven't been delicate with it [especially considering I love sitting with one leg over the arm at any given time. I'm classy like that].
But for now I would say if you're considering updating a piece of leather furniture in your home, Fusion Mineral Paint is the absolute perfect option. As strange as it sounds to paint a leather chair, the results are worth it.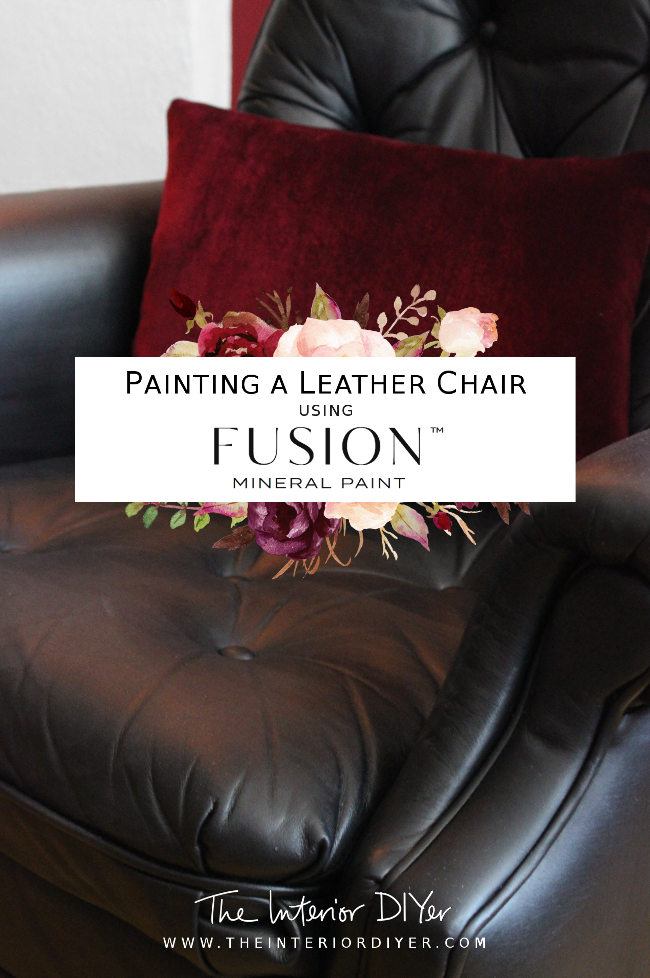 DISCLOSURE – while this post is not sponsored, I did receive this paint free of charge from Fusion Mineral Paint in exchange for a blog post. I only work with brands that I like and of course, think you will too. Thank you for supporting the companies that support The Interior DIYer.
Shop this look!