Week Three can be a fun week for many people undertaking the One Room Challenge. I say 'fun' in massive exaggerated italicized letters. It's when little problems come sneaking out of the literal and figurative woodwork. Week Two lures you into a false sense of confidence. Week Three makes you question why you even decided to improve your home.
It wasn't all bad though. I finally finished the ceiling! Considering the amount of work that went into updating the ceiling to make it look like a … ceiling … is very anti-climactic, but it's finished!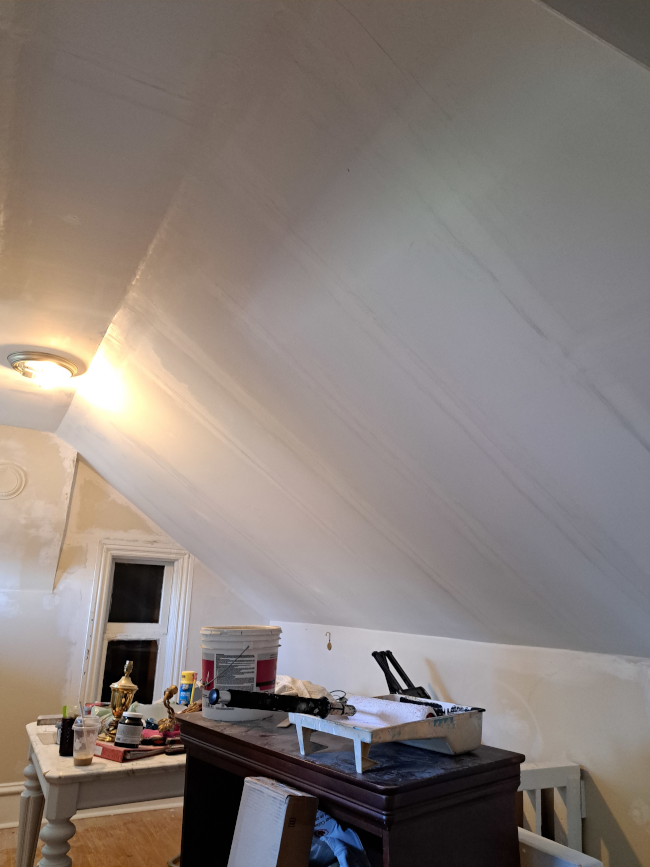 The above photo is what the ceiling looked like when I was finished flattening [levelling? repairing?] the ceiling [you can see what I mean by flattening in my Week Two blog post].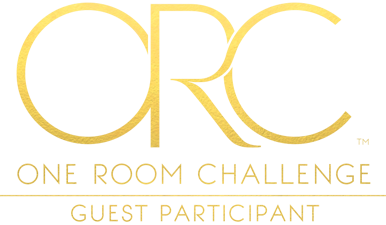 I ended up doing three coats of paint and the ceiling looks miles better [below is showing only one coat]. I actually didn't get the ceiling looking as perfect as I had wanted it to, but I could easily see myself spending all eight weeks of this just sanding small patches of ceiling and adding "just one more layer!" of pollyfilla. So I decided it's an old house and has character, and accepted it's little quirky bits. Because otherwise I would have driven myself insane.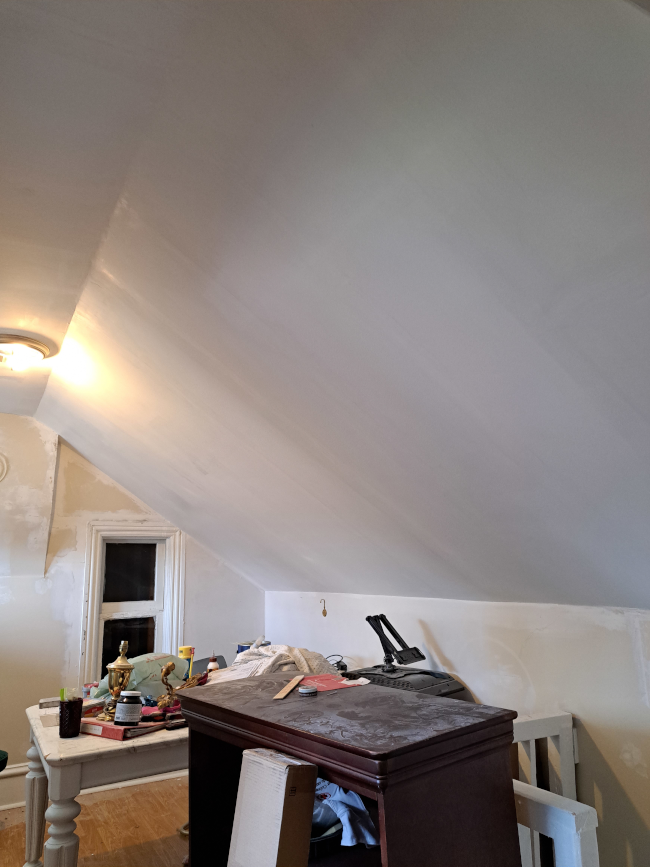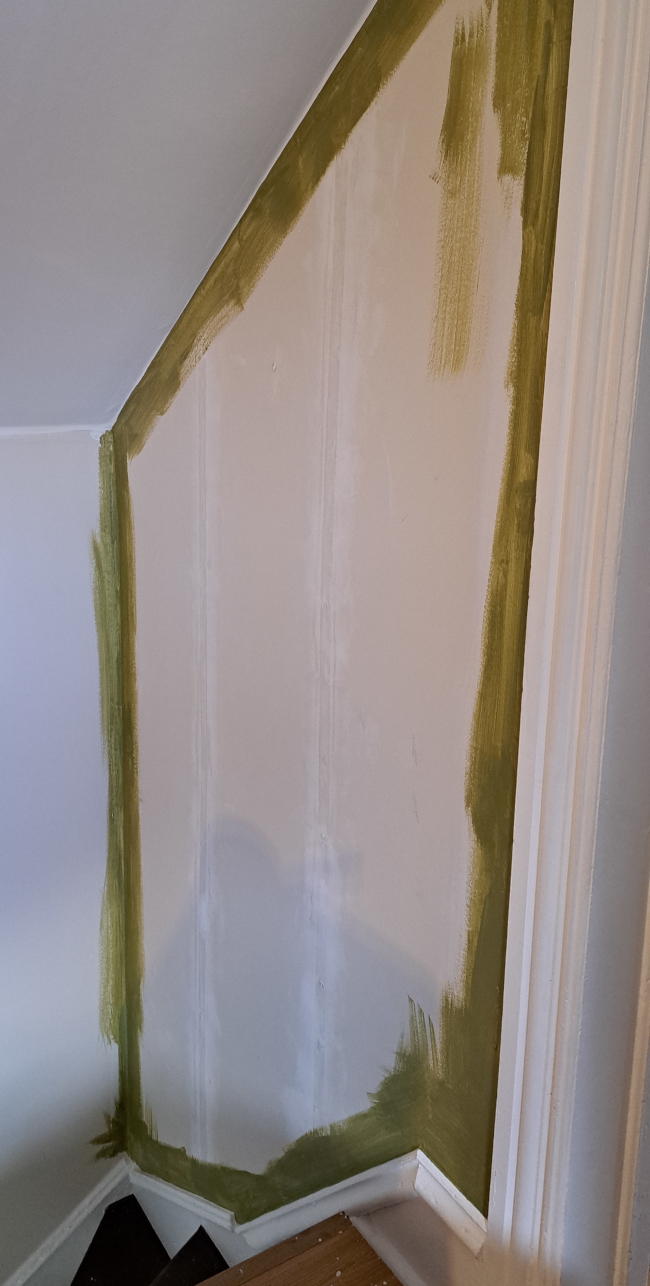 I haven't finished flattening [again, levelling? I'm unsure of the correct terminology here] all the walls in the office just yet [by using the same treatment as the ceiling, but I have finished repairing the tape on two walls, so I jumped in and started to paint.
PLOT TWIST: I bought the wrong paint finish. Welp. Don't ask me why, but I bought eggshell finish paint instead of matte paint, so all the tiny imperfections I've been working so hard to hide are now essentially in 3D thanks to the eggshell finish. But all is not lost. I'm going to continue painting the room [as I bought 3.75L of eggshell paint] in two coats of paint, I'll lightly sand the walls, wipe it down, then paint one coat of matte paint of the same colour on top [I'll detail this further in next week's blog post, as I will have hopefully finished the steps by then].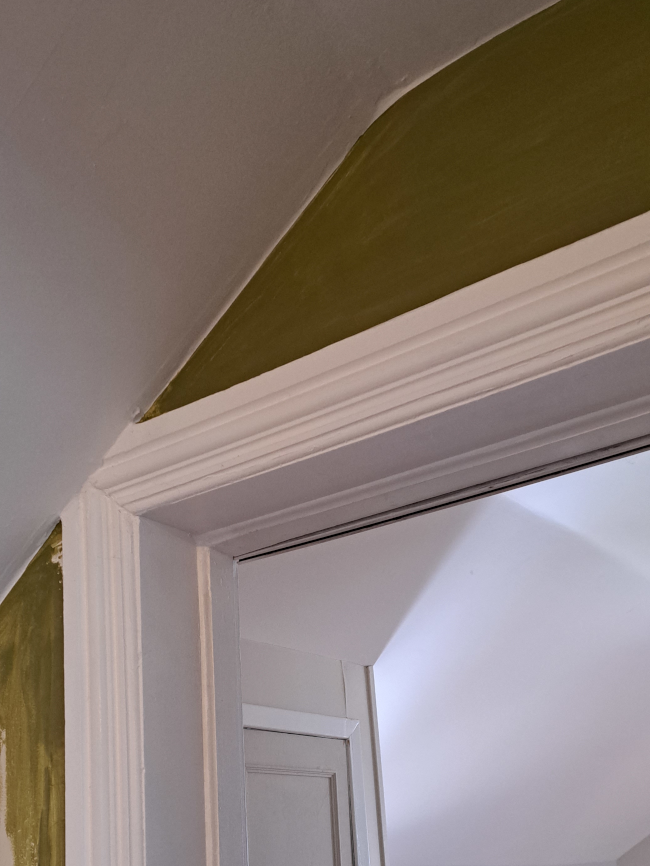 I'm not the only one running into difficulty when it comes to Week Three, as you can see by all the other Guest Participants here. It's a good week to check out if you find you have some time to browse everyone's progress as there are big changes across the board. I'm also slowly making my way through my to-do list. I'm hoping to have at least two more items crossed off my list by Week Four:
ORC SPRING 2022 TO-DO LIST:
– Skim coat / patch ceiling
– Skim coat / patch walls
– Paint ceiling
– Paint walls
– Replace / upgrade banister at top of servants stairs
– Update and reinstall handrails
– Repaint stairs [not super necessary, but I might as well]
– Install desk system
– Update secondhand tufted office chair
– Source chandelier / remove the boob light
– Source storage cabinet[s] for office items
– Possibly source and hang curtains [not sure though for either window]
– Decorate / hang artwork / overkill the space
Week One – Week Two – Week Three – Week Four – Week Five
Week Six – Week Seven – Week Eight