Trigger warning: this blog post mentions a previous miscarriage.
Today we collected quite possibly the most exciting secondhand find I've found in a long time. Our newest secondhand addition is for our upcoming newest addition …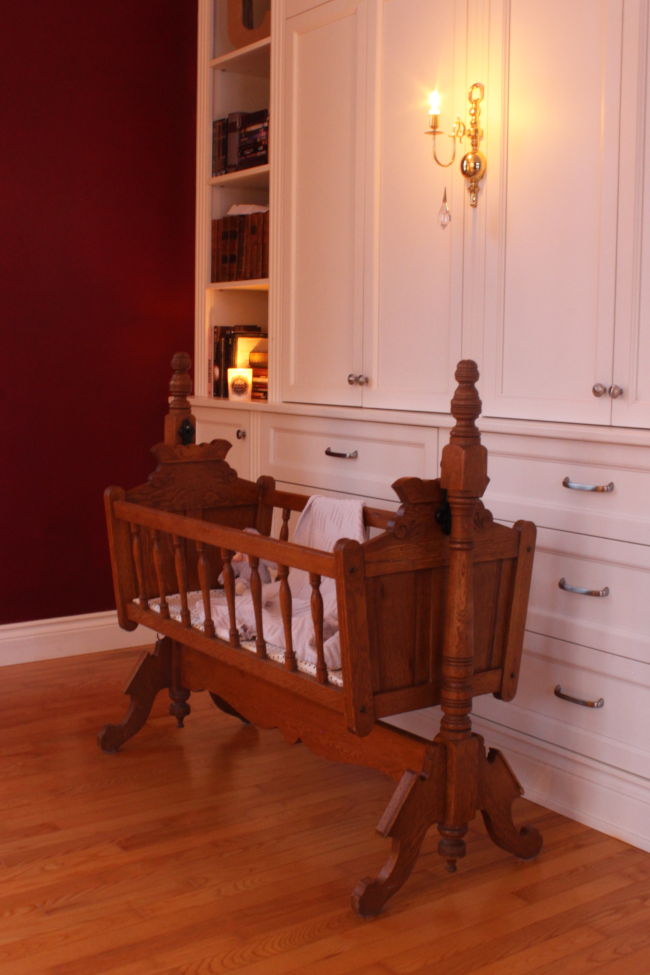 We've been keeping a little secret this past while. Though, a not so little secret if you saw my midriff right now.
At the end of March we had a miscarriage when I was 12 weeks pregnant. When we found out in August that we were pregnant again, we kept it to ourselves for a long time. Entirely out of nerves and fear. We didn't tell anyone, especially our families, until two weeks ago after my 20-week scan.
Way back in the beginning of 2020 when we were pregnant the first time, I was on the lookout for a crib / cradle for the downstairs of our house. I checked out my usual online secondhand sites and bookmarked loads of pieces, but never ended up contacting anyone because of our miscarriage. It was only this week that I started nervously looking for cribs and cradles again.
I returned to Kijiji and Facebook Marketplace to look for secondhand cribs when I noticed on Facebook Marketplace that one of the cribs I saved from earlier this year was still available. I contacted the owner this morning to see if it was still available and if so, we could collect it today. It amazingly was still available so we drove to view it*. Trust me when I say the photos of this crib do not do it justice. I feel I need to take more pictures of it in the morning in better lighting. It is huge and solid and gorgeous. The owner explained that they used it with their kids, that he was in it when he was a baby [he was in his mid-60's] and previous to that, his mother was in it when she was a baby. It's easily an Edwardian piece, possibly Victorian, but I think that would be a bit of a stretch. It is so gorgeous and huge and I am so happy it will now be part of our home.
The cradle was online for a year before I contacted the owner. A year! It was originally priced at $150, but was reduced to $75 earlier this year. I took a chance and offered $50 and the owner accepted [side note: they were the nicest most genuine couple, which just adds to how amazing this cradle is. They offered to bring us snowmobiling once it's safe to do so – insert hormonal ugly crying face here].
For anyone wondering, no I will not be painting it. I've been thinking about adding a small monogram to each end of the cradle base, but that's as far as I'd go with 'updating' it. I think it would be an absolute insult to paint just for the sake of it as it's way too beautiful.
p.s. I've been so nervous to buy anything in preparation of baby's arrival that I've only bought one tiny hat and a onesie so far, and now this cradle. I know this is common with couples who have previously suffered a miscarriage, but I never realized how much of a mental minefield it is. I'm scared to buy baby clothes and I'm scared every time I go to the bathroom. I almost don't want to talk about it as I feel I'm jinxing something. But I'm also excited and so happy I could cry. Oh, and let's not forget the hormonal guilt; by keeping it quiet I'm not celebrating this baby as much as I did with Cora [hormones should be illegal]. I want to be excited and I want to get carried away preparing for our baby. As I'm writing this I can feel her kicking away, reminding me to go to the bathroom. We have 4 months until her arrival [we're due May 2nd!], so I'm choosing to let myself get carried away with baby stuff now 🖤
*We're in a lock down here in Ontario and therefore took all the necessary precautions when viewing the cradle. We all met outside, all wore masks and kept very far apart from one another. As soon as we got home with the cradle I disinfected it entirely and we washed our hands thoroughly. We didn't travel far to view the cradle either so were not visiting a city.