I am 100% publishing this blog post on fumes. I spent 12 hours yesterday ripping out the last of the lath and plaster on all four walls of our front room, one piece of wood at a time, so apologies if this post is barely sentence.
Should I wait until a bit more time has passed and I'm not so emotionally dead inside as I'm still too raw from yesterday's demotion to publish this week's One Room Challenge post? Most definitely. But this is real life and renovation is r.o.u.g.h. sometimes.

I accomplished a lot this past week and I cannot wait to show you the insanity I went through. I look at the photos from last week and laugh at my innocence. It's all ahead of you, young Alex. Soon the 100-year-old mouse droppings will rain down on you like some sort of twisted renovation version of Flashdance. Except with mouse excrement.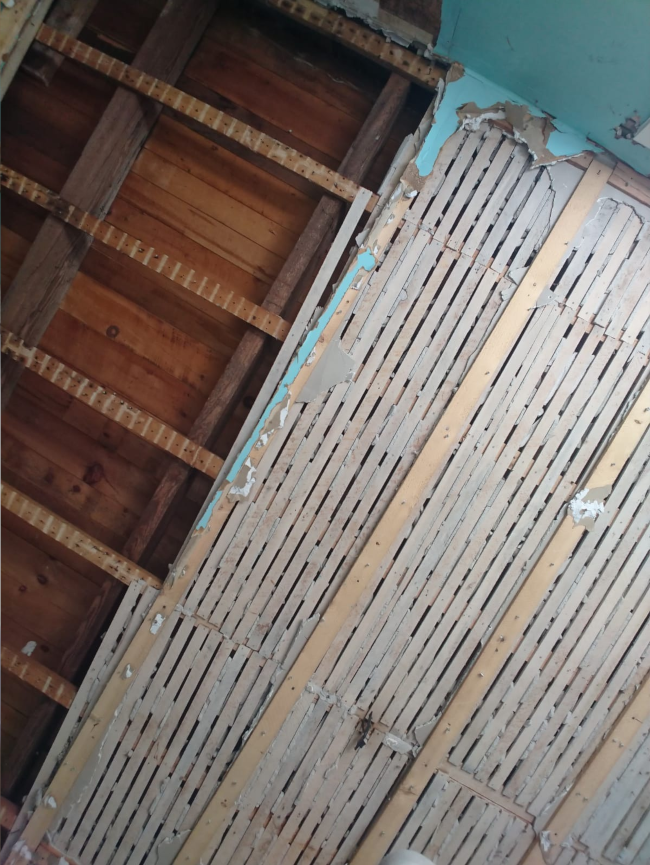 I began this week's work by removing what turned out to be four layers of ceiling. At the bottom [meaning, closest to me] there were ceiling tiles [which I removed the week previous], then drywall, 100+ year-old plaster, and finally wooden lath at the base. Each had to be removed one layer at a time. This was a total time-suck. But eventually, everything was removed and revealed beautiful beams and the underside of the original wooden floors upstairs.
Once that was cleared, I tackled the lath and plaster on the walls. I was up against the clock with getting this portion done so I spent 12 hours yesterday ripping everything out. It was chaos and more of a mental hurdle than anything, but I got it done.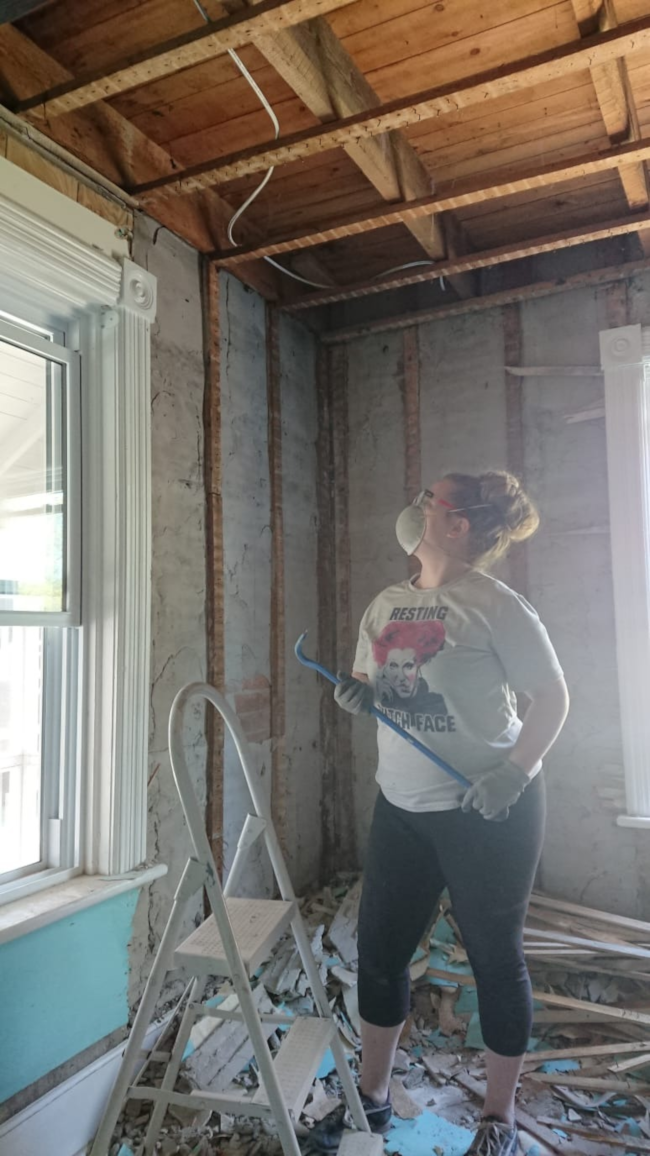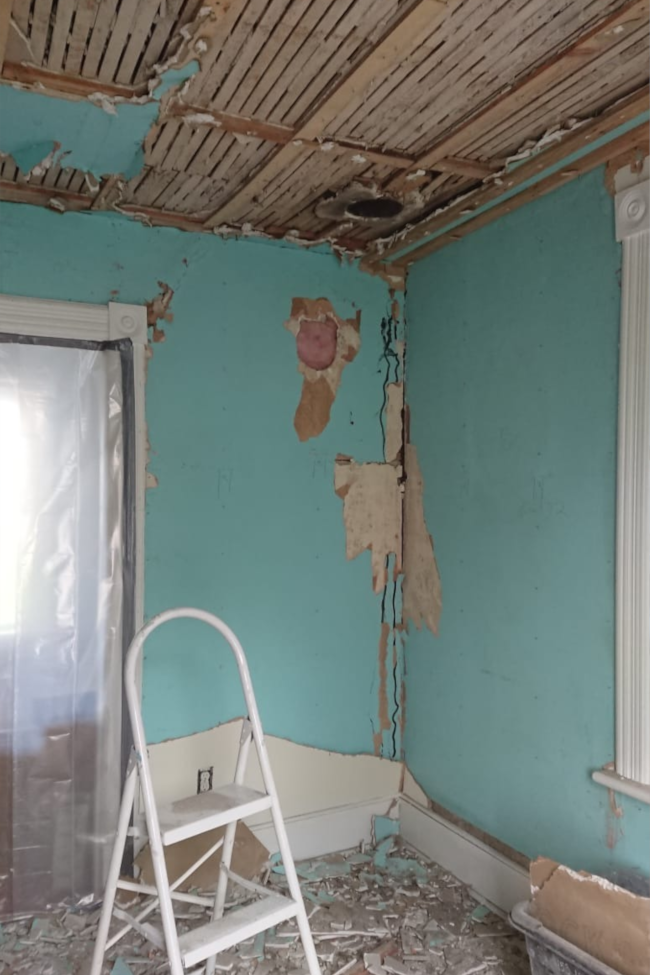 I was going into this project hoping to be able to restore and save as much of the original plaster as I could. But as soon as the ceiling tiles and wood panels were removed, it was clear they were put there to hide the horrible condition of the plaster. It was quite dangerous in places and fell just from me placing my hand on it. There was no saving it. Don't @ me.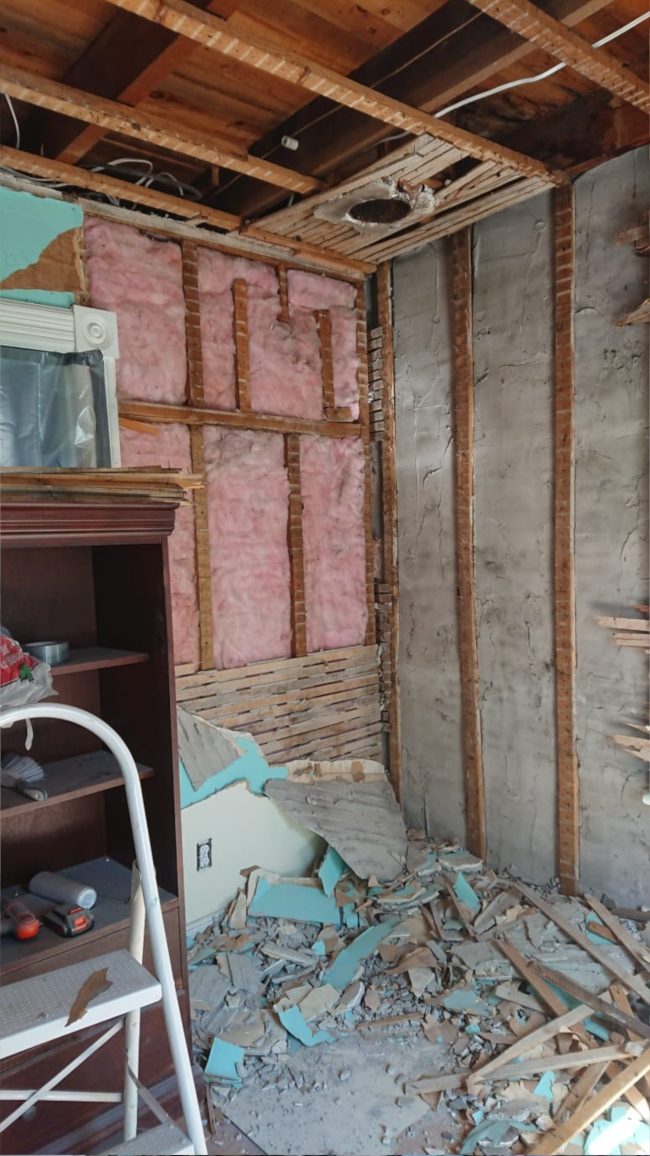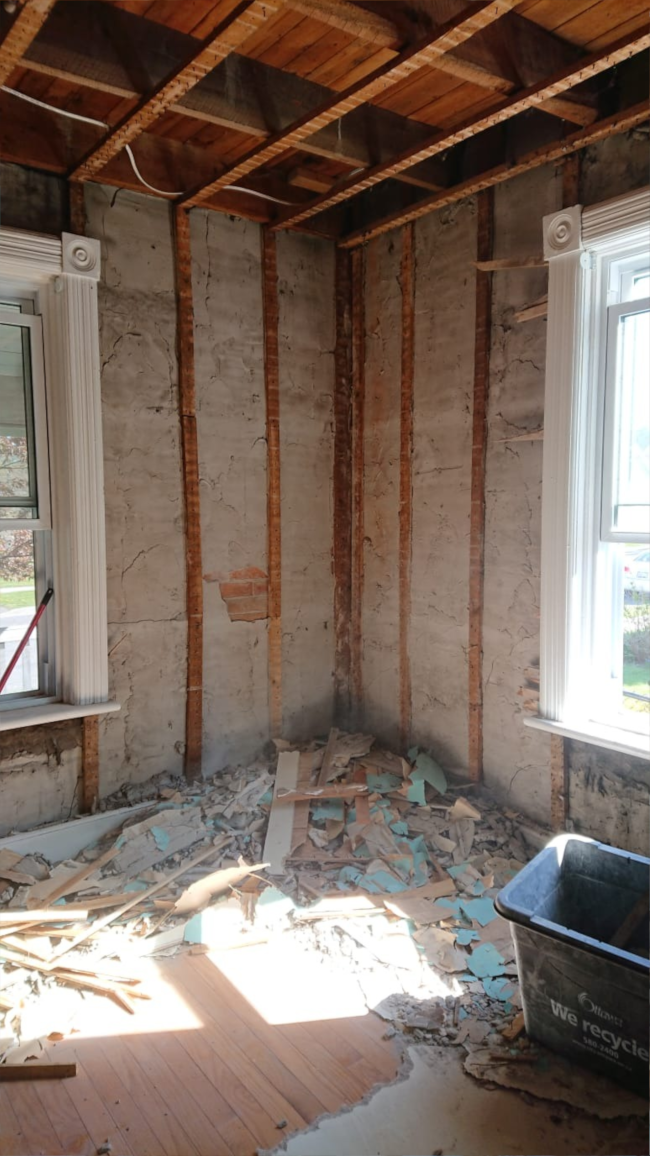 Once I finished ripping all the lath and plaster out came the arduous clean-up; I shoveled the mess into a recycling box [as seen on the right above], handed it out the window to Robert, who then brought it around and threw it into our Bin There Dump That dumpster. Seeing as plaster is deceptively heavy, we couldn't fit much plaster in each box so it took approximately 12,000 trips to the dumpster.
I'm innocently hoping the worst of the project is behind me now. Next week I'm hoping to insulate the exterior walls, drywall the walls and ceiling and start on the built-in shelving. In case you haven't noticed, I like to give myself unrealistic expectations and goals, so we'll see how this goes.
As usual, you can see all the week three Guest Participants progress here!
Week One – Week Two – Week Three – Week Four – Week Five
Week Six – Week Seven – Week Eight