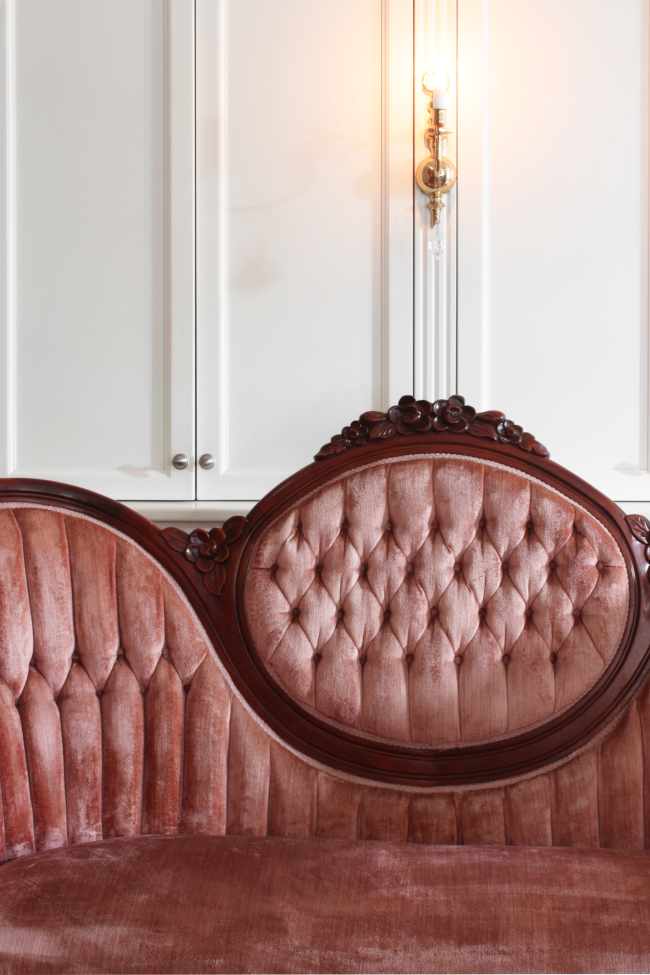 I feel there's no point adding text to this blog post because this couch is perfect.
The end.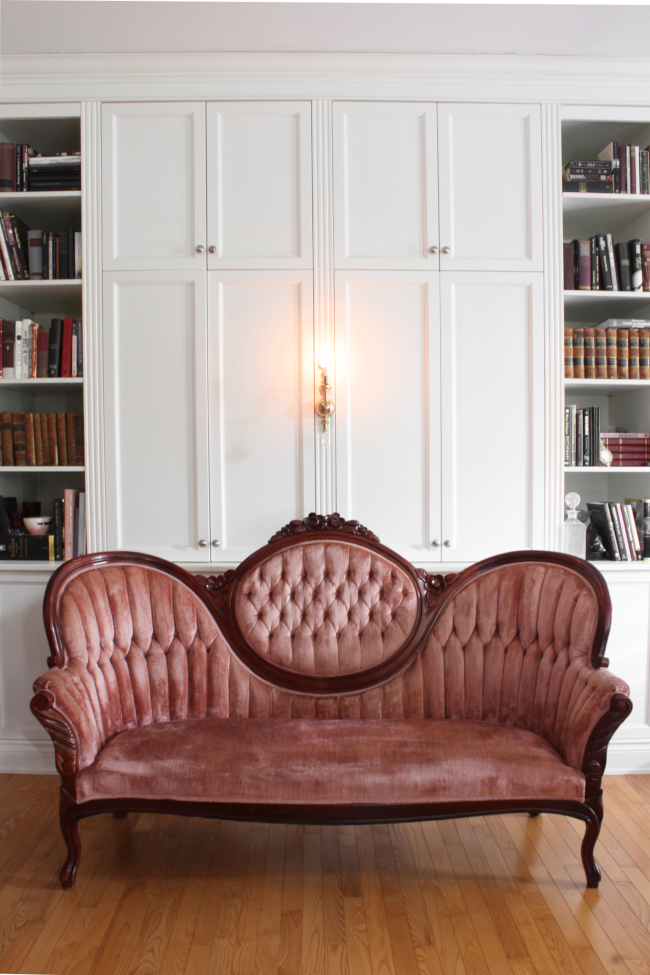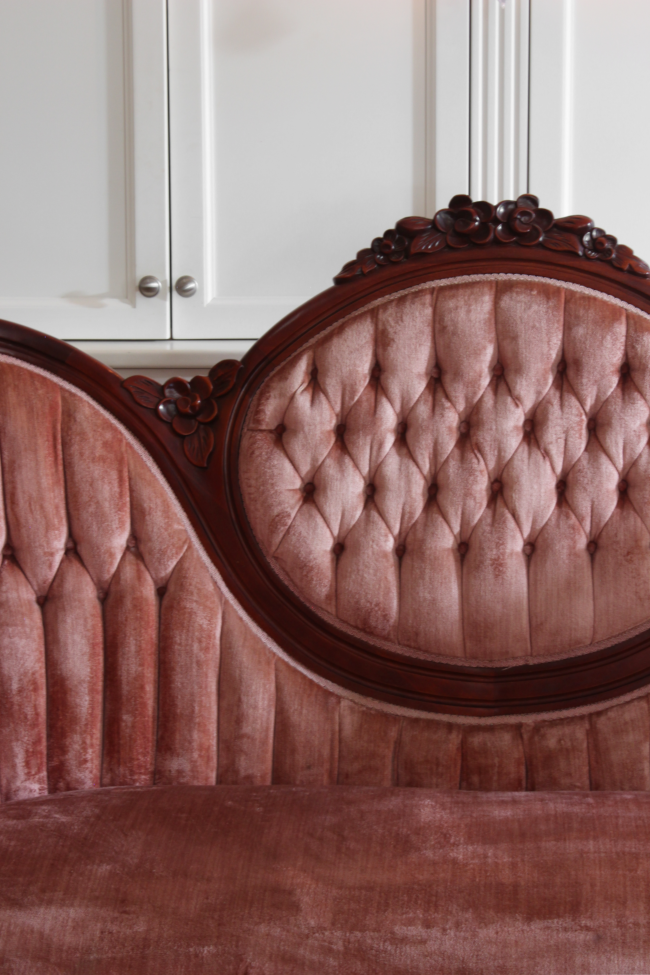 Not wanting to miss out on an opportunity to preach about sourcing pieces secondhand for my One Room Challenge, I will continue!
I've been on the lookout for a statement couch on Kijiji for at least 8 weeks for our front room makeover. I wanted an over-the-top yet comfortable couch. I had a general idea of the perfect shaped couch in mind [as seen in my mock-up shared on Week One, and never did I think I'd actually get the exact shape I wanted!], but while I was looking, I was really flexible; something that's vital when shopping secondhand. Here are the guidelines for what I was looking for in a couch:
Have an unusual shape, yet be comfortable enough to curl up and could read a book on
Ideally, be velvet
Have an element of drama [see: unusual shape]
The colour would ideally be cream / gray / pink or burgundy, but I was also open to possibly painting the couch or reupholstering it in the long run, so I wasn't too narrowly focused on the colour or pattern
Be affordable [some people need their heads checked and a dose of reality. $2,000 for a 40+ year-old couch is not a good deal]
The couch actually be available / not be ghosted by the seller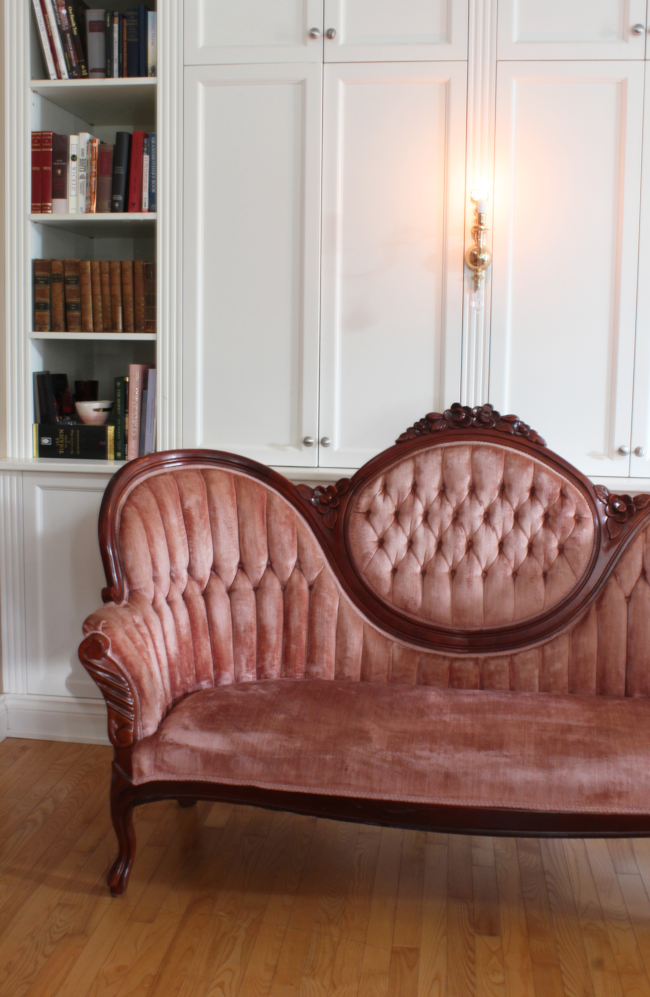 A combination of all of the above makes for a bit of an arduous journey, BUT BE PATIENT. IT WILL PAY OFF IN THE END. Trust me. I've been buying secondhand for years now and you have to be patient. That's why I started looking for a couch well ahead of the ORC beginning. It takes time, sometimes months, but that's all part of the hunt and makes the final find that much sweeter.
I had this couch saved for a long time but it took me weeks to contact the seller because it was outside of our budget [and I didn't want to come across as insulting by lowballing the price]. It was advertised at $600 and after a few messages we agreed on $400 for the couch. My budget was $300 [which in fairness, was a number I randomly chose], but this was definitely one of those situations where if I didn't get this couch, it would haunt me forever, so I was flexible. And I'm so glad I was because LOOK AT MY GORGEOUS NEW VAMPIRIC COUCH.
Check out My Top Tips for Buying Secondhand Items Online blog post, which details the four techniques I use to win at secondhanding. One of these 'techniques' got $200 off the final price of our couch [though, it's not really a technique so much as just being a human person]. Check it out!