I'm slowly learning that time is now very different. BC [Before Cora], it would take me say, 45 minutes to tidy the apartment and get myself ready before heading out the door. Now? Multiply that by 4 and you're starting to get close. Between feeding, changing, predicting how much to bring with me, getting myself ready, getting Cora ready, feeding Cora again, dealing with explosive situations and then actually leaving the apartment, I'm glad I have very few scheduled things these days. One thing I have been hoping to do, you know, when I have a spare minute [😑], was to properly photograph the nursery. Though it's not entirely finished, it's been at this stage since the week before Cora was born. So yeah. Getting things done nowadays takes time. Even if it's just taking photos. Baby steps?
Our spare bedroom is quite small and I didn't want to leave anything to chance, so I did what I quite embarrassingly love doing – I measured everything and made a little mock-up of the room on Google SketchUp. Here's the design I decided on a couple of months ago …
The room felt a bit stale when I was finished so I added a string of Christmas lights up and over the curtain rod to help make the room feel warmer and … funner. I really love Christmas lights and used to have them hanging up in my bedroom as a teenager throughout the year. When I first switched them on in the nursery for Robert, he was so surprised by them and really impressed [thanks to the dark curtains, you can't really see them when they're off].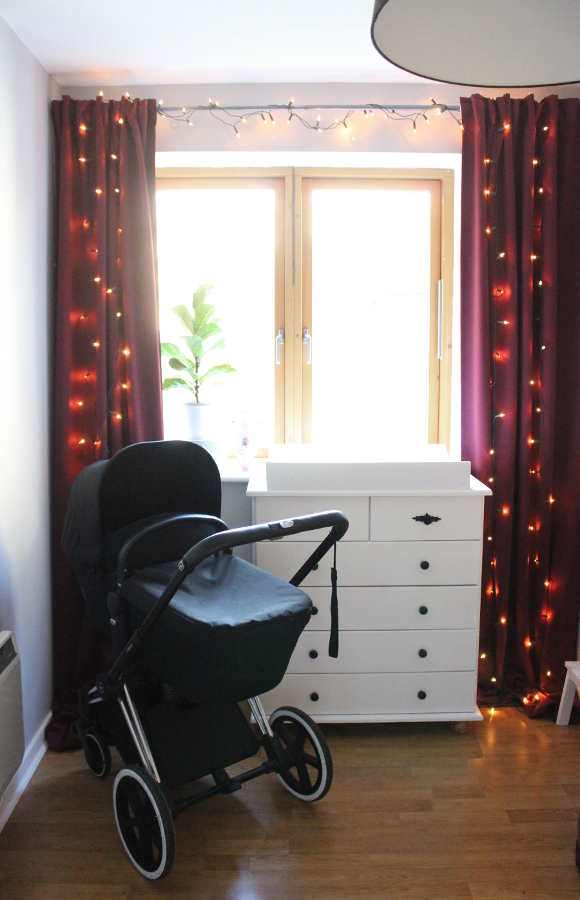 There are a few major pieces I have still yet to get. One being a proper bin [I'm currently putting dirty diapers into a plastic bag that hangs beautifully off one of the knobs on the dresser] and the other being a chair of sorts for the corner of the room. To give an idea of space, I put our buggy roughly where a chair would go, but I have yet to find a really great one secondhand to reupholster.