October was a busy month for me [not complaining] and while I wasn't able to stick to the unhealthy level of pressure I put on myself to blog 3 times a week, I was busy so I'm going to make like Taylor and shake it off and possibly cut myself some slack. October was great as I was given the opportunity to be part of a wide variety of features and blog posts. I thought there was no better place to share them than here …
– I [somehow] made it onto Plumworld UK's
100 Interior Design Blogs you MUST Read!
list. There are proper people on that list. Emily Henderson is on that list. Design*Sponge are also on the list. I don't know how I managed to get in there, but I am excited to be on it.
– I was
interviewed
by Floor Coverings International based in Alberta, Calgary, over on their blog. They asked me a quite tough question that I've never been asked or had to think about before. Until now –
how would you describe your design style?
I had to enlist in help to answer that because brain fart.
– Then
Me and My Home
were featured on the Image Interiors website including all sorts of little details about our home and how I like to put my spin on it. It's crazy to see how much our apartment has changed since I submitted those photos! Also, in my interview you can see which Instagrammer gives me the most interiors inspiration, and it's not someone you'd immediately think.
– I was asked to team up with Harvey Norman for a trio of posts for their interior design and tech blog. Yes please! My first post was about 6 of my top tips for how to
Love Your Rented Home
, as it's safe to say I have a few tricks up my sleeve for making a place feel less rented. I then wrote about
Using Colour to Update Your Space
where I created a collage of 3 different looks –
bold and bright
,
country cottage
and
retro geometric
. Which would you say is your favourite? I know I probably shouldn't pick, but the Country Cottage combo was for sure mine …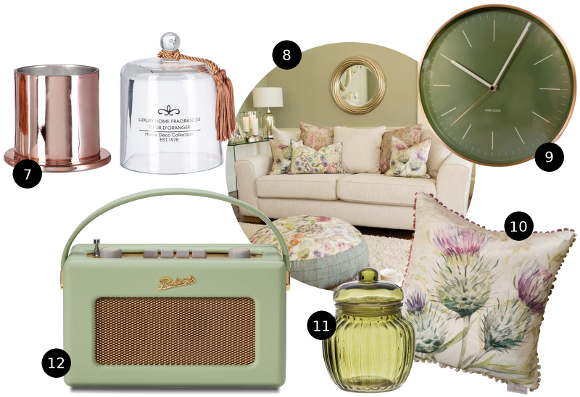 If I could start my design all over, I wouldn't hesitate to go for this style of decor. I grew up in cottage country in Canada so this colour palette mixed with natural accessories really hits home for me. Fishing on the lakes, skiing along the local trails, lazing on the beach in the summer in the park and general just being outdoors. Very different to how I am now, but it's a huge part of me growing up.
– And last but not least, I was asked by the lovely
Nathalie
for my thoughts on
hygge
in yesterday's Sunday Independent business supplement [hygge – the Danish concept of comfort. And lord knows I love to be comfortable] …
I haven't been able to blog as much as I've wanted in October as I had a few plans and projects on the side as well as some ghost writing gigs too [unfortunately, it's not as spooky as it sounds!] It's been a while since I worked on a DIY project of my own for our home and I can definitely feel it. I've had a couple of ideas for projects rolling around in my brain that I'd love to make [one of which = knitting a hat], so fingers crossed that in November I'm back in my usual swing of things.