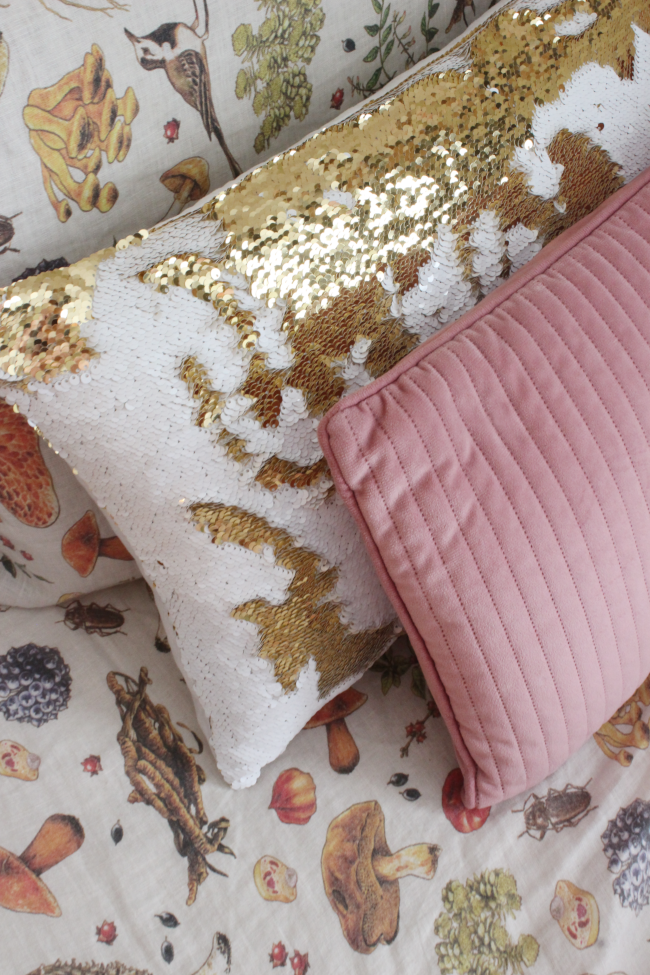 I'm very excited to finally share some photos of Cora's Big Girl Bedroom™! Yes, it's taken me *checks calendar* 13 months to take photos of her room since sharing my moodboard and layout plans for it last year. And while it's a pretty tiny bedroom, the layout and design packs a punch and still works as efficiently as the day she graduated to her Big Girl Bed™. I had a lot of fun thinking of how to make this previously brown bedroom a perfect room for a curious little girl.
See something you like? A complete SOURCE LIST is included at the end of this post.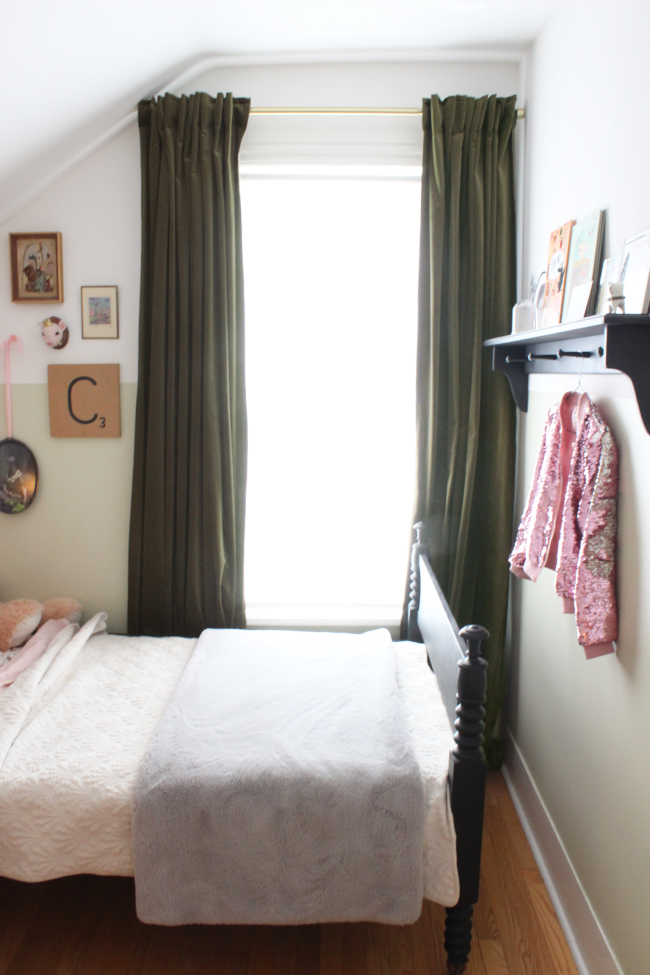 Cora's bedroom is TINY. For most of these photos I'm standing as far away as I can in an opposite corner of her room. It's so small that there's no room for built-in storage and it's just wide enough to fit a bed, as seen below [you can also see more of my 3D mock-ups here!]. I really do love a challenge so I took my time with creating the best layout [as simple as it seems] and worked from there.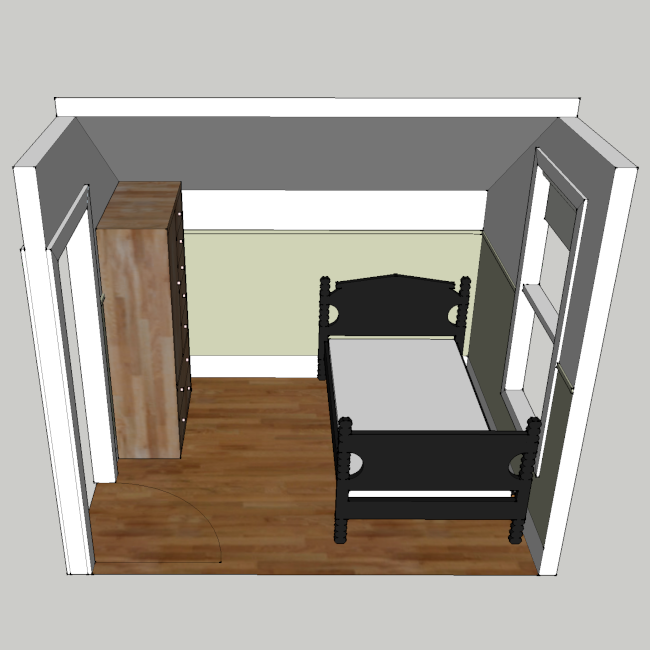 I sourced a gorgeous spindle-type bed secondhand on Kijiji for $80 as well as an armoire perfect for all her clothes [and that would fit her dormered room] for $50 [via Facebook Marketplace]. The bed was pine and didn't have a great finish so I wasn't guilty about painting it in Fusion Mineral Paint's 'Coal Black' [after doing a mock-up of it in SketchUp and seeing it would look *chefs kiss* against the green walls].
Speaking of walls! I gathered a huge amount of inspiration for Cora's room from her dollhouse. I matched the colour almost perfectly ['Agaves Green' by Sico Paint] and painted half the walls. When I say I, I mean Robert did all the painting. I was in peak pregnancy nausea with Zelda at the time and wanted to sleep and puke so Robert did all the tedious painting #Blessed.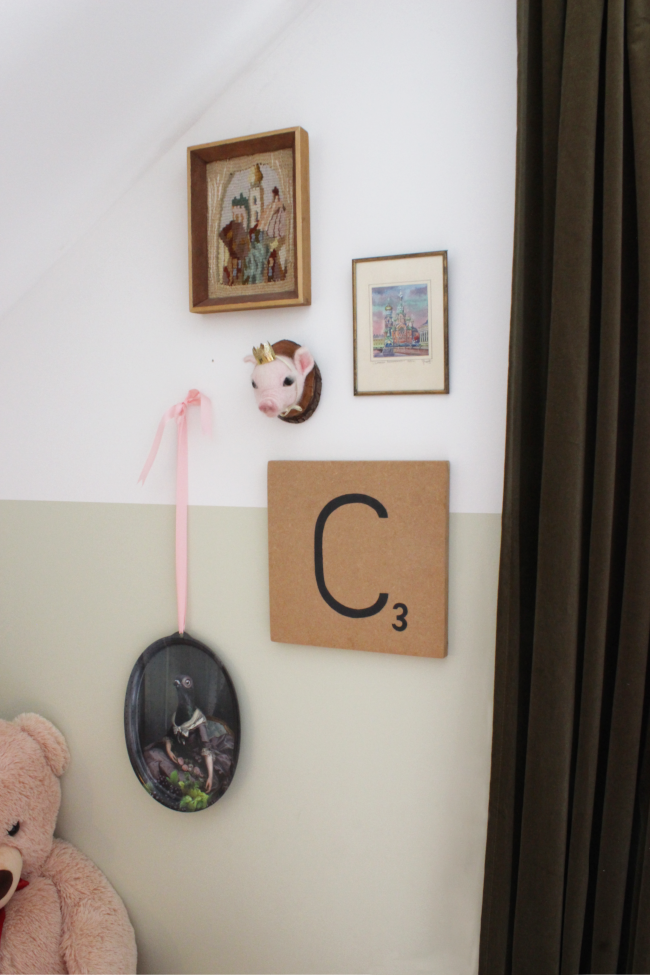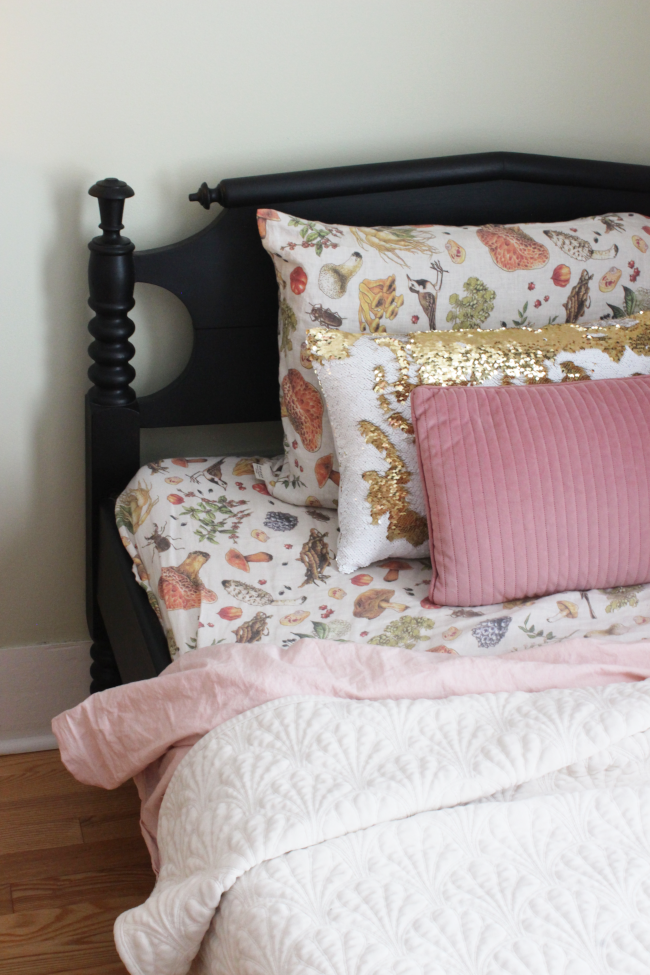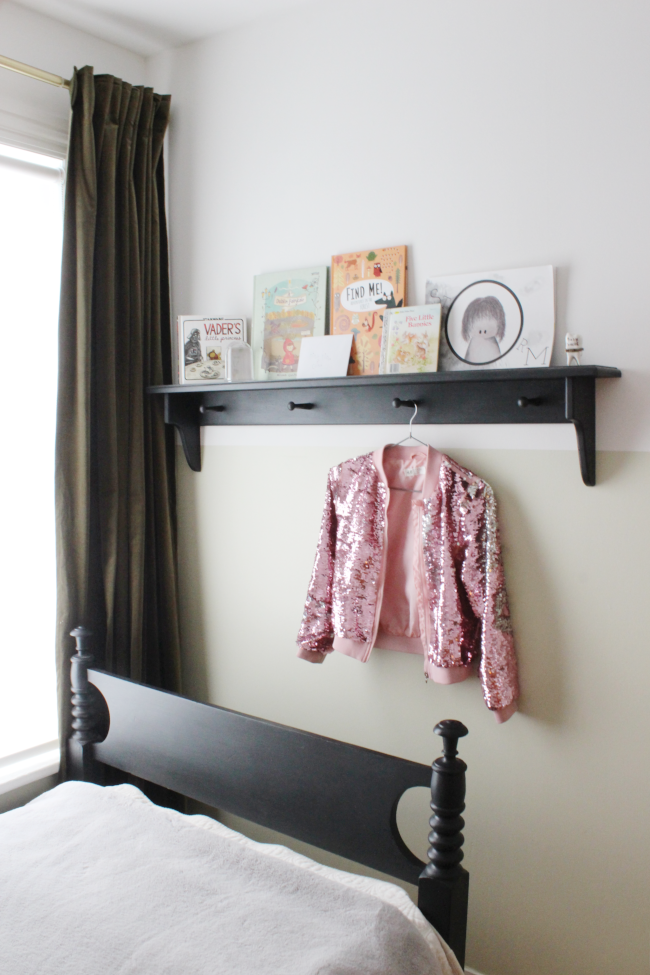 I wanted Cora's room to feel sweet, creative and earthy with a sprinkle of odd. I can't remember what I searched for in Etsy to find them, but when I found Grannet Home's mushroom linen fitted sheet and pillow case I knew this was the pattern that was going to tie Cora's room together. Its sweet birds, mushrooms, beetles and and berries were just gorgeous and a perfect mix of earthy and odd.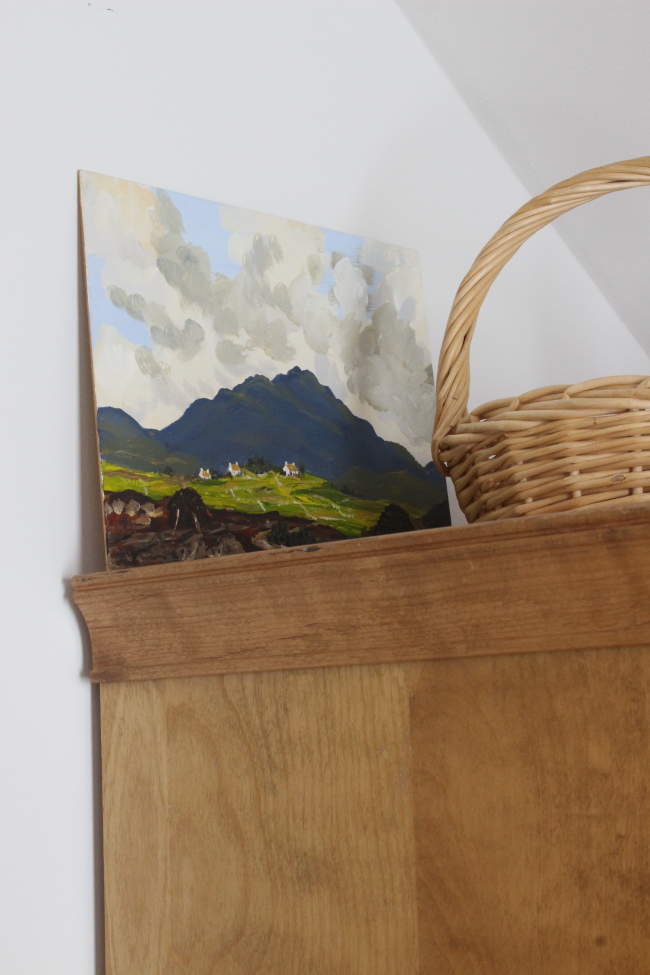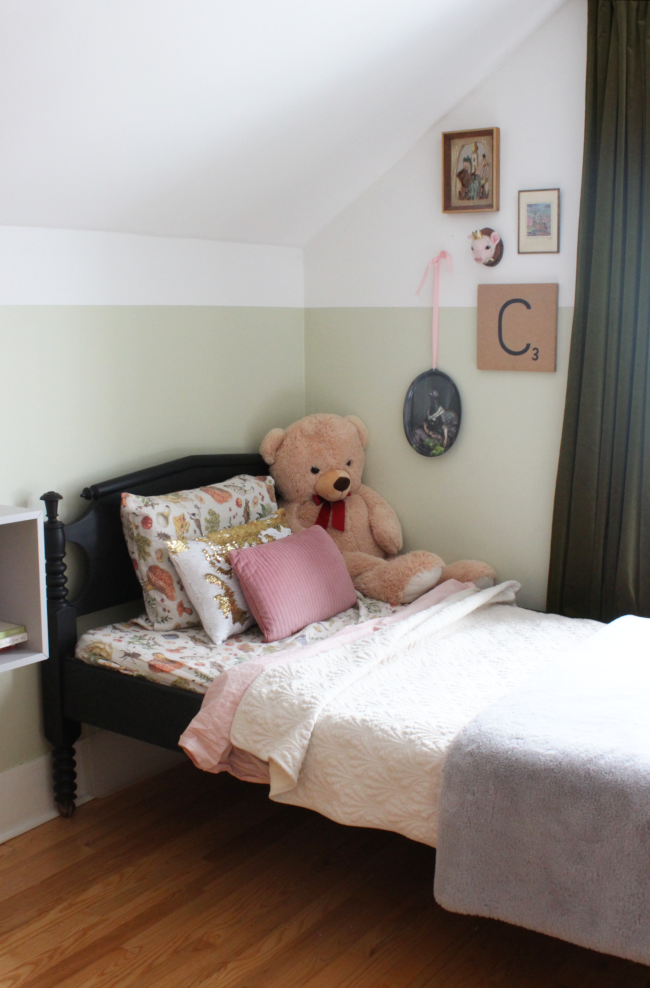 Going with the wall colour and bed linen, I built the room from there. I filled it mostly with pieces Cora / we already had. I tried my best not to smother the room in burgundy or pink and I think it worked out well.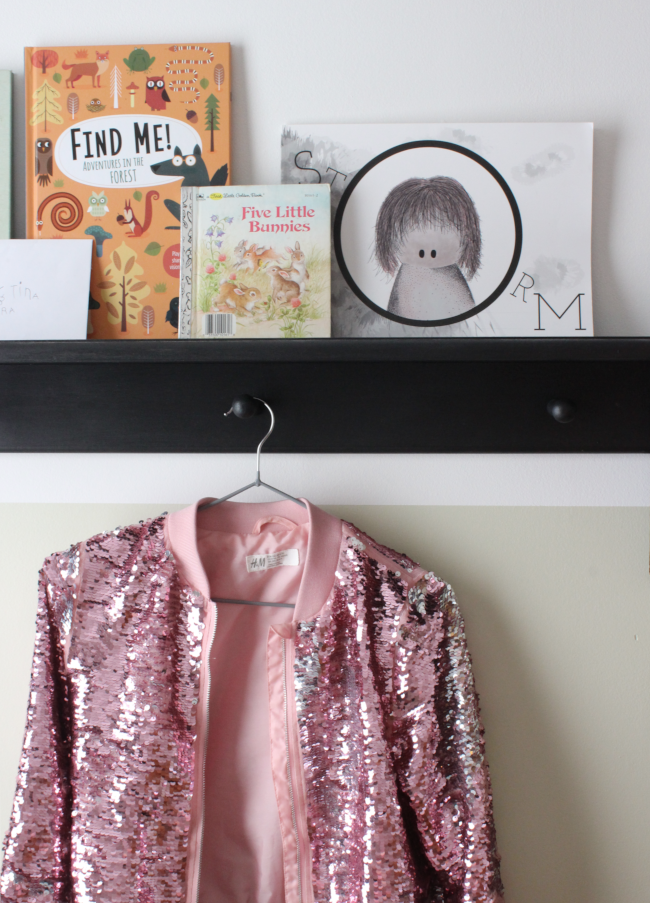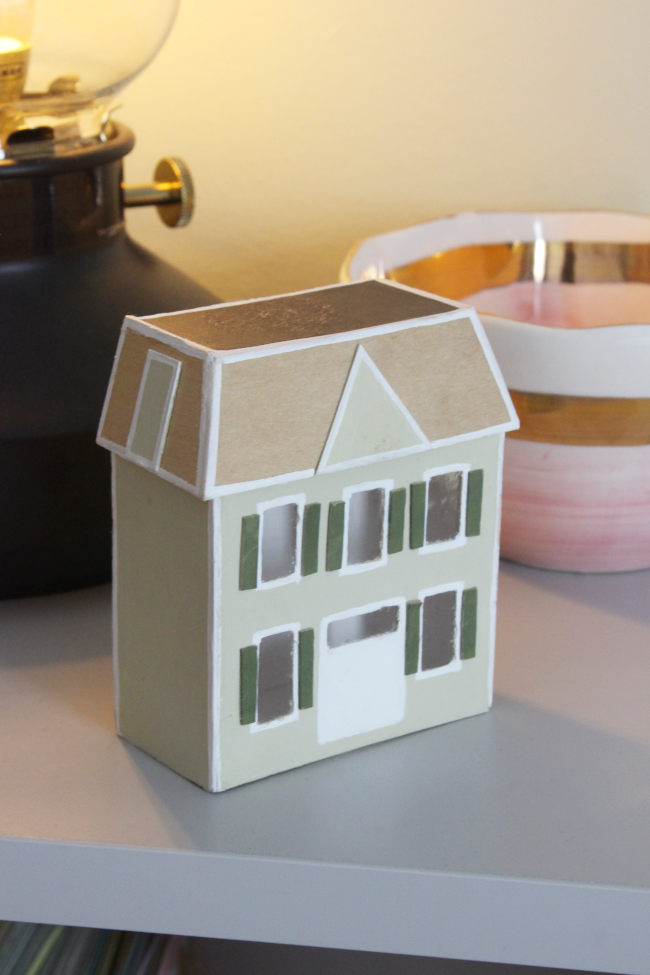 The irony is that I took these photos the day before doing a total bedroom reshuffle and upgraded Cora to our spare bedroom to turn this room into Zelda's bedroom, so this room doesn't even look like this at all anymore.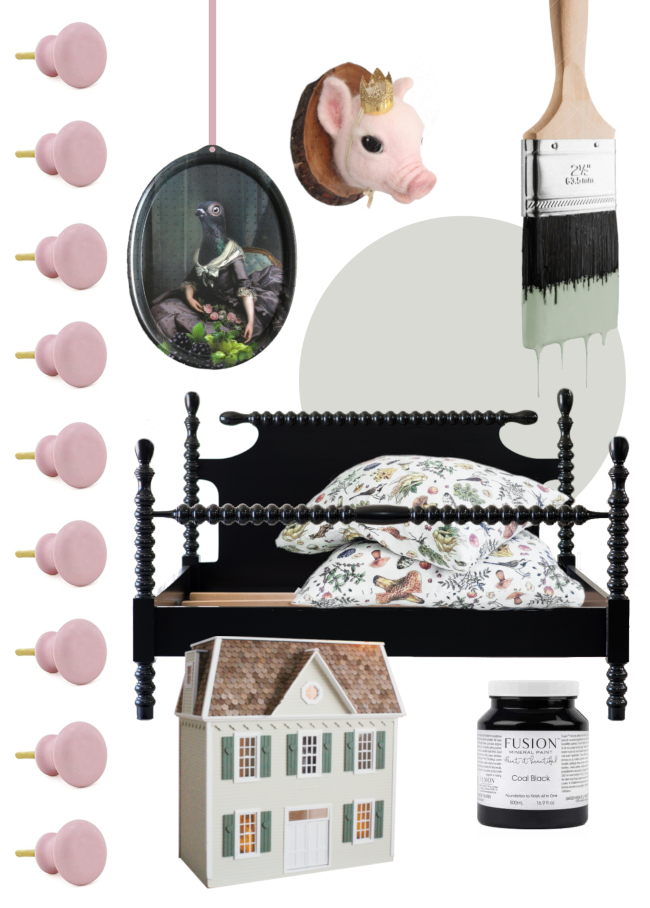 I had a lot of fun with Cora's room, but I already have HUGE plans for her new bedroom, and even more amazing plans for Zelda's version of this very room.
SOURCE LIST:
– Walls painted in "Agaves Green" by Sico Paint
– Bed secondhand from Kijiji
– Bed painted in 'Coal Black' from Fusion Mineral Paint
– Sequin gold and white pillow thrifted from Value Village
– Pink pillow gifted from Cora's Nana
– Mushroom linen bedding [fitted sheet and pillowcase] by Grannet Home on Etsy
– Pink bedsheet from IKEA's DVALA bedsheet set [including fitted sheet and pillow case]
– White embroidered blanket from Mariposa Design
– Grey faux fur blanket from !ndigo [light gray option no longer on their site]
– Not pictured, but used: IKEA's LENAST mattress protector
– HUSVIKA twin mattress from IKEA
– Armoir found secondhand on Kijiji
– Vintage pink porcelain knobs via Firstfinds on Etsy
– Brass Cappa curtain rod by Umbra
– Sanela velvet curtains from IKEA [olive green curtains are since discontinued, welp]
– Irish landscape painted by Cora's talented Nana
– 'Cora' embroidery by Hextrovert
– STORM book by Pieces by Georgie
– 'C' scrabble-style artwork DIYed by me years ago
– Isild medallion bird portrait tray by iBride
– Felted piggy faux taxidermy by Felt Fauna by AC
– Shelf with peg hooks found secondhand on Kijiji [then painted in FMP's 'Coal Black']
– Gray EKET cabinet from IKEA used as a bedside table
– TARNABY table lamp from IKEA
– Miniature dollhouse dollhouse DIYed by me
Cora's Big Girl Bedroom™: before – moodboard and layout – after