I've
noticed since having Cora that I've changed. A lot. Chemically. Not
that I was emotionally devoid BC (before Cora), but I'm now much more
emotional whenever something child-related pops up in my news feed.
The little girl who
loves
a broken water heater
? I cried. The sassy kids who
interrupt
their dad's BBC interview
? Cried. Different types of tears, but I
think they prove I'm doomed to look like
crying Dawson Leery
at anything involving children going forward.
Last
week when
TK
Maxx
approached me to help promote their new homeware range with a
difference, they hit a chord with my new-found parental emotions.
From today, an incredible range of hand woven and hand crafted pieces
will be available that are not only perfect to brighten your home for
spring, but they also support a strong cause.
Each piece that's sold supports the disadvantaged Ugandan parents who
crafted them by increasing their income so they can afford to keep
their children in school.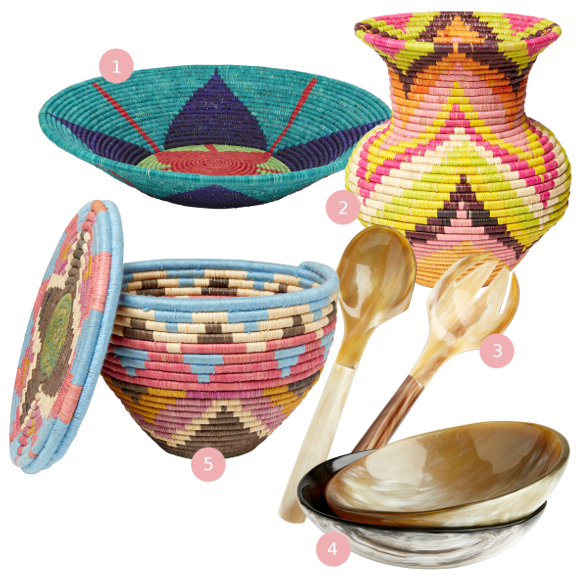 1.
Multi-coloured hand woven platter, €16.99, TK Maxx
2.
Hand woven patterned vase, €16.99, TK Maxx
3.
Rice spoons, €8.99, TK Maxx
4. Horn
bowls, €22.99 each, TK
Maxx
5. Lidded hand woven basket, €19.99, TK Maxx
Since
TK Maxx began working with parents in Uganda in 2008, school
attendance has risen from 53% to 94%. This isn't something that in
the past would have hit home so hard, but since having Cora I can't
begin to imagine how difficult
that struggle is and I'm only starting to realise how much we take
for granted.
The
sale of these bespoke pieces helps to achieve long-term improvement
in the everyday lives of the people who make them; an excuse to go
shopping if I ever needed one. Let's also not forget the durability
factor. Now that Cora has reached pre-toddler mode, these woven bowls
and vases won't shatter should your adorable bundle of grabby-hands
hone in on them. They're uniquely crafted statement pieces that are
doing good for those less fortunate.
Please
note that the new Ugandan stock is limited and will vary per TK Maxx
store nationwide.
DISCLOSURE
– this is a sponsored blog post by TK Maxx to help promote their new
range of Ugandan handmade products. As always, all words and opinions
are my own. I only work with companies I like and of course, think
that you will too. Thank you for supporting the companies that
support The Interior DIYer.