Another treat has arrived in my inbox, yay! I do enjoy a good surprise. This week
Robyn from One Simple Trick
sent me a lovely e-mail regarding her
deceptive DVD covers
she made in order to cover up some of her favourite, and unfortunately unsightly, DVD's after seeing
my deceptive dust covers tutorial
. Take it away, Robyn …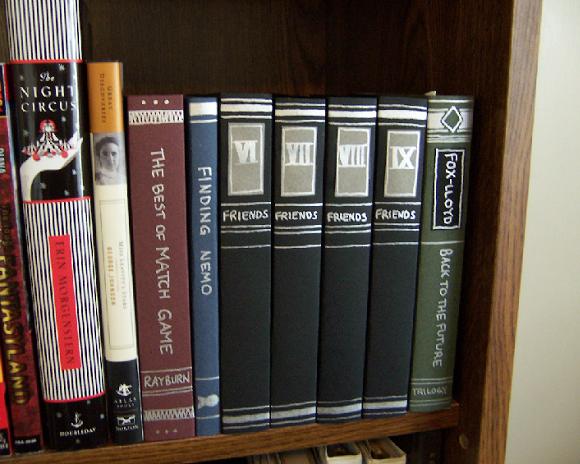 "… the random colouring of my books doesn't bother me. The random colouring of my DVDs, however, does. So I decided to make the covers for my DVDs instead of my books. I'm currently in the middle of an extensive move and am staying with family until we finish it, so I only have a handful of DVDs with me, and those are the only things I can put on for background noise for knitting …"
Great minds, Robyn. Back in the day my first deceptive dust covers were to hide my unsightly CD's while I lived at home with my folks. Look how crafty we are.
What I next need to point out needs its own paragraph – the faux encyclopedia-style set of Friends DVD's – just amazing. It's giving me lots of ideas for covering similarly heighted books. Ultimate craft sophistication.
Thank you so much again Robyn for your lovely e-mail and for hooking me up with your deceptive picture 🙂 It makes me feel all warm and fuzzy.