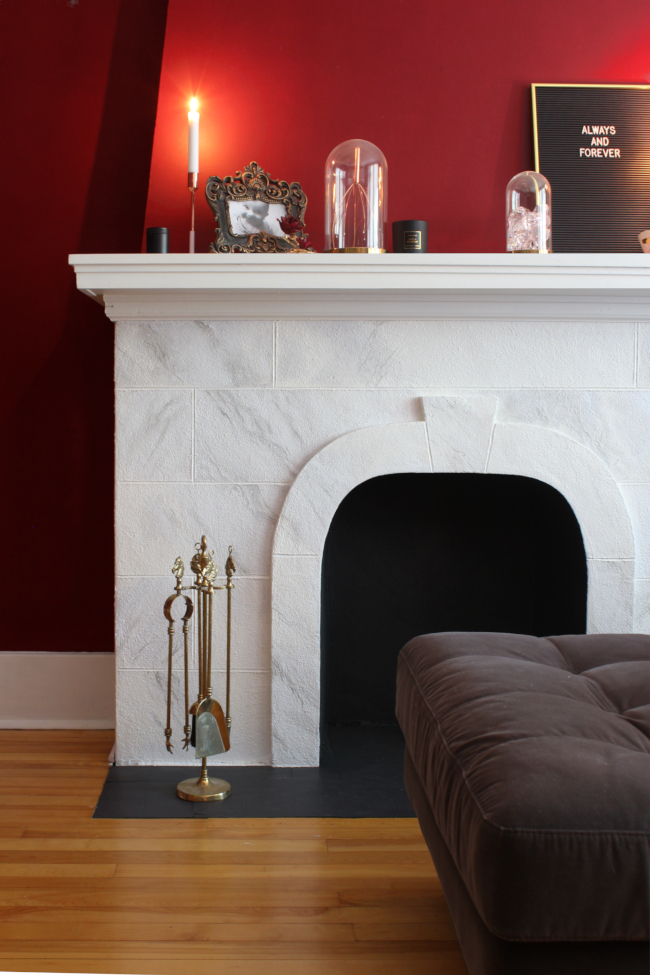 This blog post is a Partnered Project.
I don't want to admit how long I've been working on updating our fireplace but it's getting close to 2 years at this point. I painted the fireplace white when I painted our living room burgundy in November 2017. When we first moved in the walls in our living room were a blueish shade of grey, the picture rail was a second shade of grey, the fireplace was two shades of beige and the ceiling was a lighter shade of beige. It's a horrible before photo below, but this is the best one I have …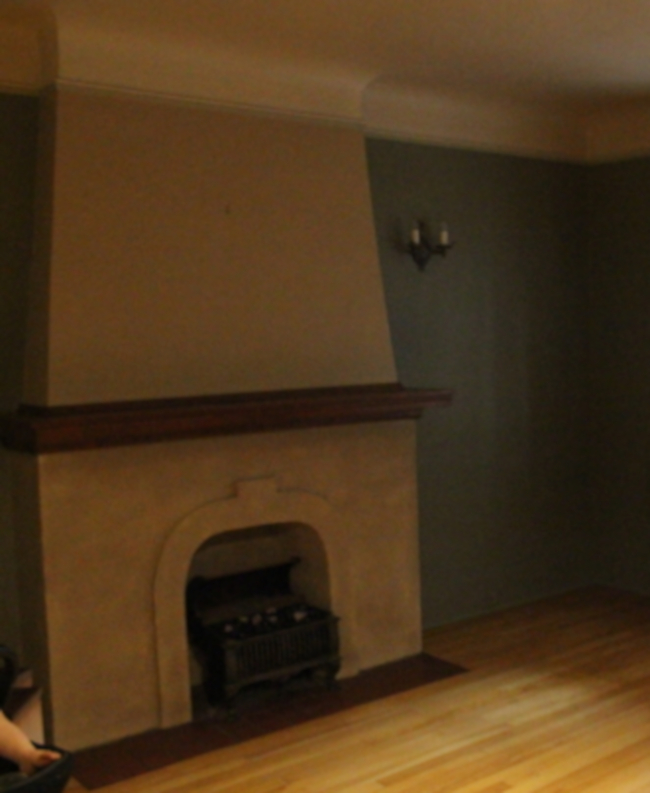 Considering the unusual shape of our fireplace, I thought the best way to highlight it would be to paint the fireplace and the mantle white against the rest of the burgundy walls. It was around the same time I painted our dining room hutch makeover in 'Coal Black' that I thought about painting the inside of the fireplace a dark colour. Along with Coal Black paint, Fusion Mineral Paint sent me their dark grey shade of Ash. It would be perfect for the inside of the fireplace as it was beautifully dark without being straight up black. Fusion Mineral Paint also sent the sweet shade Little Lamb grey which I immediately knew would be perfect in faux marbleizing the fireplace.
For a long time I didn't know exactly how I should paint it so I got stuck [anyone else get stuck thinking for so long that they get more and more overwhelmed by a project?]. For about 6 months our fireplace sat half-painted, until only recently when I finished marbleizing the fireplace [overwhelming work schedule + a toddler transitioning into a threenager], but I'm really happy with how it turned out!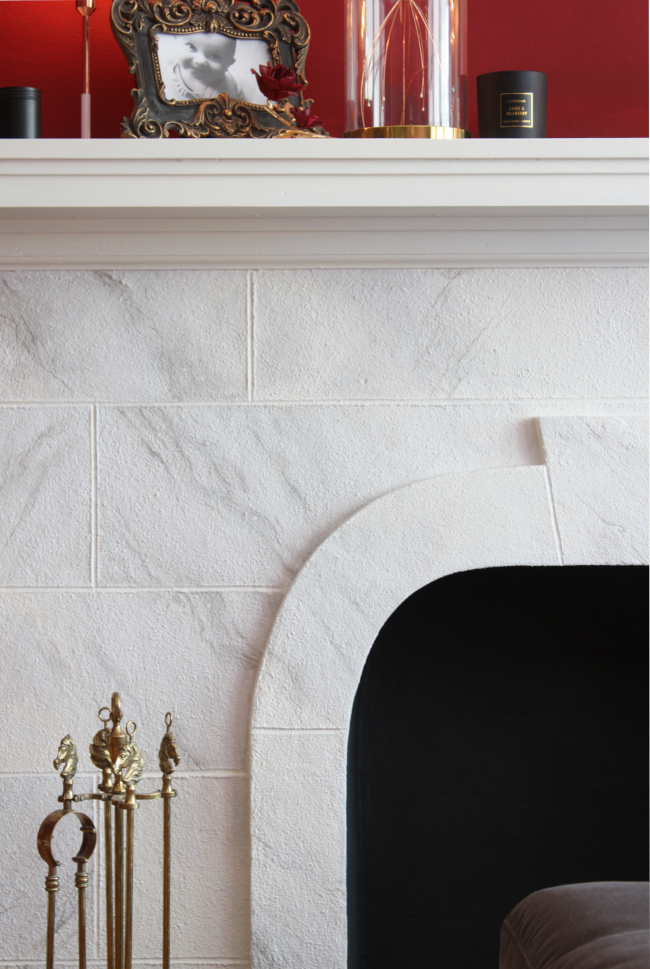 A very last minute decision I made that really brought the fireplace together was to paint the tiles in the same Ash paint as the inside of the fireplace. Fusion Mineral Paint adhere's perfectly to tiles, especially in this situation as it's not a high-traffic area. The tiles weren't in great condition to begin with and weren't historic to the property, so I took a chance and painted them. It really pulled the fireplace together and made it look like a complete unit. I think so at least!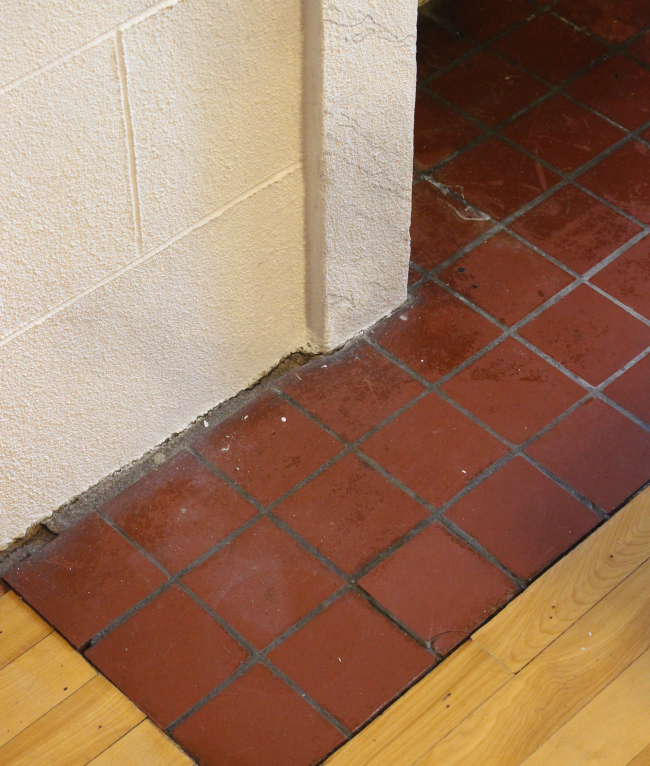 It was quite a surprisingly easy process faux-marbleizing our fireplace with Fusion Mineral Paint. Despite it being quite a bumpy surface, I think it still looks relatively convincing. At the very least, it looks better than it did before. I also took some step-by-step photos of the process and I'm hoping to be able to put together a tutorial for exactly how I did it. There are a lot of photos and I figured it would be overwhelming to have them all in one blog post.
I'm hoping to share a tutorial in the coming weeks about exactly how I faux marbled our Fusion Mineral Paint fireplace. A huge thank you again to Fusion Mineral Paint for partnering with me on another makeover project and for sincerely having such incredible and versatile paint.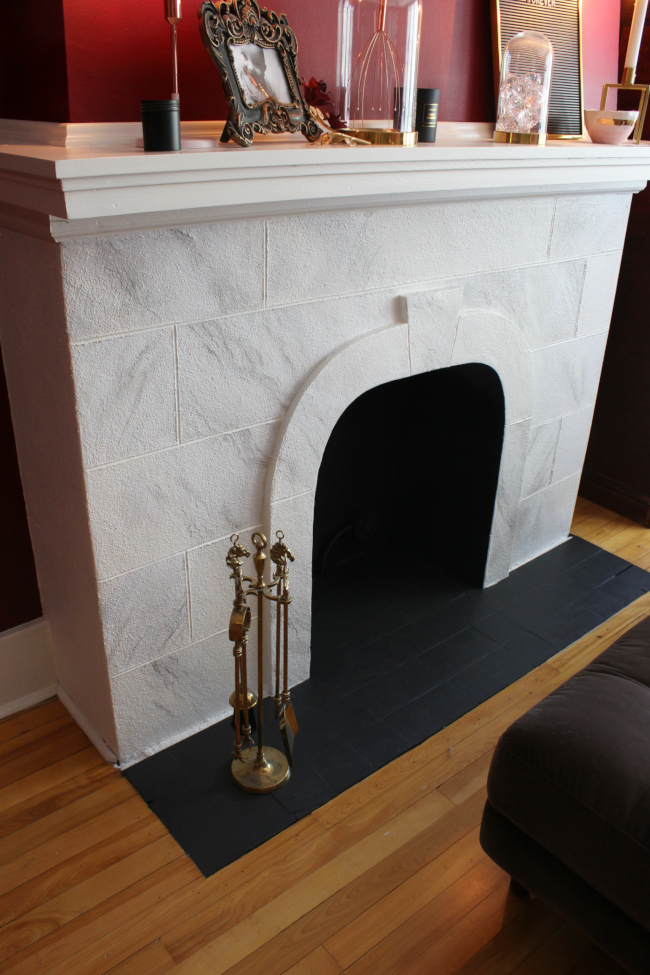 DISCLOSURE – while this post is not sponsored, I did receive this paint free of charge from Fusion Mineral Paint in exchange for a blog post. I only work with brands that I like and of course, think you will too. Thank you for supporting the companies that support The Interior DIYer.