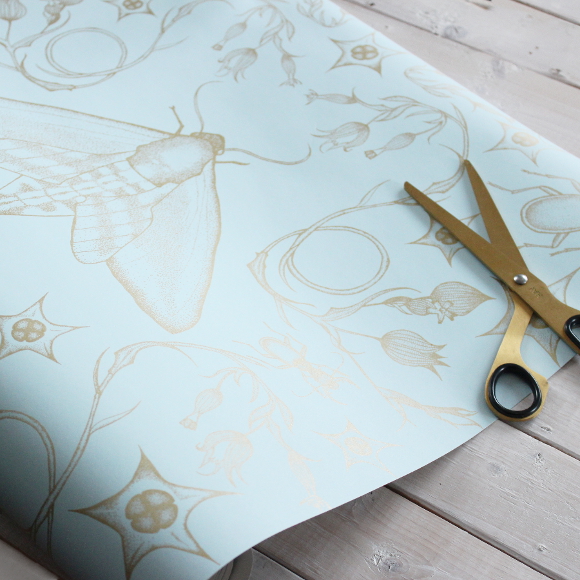 Without causing any direct offence to butterflies or people who like butterflies, I myself am more of a moth person. I'd say it's down to growing up in Canada and watching big floofy moths come out at night and hover around our porch lights. It's also probably because I like darker gothic-style takes on things in general. So as you may imagine, a couple of weeks ago when Emma, the creative genius behind
Wilful Ink
, got in contact with me about her unusual line of wallpaper, I was full of heart-eye emojis.
Emma was crazy-kind enough to send me a roll of whichever of her wallpaper I'd like to use in our home. I was incredibly flattered, and at the same time,
HELL YES
! I searched through Emma's collection of creature filled wallpapers and immediately fell for her
Tangled Hawkmoth
wallpaper design. Moths.
MOTHS
! One of my favourite night time creatures right there in a beautiful print. I couldn't wait for it to arrive.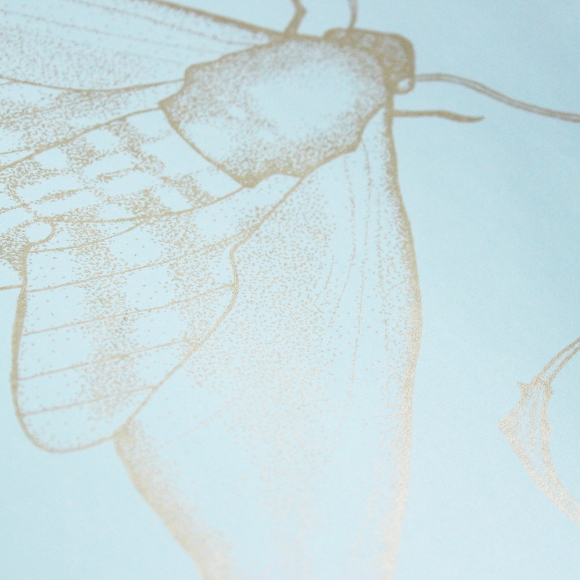 The roll of Tangled Hawkmoth arrived earlier this week and ZOMG MY PICTURES ARE DOING IT ZERO JUSTICE. I excitedly opened it at work and everyone immediately ran over to look at it. It's such a beautiful design. The soft robin's egg blue along with antique gold work so well together. When you get right in there you can see the entire pattern is done in pointillism, which adds such a subtly soft undertone to the pattern. The detail on this wallpaper is actually insane. Again, my photos = zero justice.
As a renter, unfortunately we can't hang wallpaper. Giant ugly crying face. But I do have a sneaky project in mind that would be perfect for it. I can't tell you just yet what it's for so you'll have to wait and see. But I'm SO excited to start on it so fingers crossed it'll happen sooner rather than later! #StoryOfMyLife
Disclosure – I was sent a roll of Wilful Ink wallpaper free of charge to use in our home. As always, all words and opinions in this post are my own. I only work with companies and artists I like and of course, think that you will too. Thank you for supporting the companies and independent artists that support The Interior DIYer.