Over the past few weeks I've been on what may be my final mission to declutter our apartment. I'm proud to say that this round has been the most beneficial yet as we're down to a Goldie Locks level of stuff – not too little, not too much. Our cupboards are just right.
I wrote some of my top
decluttering tips
a couple of springs ago [which I
still
live and purge by], and this time round I made note of some new tips and tricks during my latest and most ruthless purge. In case you're also a bit hesitant to start, here are my second round of tips …
1. Make note of what needs to be done and keep it somewhere visible. For myself, I find the best way is to make a list of each room and the problem area in that room [usually a storage area] to either tackle, purge, organise or tidy. I tackle one item on the list at a time. Don't overdo it, or you'll burn out. If I'm feeling particularly energetic after work or if it's a rainy Saturday morning, I'll tackle one area on the list.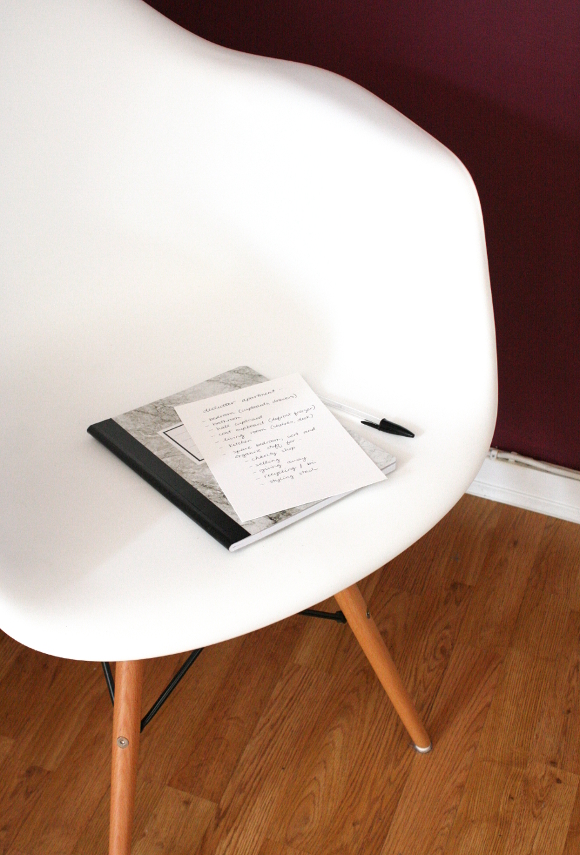 2. Let the amount of space you have dictate how much you should have. Meaning, if you only have room for [example] 12 mugs in your kitchen cupboard, only keep 12 mugs in your kitchen cupboard. It's simple. There's no point in trying to precariously balance 22 mugs in a space suited for 12. If it's a case that some items are seasonal [ie – Christmas themed mugs], consider packing them away with the rest of your decorations and only bring them out when appropriate.
3. The less you have, the less you need to clean. Continuing from my last point and using the mug example again; the less mugs you have, the less mugs you need to clean. If you have 22 mugs, get really lazy and don't wash any of them one week, you're then inundated with mugs to clean. But if you have less, you not only have less but have less of an excuse to go so long between washing them.
4. Put everything you want to donate / recycle / relocate in one place, then tackle that at the end. I used our spare bedroom as a dumping ground while I was purging because I could simply close the door and forget about the chaos. Now that I'm finished, I can barely open the door so it's high time I sort the contents of our spare room. Mini welp, but it'll be relatively easy as I can sort through it 20 minutes at a time and close the door on it whenever I get sick of it.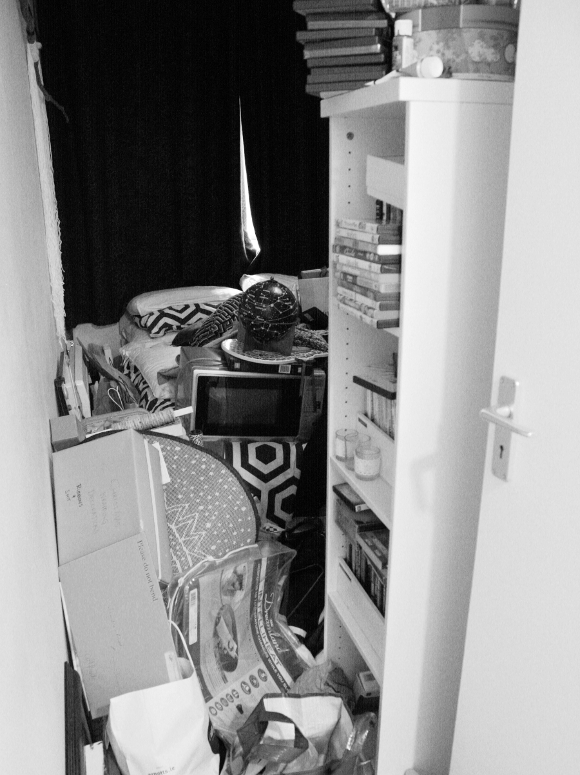 Yes, that's a microwave on the bed. It, like many things in here are just waiting to be reorganised.
Not everything is going. #KeepingItReal
5. Don't expect your home to be purged in a week. That's straight up not going to happen. If you live in a small apartment like us, give yourself 1 or 2 months, or longer if needs be. Slow and steady wins the race.
For me, this weekend I'll be tackling our spare bedroom and organizing what should be donated, rehomed, recycled or relocated. Exciting stuff I know, but I'm a firm believer in the old saying of …
"Tidy desk, tidy mind."
And that goes for the rest of our home too. I don't know if any of the above was of help to anyone, but for me I find these along with my original
decluttering tips
have helped me stay on track and downsize what we have. 'Cause let's face it, we all got way too much shit. xx