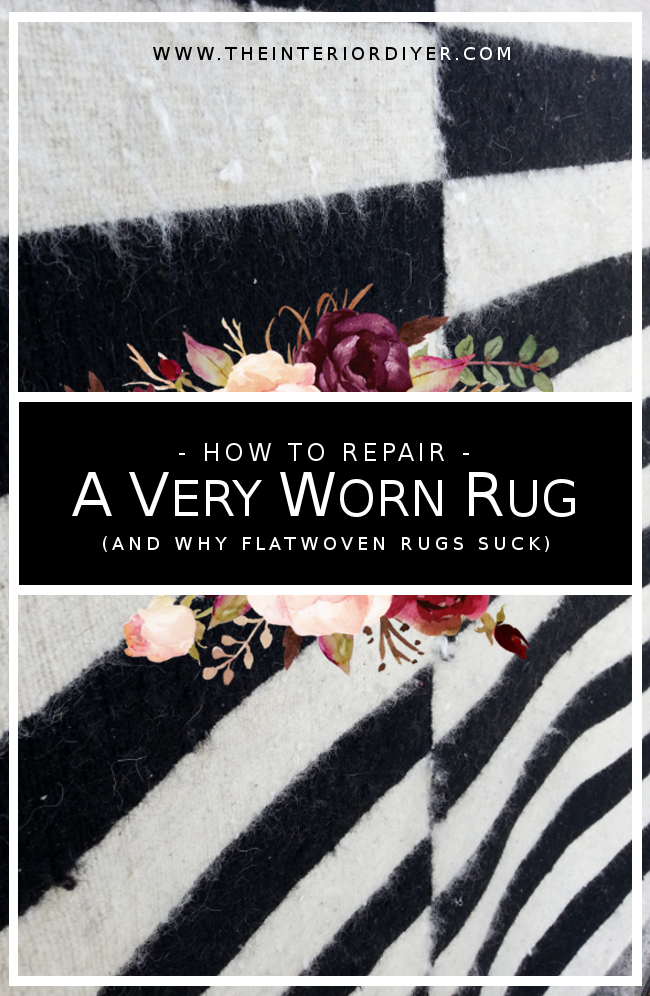 When I first brought our new rug home, it was heaven. It fit perfectly under our couch and coffee table, and gave a serious punch of black and white to the room. It really anchored the look of the space and I couldn't have been more smitten. However, as the months went on, I realized exactly how difficult it was to keep. And I realized why.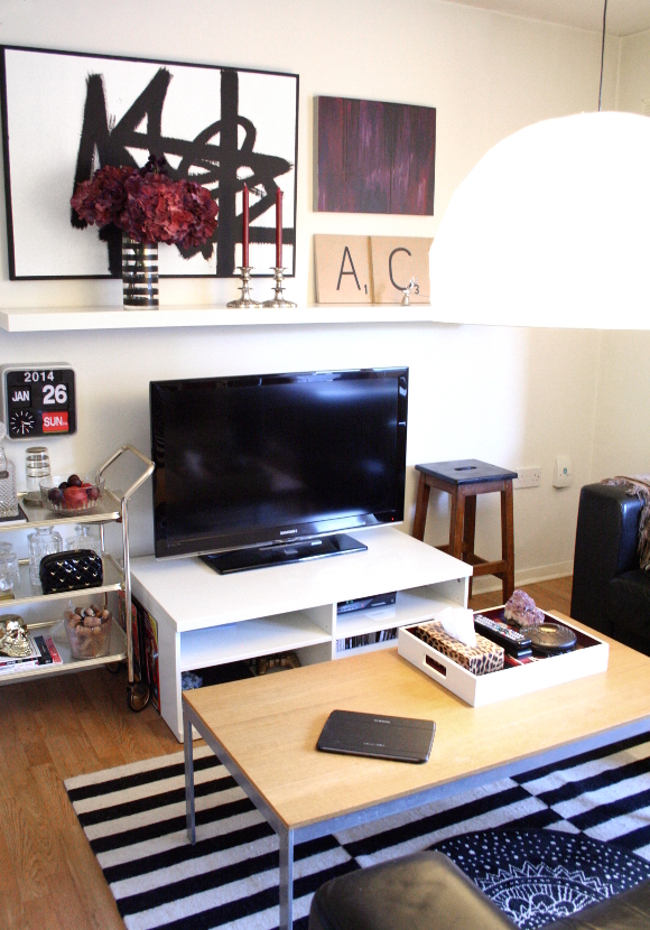 The IKEA Stockholm rug is a
flatwoven rug
; meaning, it is tightly woven in a loop vs. regular low pile rugs that aren't woven in a loop. Meaning, it ages quickly.
The area between the coffee table and our couch got the most ware. This is where we would walk from our kitchen [to the left of the picture above] and cut across the living room to get to our dining area [on the right]. We also spent a lot of time here as this is where we watch TV, entertain guests and sometimes work.
Another reason why flatwoven rugs are a bad idea is cats. For anyone who doesn't have a cat, I will explain that cats have a natural urge to sharpen their nails. As Toshi is demonstrating so gracefully below. I trim our cats nails regularly, so that minimized the damage that could have happened to the rug. Whenever they picked at the rug, it would pull at the flatwoven closed-loops and sometimes snag. Not cool.

It's something that didn't even occur to me when we bought the rug. But now I know. I'm in no way mad at our cats because it's a natural urge of theirs. They can't help it. So maybe if you have a cat and are on the lookout for a rug, you'll know too. Learn from my mistake. Low or high pile rug = good. Flatwoven rug = bad.
Case in point – we have a black and white
IKEA Virring rug
which the cats also scratch, but because it's a
low pile rug
, their nails sail through it like a breeze and it has zero damage.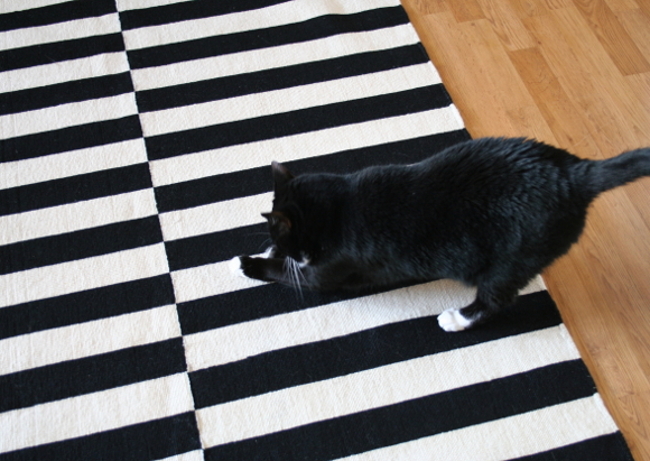 So if you have a flatwoven rug that is damaged like some of my incredibly embarrassing photos above, do not fret. There is a way. And it is a breeze.
I first started to trim the rug with scissors. That was laborious and tedious. I quickly had a
eureka
moment and realized –
why not just use husbands electric hair trimmer
? So I plugged it in and it was like some form of wizardry …
Trim. Vacuum. Literally good as new. I was nearly in tears. It was perfect. No word of a lie. I will accept baked goods or folding money as a thank you. You're welcome in advance.
I should explain that my husband doesn't use this hair trimmer so it was okay to use it. When I was finished, the trimmer wasn't dirty and was in perfect working order for the next flatwoven mistake that comes our way. Or you know, for hair.
Our rug turned out so neat, tidy and nearly new that I was in fact able to sell it. I wouldn't have been able to sell it if it wasn't to a high standard. It's all part of my attempt to make our apartment
less obviously IKEA
and I already have my eye on a couple of second hand low pile rugs to replace it. These colder months really call for rugs. Neatly trimmed rugs.