Our bedroom is in need of a face-lift. It's long overdue at this point and I find the best way to get a job done quickly these days is to shame myself on the internet by posting gratuitous pictures online of said sad project.
I should say our room isn't
that
bad, it's just been patiently waiting its turn. I'm on a roll these days since
updating our bathroom
[which was
far
worse], so our bedroom is next in line. Here is a rough plan of the room to give you an idea of how our room is laid out …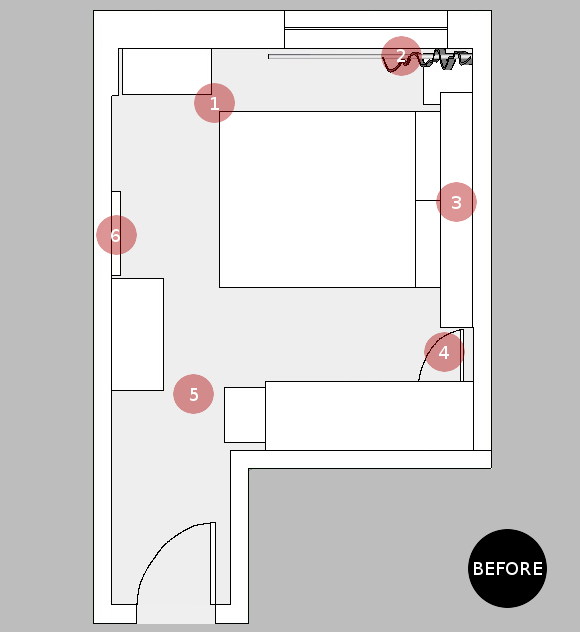 And here is what's wrong with it –
1. The shelving unit is way too close to the bed so I have to basically jump over the bed to get onto my side of it.
2. Our bedroom gets next to no natural light and it's damp. I'm hoping to move the heater underneath the window to nip this in the bud. Also, the curtains are old as hell and serve no purpose.
3. The shelf over our bed is at such an awkwardly low angle that we can't sit up and read in bed. I should state that we did not install the shelf here.
4. Because of the placement of the bed so close to the cupboard door, husband can't have a bedside table. So we have only one.
5. Our grey dresser is necessary, but at the moment we can't put it anywhere else than here. It and the laundry basket are cramping my style.
6. The cause of most of the chaos in our room – the heater. I'd like to meet whoever decided to put the heater here, and I'd like to wrap it around their face. It makes no sense being here. It's going under the window.
To get your head around it, here are some before pictures I took of our bedroom a couple of months ago …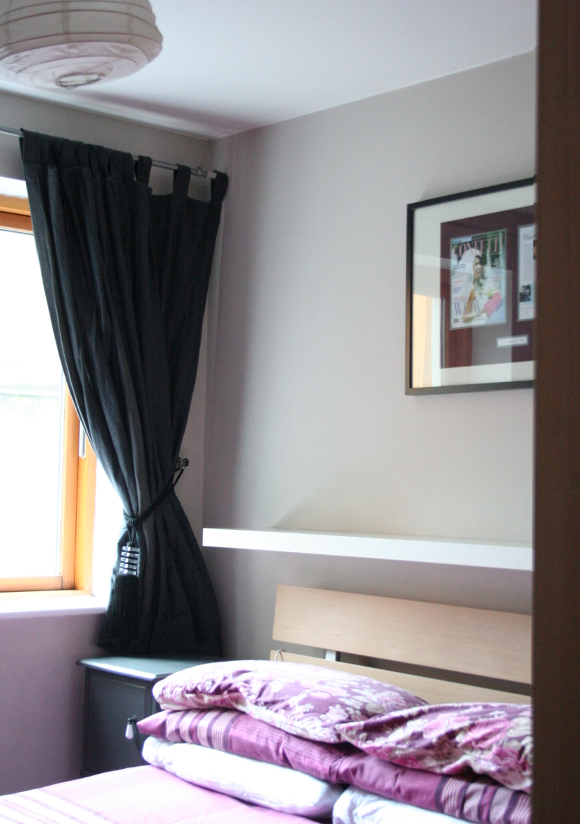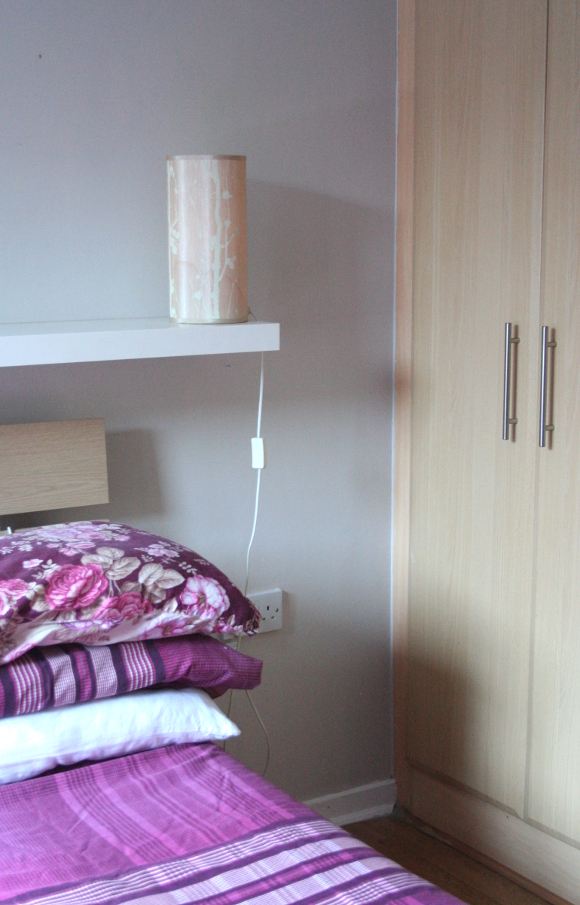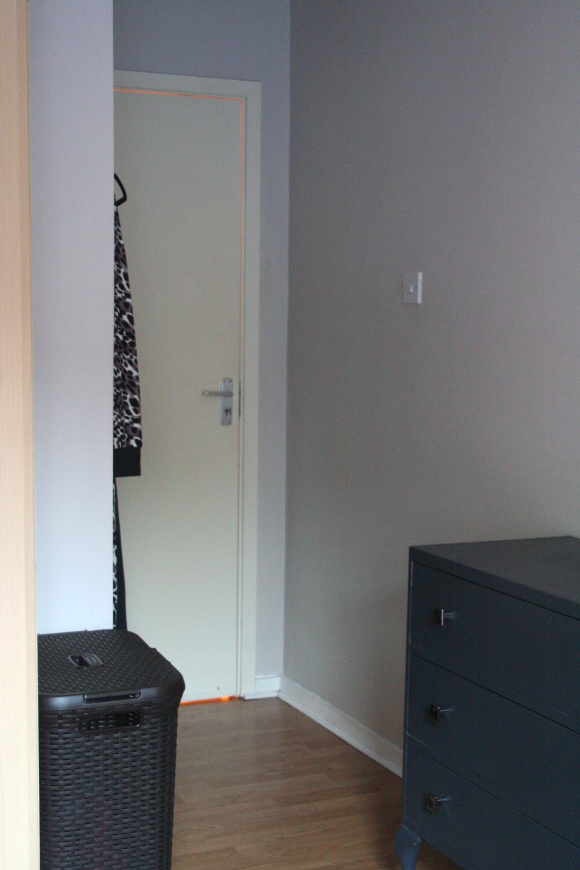 Ugh, YELLOW DOOR.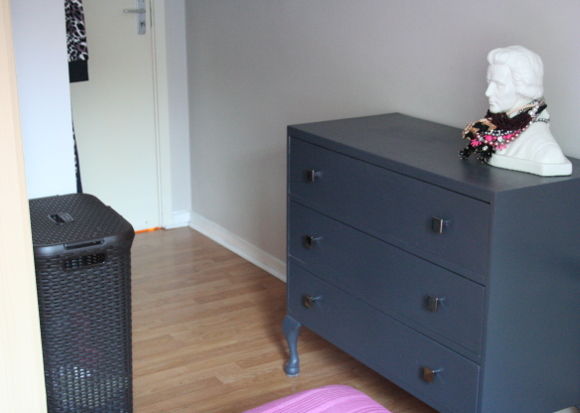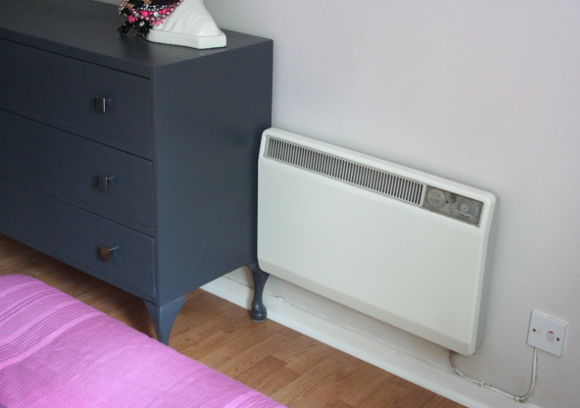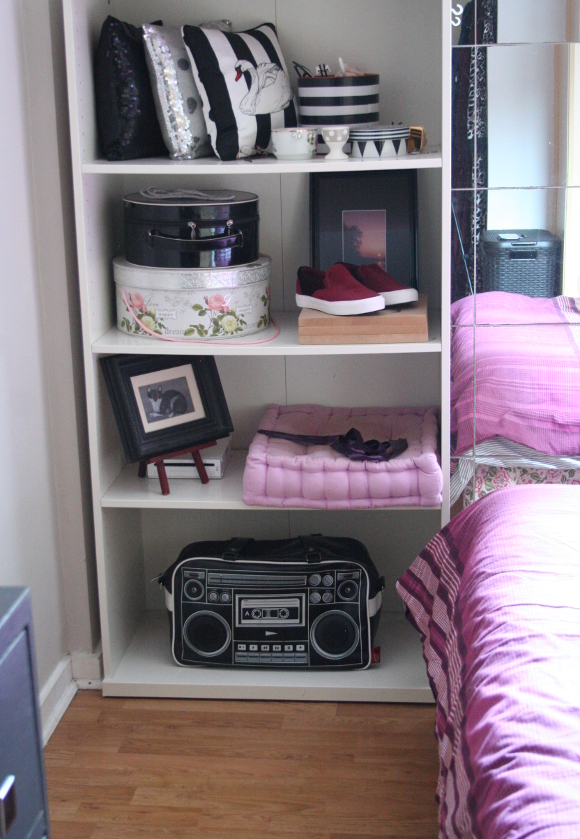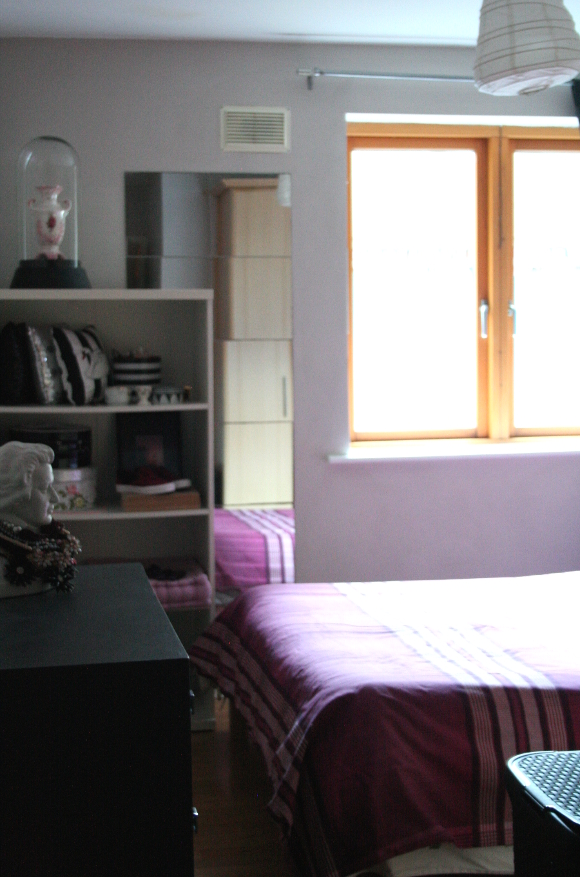 I know. It's hard to look directly at because the romance levels are so high right now. But if you can believe it, I'm hoping to make it even more romantic. If that's possible.
And here's my proposed layout …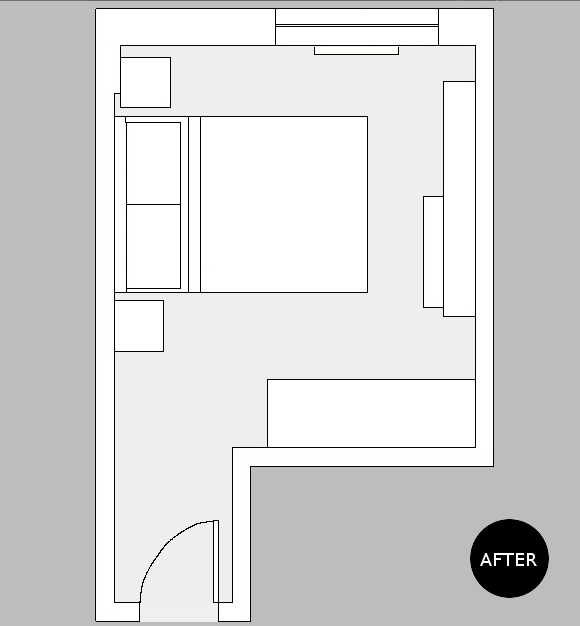 I'm resorting to my Google SketchUp skills here to give you a better idea of the before and afters that I'm aiming for …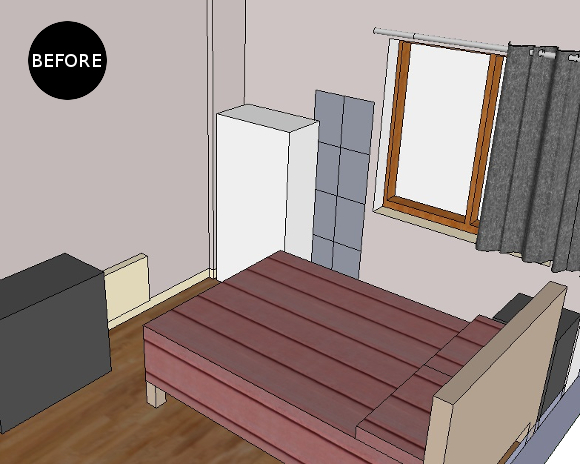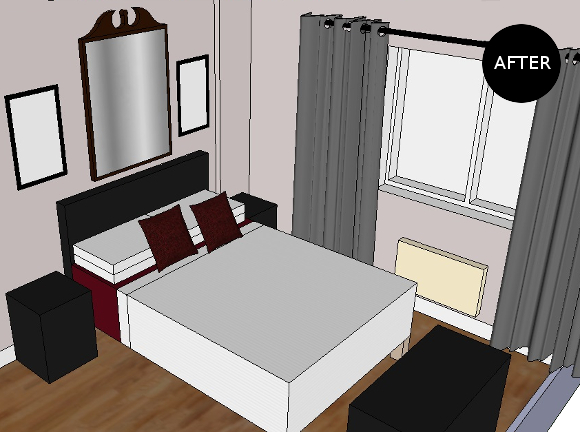 To get me from before to after, I'll need to –
– Repaint the trim, window sill and door WHITE.
– Replace the curtain and curtain rod [with curtains not necessarily this long].
– Move the heater to under the window, where it makes sense.
– Move the bed to the other side of the room.
– Make a cover to cover the current wooden headboard.
– Find two matching bedside tables. Preferably upcycle a pair.
– Add some artwork or pictures or something to the walls.
– Get new bed linen.
– Repaint our dresser to match potential bedside tables.
– Put the laundry basket somewhere else where I can't see it, and run the risk that husband looses the ability to put his laundry directly into it.
Our room may of course vary from the image above, but I find Google SketchUp a great way to get my head around a space without having to physically ruin an afternoon by doing it in real life, and then finding out it won't work.
The only disadvantage to moving the bed to the other side of the room is that we'll loose use of the electrical sockets that are under the white shelf. But I'm willing to invest in an extension cord. What is it Spock says? The needs of the many outweight the needs of the few.