I'm taking my time with deciding how to decorate each area of our home. I'm still up in the air about a lot, but one thing I sporadically did on the weekend when Cora was having lunch was make a wallpaper template and quickly paint a small wallpaper-style pattern on the peek of wall under our stairs.
I painted this section burgundy during my lunch break a few weeks ago. I think I did it to make myself feel like I was making an update to our home [I currently have hundreds of ideas, but there are so many moving pieces and things have to be done in a certain order, therefore I'm getting nothing done].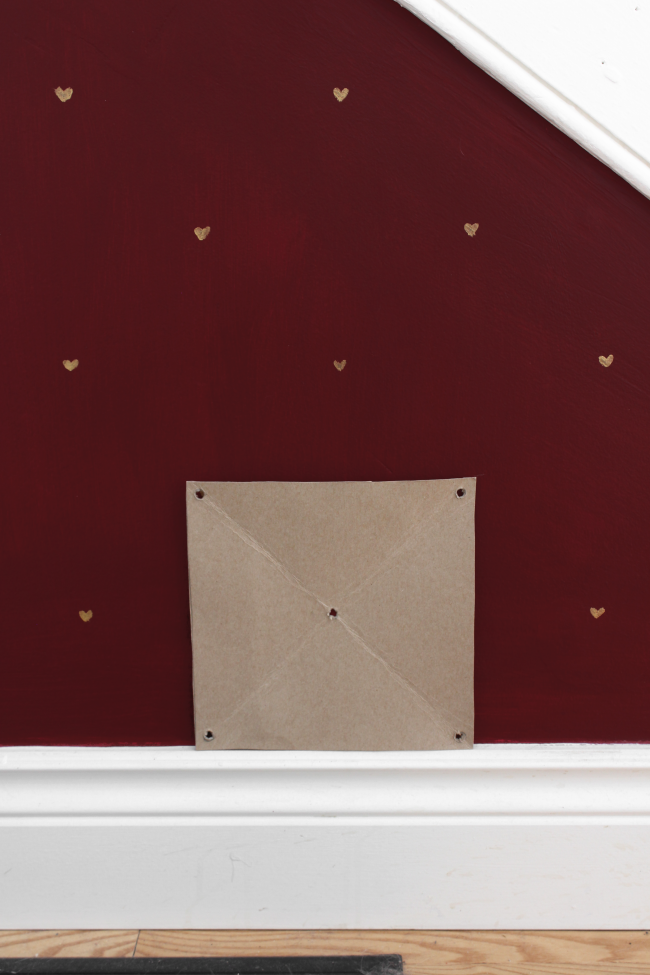 I then had the idea to paint a faux wallpaper effect*, just to see if it's something I'd like to do. Using an empty cereal box, I cut out a square template. I folded it in half each way to find the center of the square. I marked the center and four corners with a pencil and then I laid the cardboard template on a folded up kitchen cloth and used my drill to carefully drill 5 holes. Yes, I could have used something else to make the holes, but it was literally within reach and there's nothing I love more than being lazy.
Then I simply used my template to mark lightly with a pencil the pattern on the wall. Once you do one row, simply line up the template with existing pencil marks to make sure your lines are consistent. That's it! It was so easy and fast to make. I painted little gold hearts as my pattern. They're super imperfect, but I like that.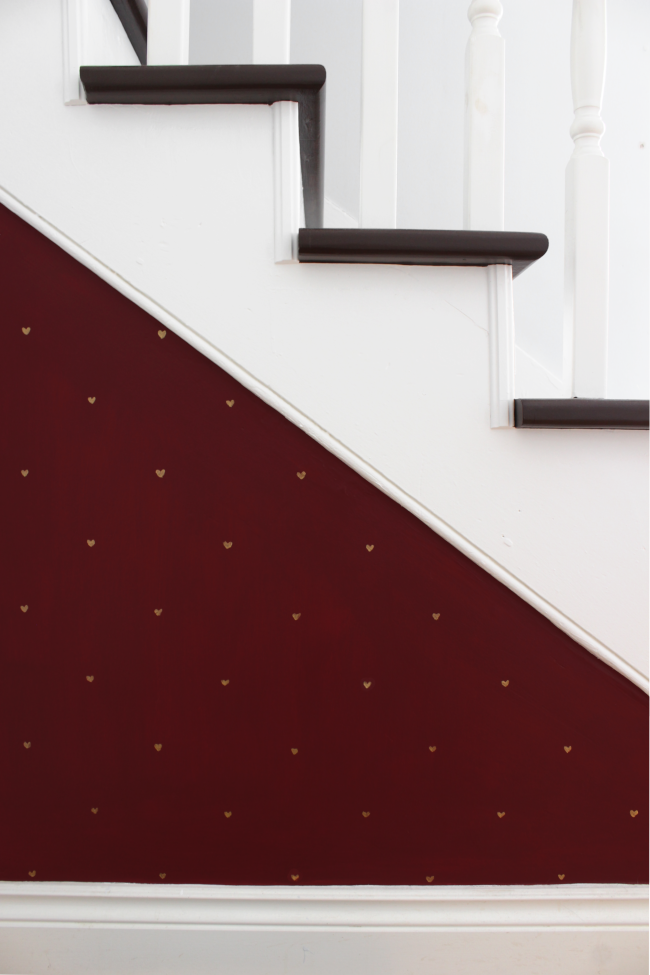 And yes, I'm hoping to paint our entire hallway like this. Because I'm a glutton for punishment.
*I've been seriously thinking about wallpapering our hallway for some time, but I cannot decide on a wallpaper. I'm way too indecisive. Plus, wallpaper is expensive and we'd need a fair amount to go up the stairway. So I'm going to try my hand at painting some.