Ever since I painted our bedroom black the
night before Cora was born
, there were a few things that needed to be updated. Our black curtains were one, and our dark grey dresser was another. Don't get me wrong, I love black and wear nothing but black all the time, but there was too much of it in our room. Our dark dresser was now too close to the colour of our bedroom walls, and since we now had a baby, repainting a dresser was pretty low on my priority list.
At the beginning of December,
Rust-Oleum
got in contact about working on another project and asked if there was any furniture of ours that needed updating. I immediately thought of our bedroom dresser so took it as a perfect opportunity to update it in a completely new way.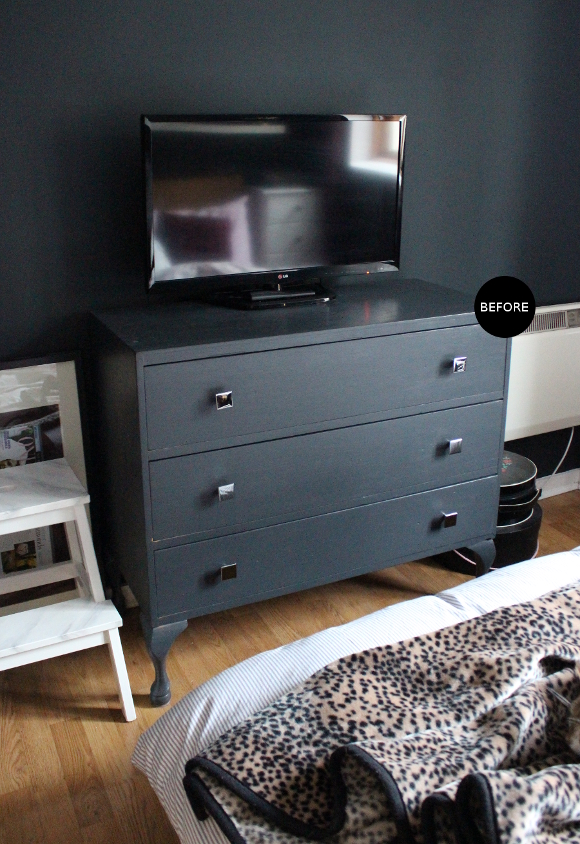 Here's what our dresser looked like before [and even
before that
– yeesh]. I spent a few days on Pinterest and decided on the lightest of pink paint. Rust-Oleum's
Chalky Finish Furniture Paint
in 'Strawberry Vanilla' was perfect, topped with Rust-Oleum's
Furniture Lacquer
to give a protective finish to the chalk paint. At first I was thinking of making our dresser very ornate with gold handles and add wood appliques to the drawers [kind of like
this
], but the longer I thought about it the more I realised it would be bad-fake [I'm not
too
keen on fake antiquing, unless it's done really well and I didn't think I could]. Our dresser is old and very possibly mid-century-something, so I decided to stick to a design that suited it a bit better. And something a bit funner.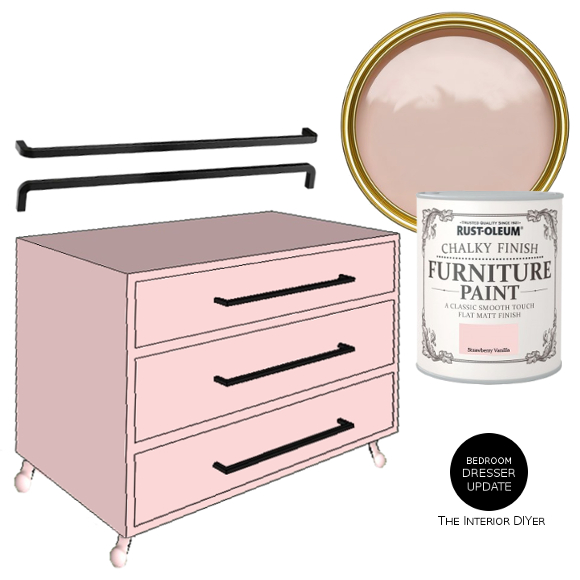 Because our apartment is so small, there's not much space between the end of our bed and the dresser. Our knees / pockets / hips were forever getting caught on the current handles, so I was on the lookout for a long handle that wouldn't catch on our knees / pockets / hips. To make things just a bit more awkward, I wanted a handle that would fit the existing holes which were placed 416mm apart. I found a beautiful pair of handles on Etsy, but the order became not only very delayed, but complicated so it was cancelled. Which is the main reason this update took so long.
I checked the IKEA website and not only did they have solid non-knee / pocket / hip-catching handles that were spaced 416mm apart, but they were beautiful handles. They were black
borghamn handles
and they were solid iron. I'm so close to finishing our dresser update and in fact I'll be heading out today to pick up the sweet, sweet handles in what I'm hoping will be the fastest IKEA trip ever [I'm sure I'll be over-sharing on my
InstaStories
if you're curious]. Wish me luck.
DISCLOSURE – while this blog post is not sponsored, I did receive this paint and lacquer free of charge from Rust-Oleum. As always, all words and opinions are my own. I only work with companies I like and of course, think that you will too. Thank you for supporting the companies that support The Interior DIYer.