I spend a lot of time in our kitchen. But I must confess, I'm a little bit embarrassed of it. I just haven't paid enough attention to it in the past 2 years as I have the rest of the apartment. We don't own our apartment; we're just renters so there are things in our kitchen that our landlord added and we can't do much about [remember, he furnished the entire place during a 6-hour visit to IKEA 10 years ago].
Below is the other side of the kitchen door , as seen from our living room facing the front door, to give you an idea of where the kitchen is in relation to our hallway …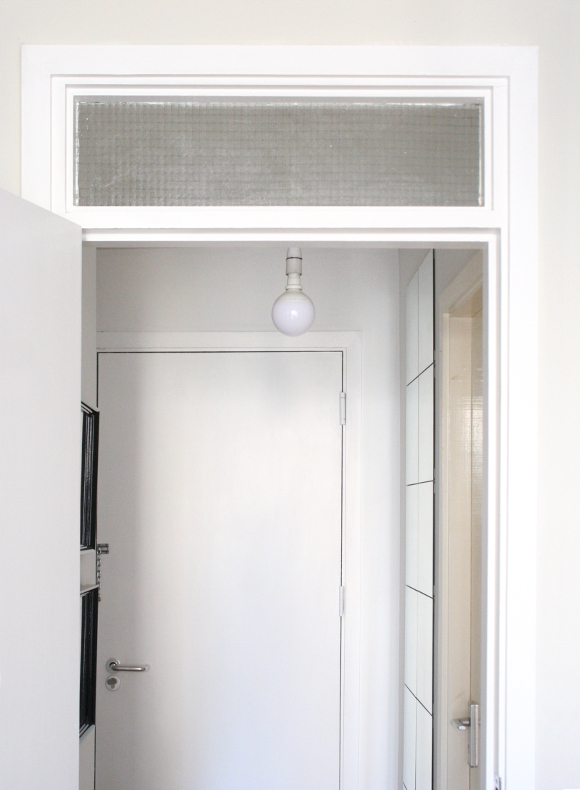 The rest of our kitchen is good, in rental terms. Everything works and we've learned to live with the limited amount of storage; not to mention the typical mini fridge as found in most Irish houses. They drive me insane. Way back when husband was 'boyfriend' and he lived with me and my family, we all shared a fridge this size. Five adult humans. That is not an acceptable size for a fridge. People take note. I can't wait to grow up and have a grown up fridge.
While I'm ranting about appliances, I'm considering removing the microwave. It takes up a lot of counter-top real estate and I'm sure it's much healthier to just reheat things on the stove. </rant>
So, of all the above, here is what needs to be DIYed to our kitchen to bring it up to scratch …
– The grouting on the walls needs to be bleached [I don't like using bleach, but it's my only hope].
– Walls to be repainted white.
– Sand and repaint the door and skirting boards WHITE.
– Remove the shelves in order to repaint the door, then rehang them.
– Spray paint coffee box [more details below].
– Possibly spray paint the recycling bin black [as seen in the corner under the shelves].