Since blogging the
plans for our bedroom
last
November
, I've done nothing. Not a thing with our room. Then out of nowhere since Friday, I've crossed about 10 things off my to-do list. Am I the only one who works like that? Nothing for ages and then I get loads of it done in one go. What is that? Binge DIYing?
There have been a couple of changes to the design for our room since November, but I'll share those once it's finished. One of the more unusual factors I had to take into account for our room is the light. I don't mean the light fixture, but the natural light we get in our bedroom is a very cold hue and not particularly inviting. I've learned this over the years when it came to introducing colours into our room. Anything in the purple-blue-green range made the room even colder. But, luckily for me, whenever I introduced my favourite burgundy hue, all is magically warm and cosy again.
Berry hues, warm woods and little hints of gold. Here's a splash of what I have planned –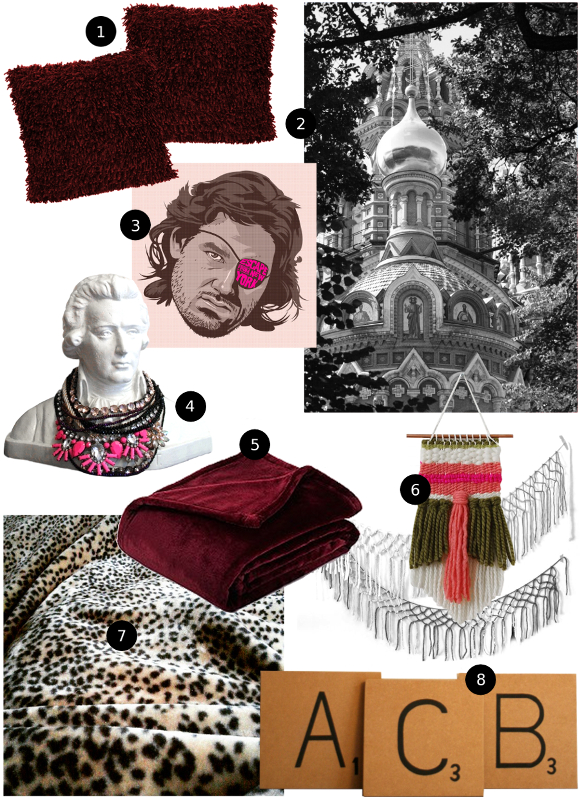 1
.
Textured cushions
from Dunnes Stores. These are standard cushions from Dunnes that they've had in stock for years, but I adore them. I have one already so I just need to pick up another. Or four.
2
. I have a sneaky project involving one of my favourite pictures I took in
St. Petersburg
last summer. Stay tuned.
4
. Good old
Mozart
jewelry bust will be in the spotlight.
5
. The
dark red plush throw
from Marks & Spencer husband got me for Christmas is the perfect colour.
6
. I haven't crocheted in years and my yarn is guilting me. I spotted a couple yarn projects by A Beautiful Mess (
this
and
this
) and I have every intention of making a few to make our room feel cosier.
7
. This
snow leopard throw
by Wayfair. We've had it for a couple of months so far and it's
SO LUSH
.
There are projects I'd also like to DIY on the cheap for our room. Such as finding and updating a pair of secondhand bedside tables, making our own
cardboard monogram
and a good few yarn hangings as detailed above.
So far, in my recent burst of readying our room, I disassembled the shelves in the corner of our room [which you can
see here
],
swapped our bed frame
with the frame in our spare bedroom [by myself. Word to the wise – don't try that by yourself], and I also repainted the yellowed-old-as-hell skirting boards and bedroom door. It was seriously bad …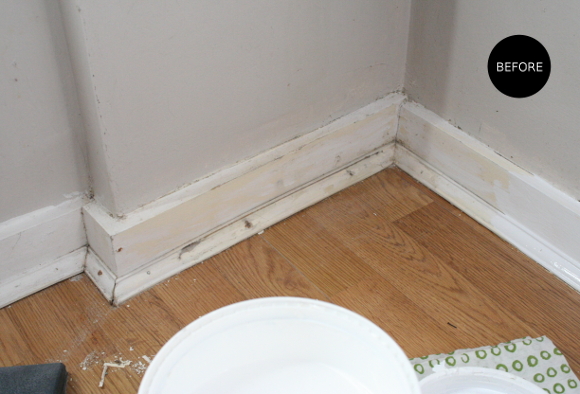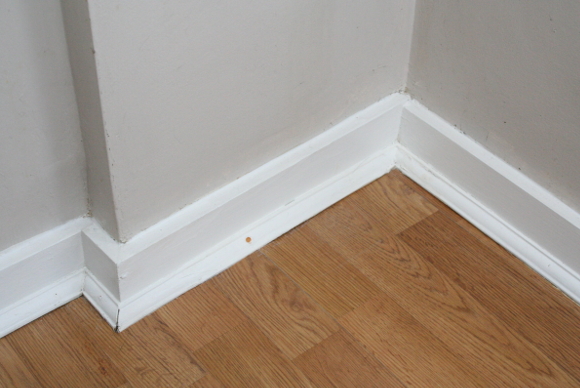 Like, embarrassingly so. There's still a stubborn rusty nail peeking through, but it's miles better already. I was thinking of Photoshopping it out but thought, no. This is real life and life is a little rusty nail, refusing to absorb the white paint.
Our landlord is visiting this afternoon, which is one of the pushes I needed to get the bones of the work done in our room. I've scrubbed every inch of our apartment this week, including vitally important places like behind our TV, under our bed and our fridge. Because you know, our landlord is going to be inspecting those places. I'm a worrier and when I worry, I overcompensate.
Wish me luck xx