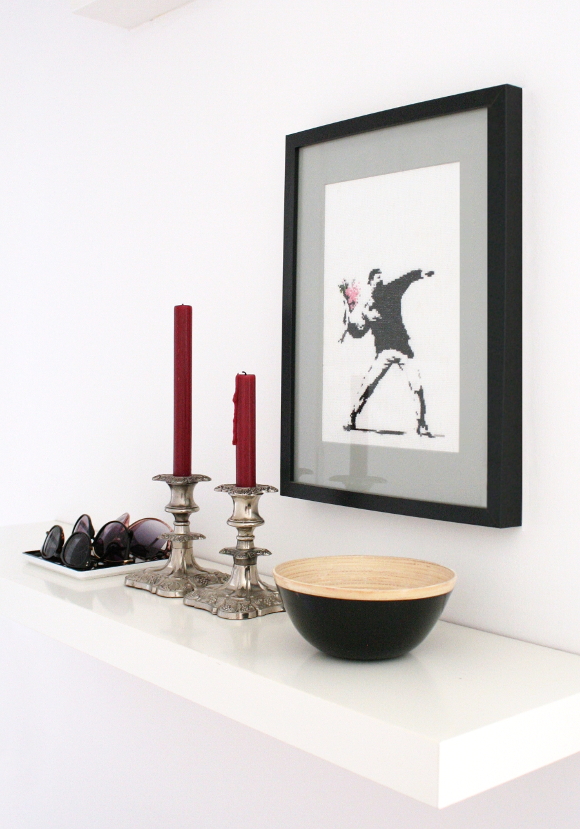 Another slow but sure improvement I'm making to our apartment is hanging up artwork. I have a hoard curated collection of about 50 picture frames in our hall storage cupboard. Of those, we have at the most 10 frames hanging up. My excuse? I suffer from 'landlord walls' …
landlord walls
/'lan(d)lo:d/ /wa:lls/
noun

moving into a rented space and feeling the need to conform your artwork to the preexisting nails in the walls left by the previous tenants or the landlord him or her self.
"Oh look, there's a nail up there in that really awkward place. I'll find something to hang there, even though it's wildly unsuited for my framed artwork. I don't want to disturb the landlord walls."
It's a difficult thing for me to admit, but the first step is to acknowledge the problem and be able to talk openly about it. Our landlord walls were pretty intense when we first moved in. There were nails everywhere. I'd say at least 60 throughout our apartment. In the beginning, I succumbed to
landlord walling
. With the help of the internet and being bombarded by beautiful walls, I was able to self-diagnose my problem start curing myself.
For the past few months we've had pretty bare walls. Our hallway, bedroom, and most of our living room are empty. I needed time to mentally wipe the slate clean before I started to reintroduce things back onto our walls. It's a slow process, but I'm considering each wall as I go and
ACTUALLY
HANGING THINGS WHERE I WANT
[which nowadays is easy to undo with a patch of filler and some paint]. So far,
Banksy
has found a new home in our hallway and I added some of my favourite
Instagrams to our kitchen
. Slowly, but surely, we're getting there and together we're fighting against our landlord walls.
So what about you? Are you a fellow landlord waller? Are you guilty of hanging things on random nails just because they're there? It's a tough thing to defeat. But remember, you're not alone. It happens to the best of us xx