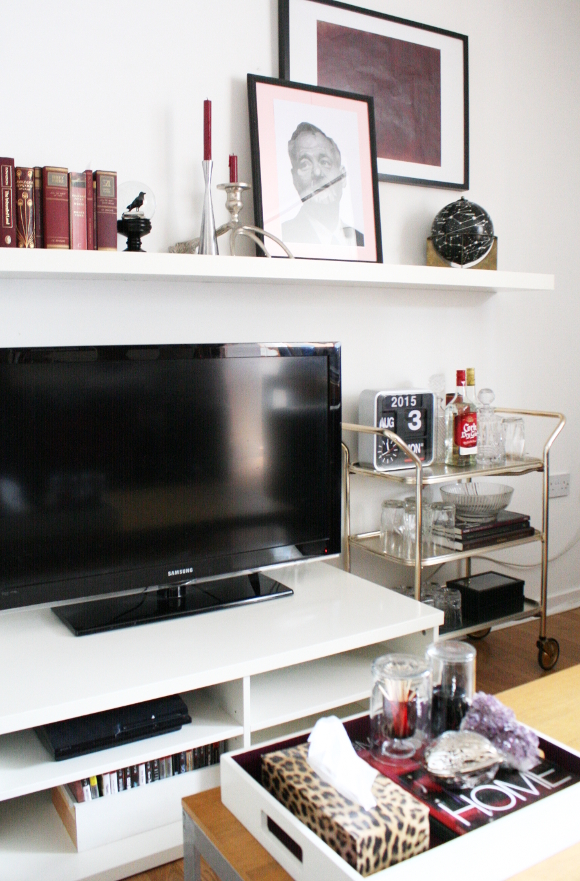 Today it's a Bank Holiday Monday here in Ireland [all kinds of yes], so with my extra morning I decided to switch up the living room a bit. Not much, just a little to freshen up what we've been sitting staring at for over five years.
The wall behind our TV had been bothering me for a while in regards to unbalanced things were at this end of our living room. Bad unbalanced. Not chic asymmetrical. The TV stand is in the same place as when we first moved in – smack in the middle of the wall. So to mix things up, I swapped the TV stand with the bar cart, aligned them a bit better under the shelf, and moved some of our artwork and accessories around …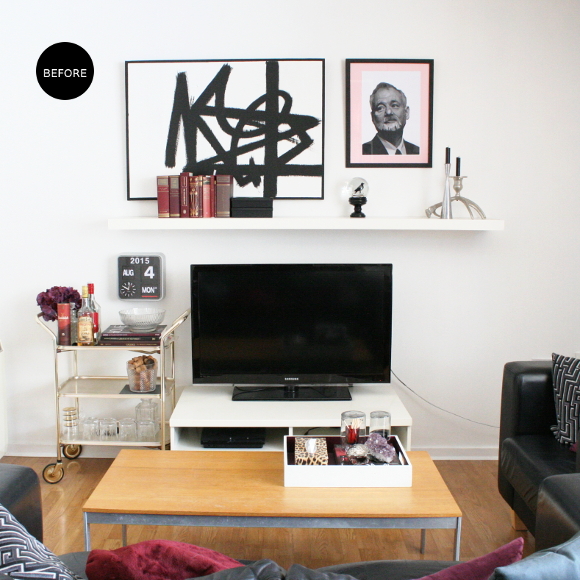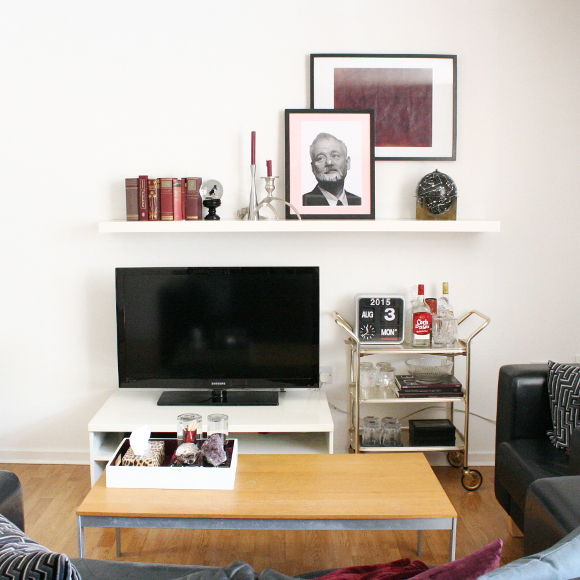 So far, this is a temporary set up. A work in progress. There are a few things that still need to be fixed, changed, found and hung. Some of which are …
– artwork for over the TV
– hang more artwork / frames in general
– hang up our Karlsson flip clock
– possibly find some artwork for behind the bar cart
– paint the TV cable white
– possibly update our landlord's coffee table [that can be easily reversed]
After
repainting our living white
last week after it being beige for 4 years, my
black and white artwork
hanging above the TV didn't stand out as much as it used to. I'm on the lookout for adding some big, dark pieces above the shelf to balance the weight of the TV and make this wall feel a bit more finished. I'm half thinking of stretching some velvet onto a canvas, or just painting another piece myself. I also want to get an old ladder to display all our blankets and throws to place on either the left or right adjoining wall, because we have a hella lot of throws.
With the changes I made this morning to our living room, all I did was simply move around things we already had. To me, the pictures don't look like a big enough change to warrant a blog post, but it definitely feels cosier and a better thought out layout. I find it strange [and disappointing] when you photograph something and it doesn't capture the feeling that goes with a space. I guess you're just going to have to trust me when I say it feels much cosier and put together in real life. Almost as if adults live here xx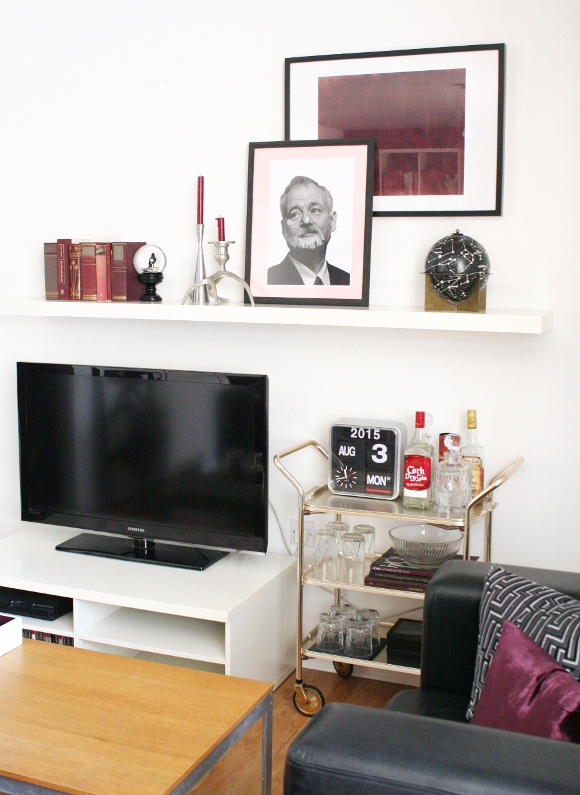 p.s. For anyone who's extra observant today, no, I didn't travel back in time between the before and after photos. Our flip clock tends to show the wrong date, so I made an effort to fix it for the after photos to today's date, the 3rd. Not the 4th. Such detail. Big wow.