In keeping with my project '
less 365
' purging, this year I decided to revamp our existing Christmas decorations in stead of buying in new sets and adding to the overall shower of shite in our apartment. Also contributing to the greater good of '
reduce, reuse, recycle
'.
I however, will warn you in advance – the pictures are a bit crap. Have you ever tried taking pictures of Christmas decorations, sans Christmas tree? It took me three attempts to arrange them, before shoving them into a crystal bowl . Onwards to my shitty kitchen pictures!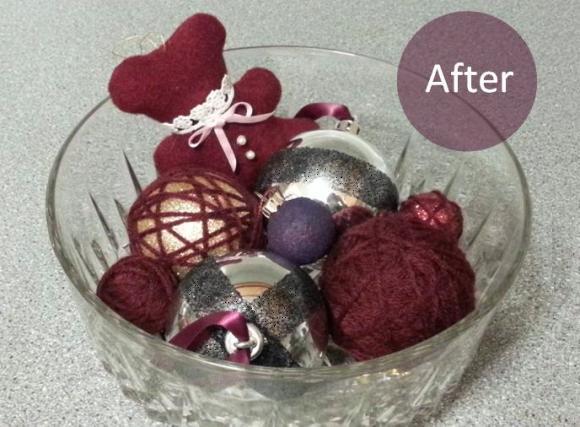 In keeping with our burgundy, aubergine and metallic decor, I wrapped, taped, sprayed and vajazzled our existing ornaments to give them a little holiday face lift. Nothing too strenuous. Something that could be tackled whilst in front of the TV and wine glass in hand. Well, I set it down at times.
Since I have a plethora of yarn at hand, the above was the easiest approach I took to my baubles. It works great on glittered baubles, as they have a bit of a sandpaper-esque texture, and the yarn stays on with no fuss. I have varying degrees of yarned balls, from completely covered, to bits of gold peeking through.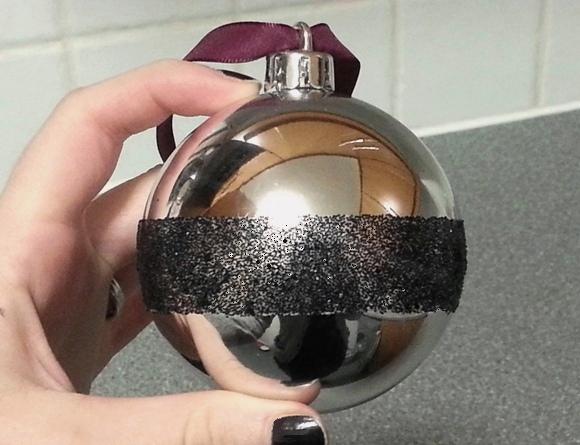 I'm quite proud of this one as it gives the most impact for least amount of effort. I took a plain silver bauble, secured a piece of double-sided tape around the middle, and smooshed black glitter onto the tape. And voila! Instant glam, and no glue involved. Top that baby with some lovely ribbon, and there you have it.
I have a couple more ideas for our decorations, but I didn't get around to making them all just yet.
For the record, here's what our decorations looked like before. Nothing wrong with them, and they've served us well for a number of years, but they're your standard department store decorations and I wanted something new this year. Even old treasured Christmas teddy gets a new pink bow.